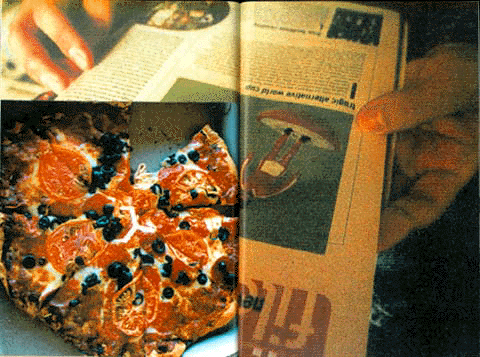 © 1996 Ayako Mogi / TYO Productions Inc.
Once when I was discussing something with an artist, I talked about a subject somehow that each artist has one technique. The artist stated that he wanted to represent with a diverse range of techniques. Strictly speaking, using a diverse range of techniques could mean it is the only one technique of him?
In essence, modern artists tend to construct their own methodologies, trying to be unique and original, which I think I must admit..
An artist called Ayako Mogi, it seems to me that she does not even care about the matter above, floating free around everywhere. She always has a gap between her own creativity and others'. Almost nobody knows exactly what she represent in art. So, mass media can not clearly define her.
For the time being, she has been introduced as someone who takes photos on mass media level. I asked her (who was just about to go abroad) for an interview on the phone. Who is she? What does she do?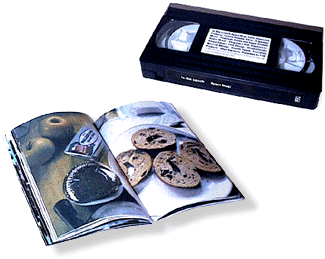 © 1996 Ayako Mogi / TYO Productions Inc.
As far as I know, you were awarded the first prize (by Nobuyoshi Araki) in the fifth New Century of Photography(Shashin Shin Seiki), now you photograph for sub-culture-oriented magazines and CD jackets, working as a visual artist. Recently, you made a work collection consisted of a video work "In the couch"(20min) and a booklet(80p).
As I look through your profile, you left both the department of graphic at Musashino Junior College of Art and the department of design at Tokyo University of Art.
First, do you think yourself of as a photographer , or a visual artist?
Actually, I'd not like to be categorized into a certain field, although people just believe I am supposed to be working as a photographer. But, I don't think I'm a photographer at all. Let's say… visualist.
I majored in (visual work) at university (Tokyo Univ of Art). Students are supposed to do ever-existing video-installation all the time, which I think is too academic. When I tried to create something new at university, professors didn't like me doing something different. So, I left those university and junior college.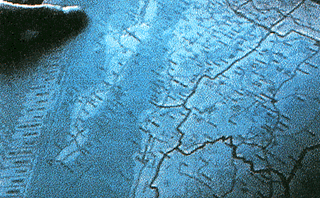 © 1996 Ayako Mogi / TYO Productions Inc.
After all, you don't want to be hooked to what is academic and already categolised.
That's right. I always start creating my works with images occurring to my mind. Then, with the intuition, I spontaneously connect what comes up on my mind not logically but instinctively.
Then, those who logically see your works can misunderstand them.
Let it be up to them. It can't be helped.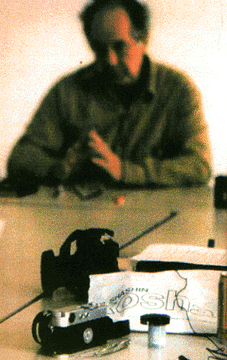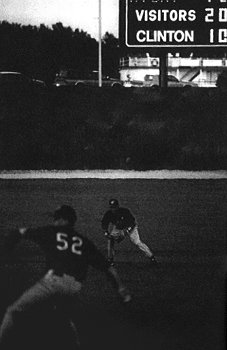 © 1996 Ayako Mogi / TYO Productions Inc.
Can I ask you some very basic questions? Why do you express as a visualist? Who do you release the works towards?
Yes, I believe it seems to be very important to keep my works remain as substances, as I am to disappear (to die)someday. Although my way of creating is not constructive and categorized, which makes my works prone to misunderstanding, I still want to provide a stimulus with who share the same sensibility as mine.
I get the picture. It seems like what you've said now encourages me a lot. An article on Switch pointed out your works are quite similar to the music that came out through a sampler especially after techno music. Are you by any chance conscious of music when taking photos and
videoing?
I really feel my works hold the similarity to music through a sampler. I am very much interested in music.
While watching your video work, I thought you should've done music yourself on that.
Yoshihide Ohtomo said like that, "you'd better do music yourself so it'll be better". But, still, he's great in compiling music. In the future, I think I'll do it on my coming works little by little.
Do you have sort of a rhythm in editing videotapes and films?
Yes, initially, I was suppose to make 20-minute videotape. Later on, I was asked to shorten it to 15 minutes, which I was not able to do because I had made it for 20 minutes. It was edited with my rhythm according to 20 minutes. As a result, I made 'in the couch' at 20 minutes.
Back to Switch, the article said that you can make us feel the real synchronicity with our mind of the generation. Images on your visual works are processed through a very private and instinctive way of editing.
Who watches those images discover something new as in sampling music.Probably because young people in our generation can perceive the information delivered in images more real than that in words, I reckon your works hold a synchronicity with our generation.
Do you have any thoughts about synchronicity?
Certainly, I'm conscious of it. As I mentioned previously, I don't create the works by following a certain concept. After collecting a number of images taken in Japan, foreign countries and some very daily landscapes, I do cut-up with them according to my instinct and intuition. So, they're not arranged and premeditated in advance at all.
Somehow, I still feel good when people take my works that way. But, I don't want to be fixed as a representative of the time. An famous critic asked me to join a photo book ' Shutter & Love' because he liked my photos.
Well, that's kind of Generation-X stuff, isn't it? Dosen't go well with your work?
No. So, I told him about myself, my works and the like. Later, he gave me a call and said he couldn't use my photos for the photo book. He said they weren't suitable to the book.
That was rather good, I guess.
Yes, If my photos'd been published on it, I would've been stuck in the category representing the time.
As I heard you are going abroad soon, where are you heading for next?
I'm going to travel around Europe with Werner Penzel who first led me to this visual world as my career.
That's great!
Is it? I was surely going to follow his perspective to get where he was. At this time, I'm sure I can acquire something completely different from the last time. And it'll be my valuable experience. I suppose I'll be back by April due to a lack of money. I hope I'll be able to live up to your expectations.
Text: Chibashi
Translation: Satoru Tanno

[Help wanted]
Inviting volunteer staff / pro bono for contribution and translation. Please
e-mail
to us.