Concurrently showing with "Alex Da Corte Fresh Hell" (until September 18th) at 21st Century Museum of Contemporary Art, Kanazawa is "Collection Exhibition 1 It knows: When Forms Become Mind" until November 5th this year. Six separate galleries delve into the structure of the mind as an extensive network that connects interrelated forms, shapes, and patterns, and triggers natural, social, verbal and subconscious phenomena. Art plays a vital role in exploring these perceptions to help us better understand how the world simulates with the power of the mind, and vice versa. The exhibition co-integrates works from the museum's multifarious collections of paintings, sculptures, photographs, videos and installations that imbibe visible and invisible elements in nature and society.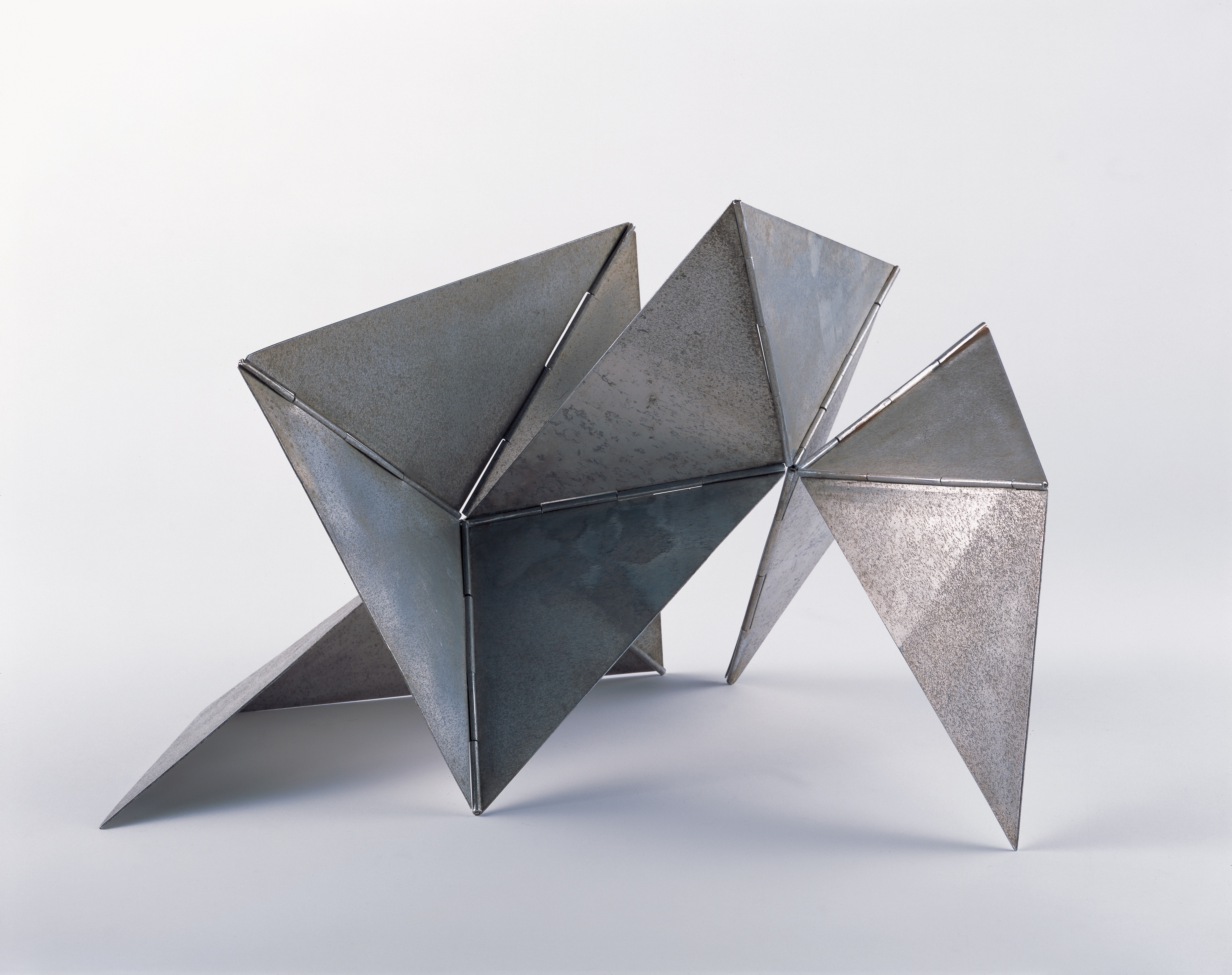 Lygia Clark, Creature – Double Crab, 1960, Collection: 21st Century Museum of Contemporary Art, Kanazawa © "The World of Lygia Clark" Cultural Association, Photo: Taku Saiki
In the first gallery "Pattern which Connects," Bicho (Creature) (1960) by Brazilian artist Lygia Clark displays movable aluminum plates on hinges, which can be reconfigured freely to metamorphosize into numerous organic forms. The possible transformations activate the stimuli between matter and the mind. Clark claims she conceived of the title in reference to the essence of natural life. "Their characteristics are fundamentally organic. Furthermore, the hinge between the planes reminds me of a backbone. The arrangement of metal plates determines the positions of the Bicho, which at first glance seems unlimited. When asked how many moves a Bicho can make, I reply, 'I don't know, you don't know, but it knows.'" The last phrase, consequently, became the inspiration quote for the exhibition title.

Rinko Kawauchi, Untitled, 2020, Collection: 21st Century Museum of Contemporary Art, Kanazawa © Rinko Kawauchi
Photographer Rinko Kawauchi is recognized for capturing quiet, intimate, and poetic moods of nature, rituals, humans and animals. Often, she pronounces her visions with radiant light in an almost dream-like quality, and tickles our contemplative thoughts. In the "Planetary Nexus" gallery, Kawauchi's photographs diffuse mellow-toned sceneries, for instance, of a white animal shape in ghost-like presence; two children bathed in forest sun rays; and images of bubbles or mist. Her video work, M/E signifying "Mother Earth" and "me" epitomizes familiar landscapes that link our inner selves with the earth.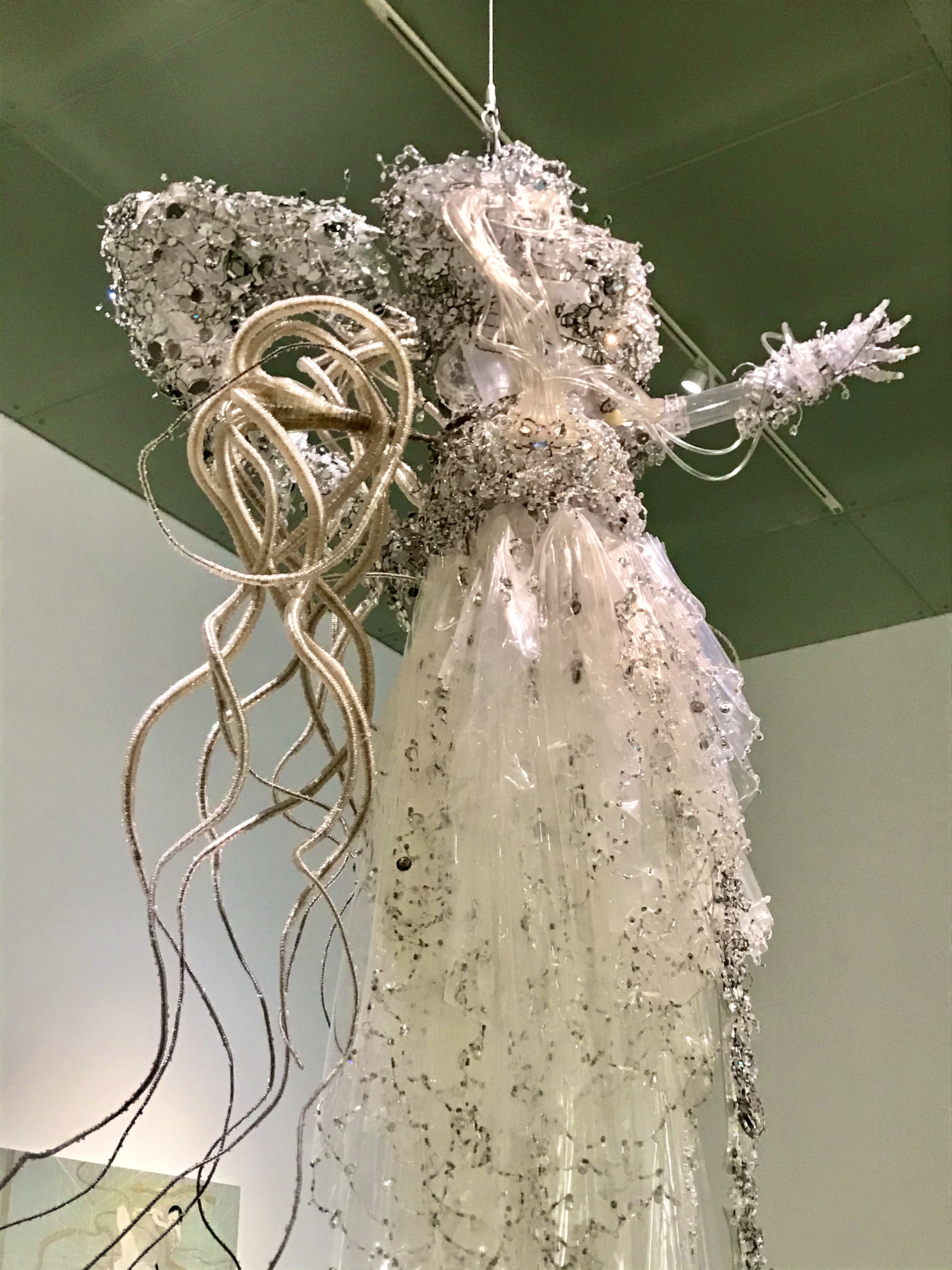 Lee Bul, Apparition, 2001, Collection: 21st Century Museum of Contemporary Art, Kanazawa © Bul Lee, Photo: Alma Reyes
One of the eye-catching galleries is "Forms of Ghosts/Ghosts of Forms," depicting 3D and 2D ghostly figures and images in a fantastical or spiritual world. The five artists represented — Tomoko Kashiki, Lee Bul, Katsuyo Aoki, Junko Oki, and Yukio Nakagawa — stir our consciousness on the transcending dimensions between life and death. Lee's Apparition (2001), a hanging female figure clothed in crystal and glass beads, polyurethane and stainless steel, is particularly riveting, as well as his ink-rendered creatures in Monster Drawings No.1– 6 (1998). You may also find yourself glaring eerily at the blood-like covered picture, Sacred Book (1994) by Nakagawa.
Read more ...

1
2
[Help wanted]
Inviting volunteer staff / pro bono for contribution and translation. Please
e-mail
to us.