ECHO was the theme of the 2021 KYOTOGRAPHIE International Photography Festival held in Kyoto, Japan, from September 18th to October 17th, 2021. It reflected on the decade since the 2011 Great East Japan earthquake, tsunami, the Fukushima nuclear disaster, and the first year of the COVID-19 pandemic. This year's artists worked in a variety of mediums to share their intimate reflections of the tragic events and personal circumstances that echo in our lives. The venues stretched across town. The following were some of the major exhibits.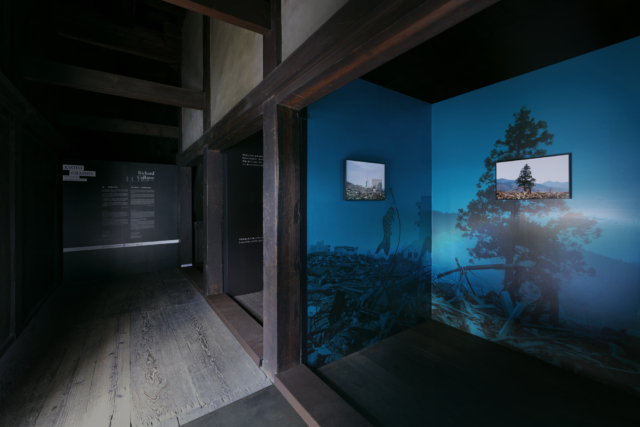 Richard Collasse, The Wave — In Memoriam at Nijo-jo Castle Tonan Sumi-yagura (Southeast Watchtower). Photo: Takeshi Asano
At Nijo-jo Castle, Richard Collasse's "The Wave — In Memoriam" are haunting portrayals of destruction left by the 2011 tsunami viewed by KYOTOGRAPHIE goers with handheld flashlights in an unlit watchtower. The artist's homage to the victims is a way of not forgetting the tsunami as the news coverage at the time quickly shifted to the nuclear accident. In the artist's words, "for there is no worse tragedy than forgetting."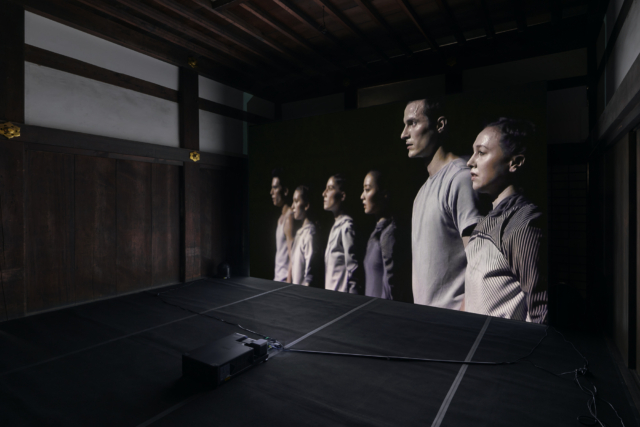 Damien Jalet & JR, Brise-Lames at Nijo-jo Castle Ninomaru Palace Daidokoro Kitchen. Photo: Takeshi Asano
Nijo-jo Castle also featured Damien Jalet & JR's mythical dance of water, "Brise-Lames"; Chikuunsai IV Tanabe's bamboo sticks bent into surreal spirals, "STAND"; a nurse's reflection on the COVID-19 patients in Marina Amada's "Collective Healing and recovery from a disaster" and "The Visible and the Invisible: Filling blanks and imagining other's pain" by Kazuma Obara, a documentation of the Fukushima nuclear disaster area and workers.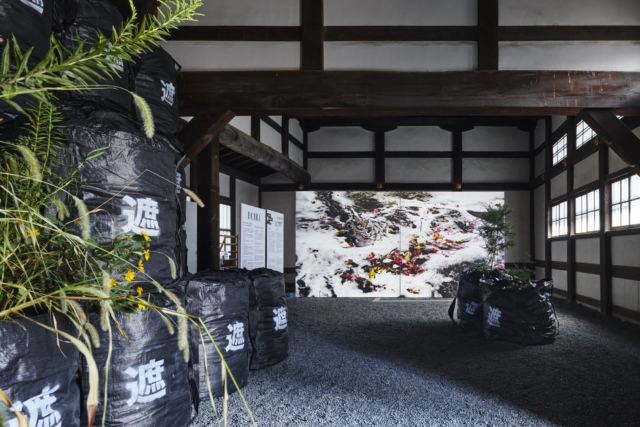 Atsunobu Katagiri, Sacrifice at Nijo-jo Castle Ninomaru Palace Daidokoro Kitchen. Photo: Takeshi Asano
Also, at Nijo-jo Castle were Atsunobu Katagiri's "Sacrifice"; industrial strength plastic bags filled with dirt and deposited throughout the Daidokoro kitchen area. In each, there was a photo urging us to reflect on the decontamination efforts in the Fukushima Prefecture that stripped five centimeters of topsoil. As the topsoil contains minerals, organic matter, and decomposed animal life, the cycle of life is disrupted. With the artist's background in ikebana using native species, the photos of flower arrangements in the center of the bags serve as both offerings to the living and the dead.
Read more ...
[Help wanted]
Inviting volunteer staff / pro bono for contribution and translation. Please
e-mail
to us.