Since the first solo exhibition 'Tools' in 2007, Zhang Ding has transformed his primary documentary perspective of urban fringe to a heterogeneitic space, which has been dramatically composed by installations, videos and various types of mixed media. He has discovered the mixing, contracting and even destruction of different elements to present the reality of conflicts. His representative works include 'Tools' (installation & video, 2007), 'Great Era' (video & photography, 2007), 'The Dream of Yabulai' (video & installation, 2008) and 'Law' (installation, 2009). The latest solo exhibition 'Opening' by Zhang Ding will be held at ShanghART Gallery H-Space from 21th May, 2011.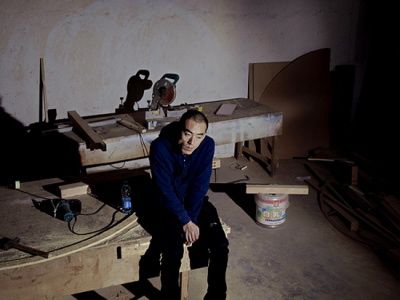 Your latest exhibition 'Opening' will be held at ShanghART gallery, please introduce your works and concepts of this exhibition.
My recent works have included three elements. The first element is gymnastics, which were put in the picture using parallel bars, balance beam, pommel horse, uneven bars and other installations. The second element is classical marble base, such as the base with double poles or female performers. The third and also the last element is the atmosphere of party. There will be two female performers showing in my exhibition, which can be imagined as the lead dancers of a nightclub.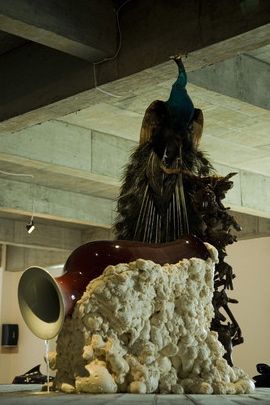 'Game with direction unknown', mixed media,2009
Your primary works trend to be documentary, but recent works have been transformed into installations. Why did you change? And when was the turning point?
I don't think it was a change for me. I have always followed the needs of my inspiration, and tried to use the most expressive way to present the ideas into my work. I am really comfortable and confident by creating mixed media and installation.
Your early works had been focused on the groups of urban fringe: minority, urban immigration, homosexuality and the homeless. With a subjective approach, these early pieces were more like documentaries. Why did you choose these groups? Where was your inspiration from? Did you personally experience their life and their living environment?
Because I was born in the northwest, I am familiar to the so-called minority, the ordinary people. My experience allowed me to understand their issues and environment better. As for urban immigration, homosexuality and the homeless, I have gained numerous inspirations from their life. These representative groups have reflected various destinies of life and people.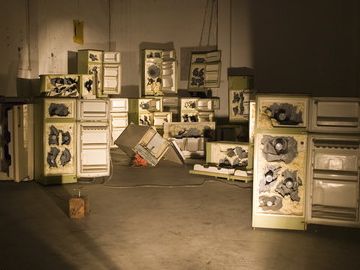 'Tools – 1',Mixed media,2007
What kind of social issues have been included in your work?
As a matter of fact, my works have been reflecting more personal emotions than social issues. I would like to transform my feelings and emotional reaction into my work, also to create an expressive atmosphere for visitors. There is no need to explain any social reality or only give visitors a visual stimulation. It is more like how we get a first impression of someone; we could guess his/her age or occupation by his/her behavior. I wish visitors could get what they need from the atmosphere I create.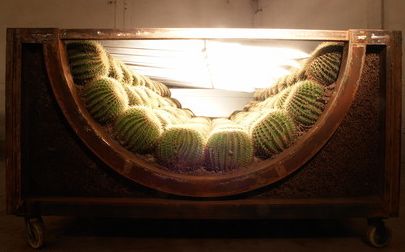 'Tools – 3', Mixed media,2007
As a Post-80 artist, what is your art movement about? Is there any influence to your work?
I just fit into the Post-80 artists. Art indeed needs time to precipitate; but there is not much connection between my works and my generation. I am not deliberately expressing the characteristics of Post-80 generation. I have always been creating the things I am interested in.
The people, events and stories in your work are all from the urban fringe. Are you also from the group of urban fringe or the mainstream?
Actually I am quite conventional. There is only a small part of me that reflects in my works. Those stories and people in my work also are only the typical representations.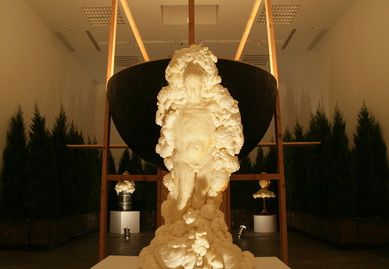 'Sculpture – 1', vesicant,2009
Your works have been exhibited in both national and international galleries. What is their review?
During the exhibition, I rarely communicate with the audience. To be honest, I am quite curious about their review of my works. Sometimes I am not confident enough to ask their opinions. From a perspective of an artist, an artwork is the best connection and communicating media between artist and the audience. There is no need for me to explain my work to others as it already contains a lot information, such as materials, combination and the atmosphere. Everyone has his own ability to understand and judge an artwork by his imagination and thinking. It is like writing an essay that we need to analysis and clarify different ideas to get the final result.
Which artists have inspired you the most?
Indeed, there are many. Both traditional Chinese and western artist have inspired me. My major was oil painting but I realized that I am more interested in mixed media installation. I think artist should do what they like and bring their joy to others. It should not be too utilitarian.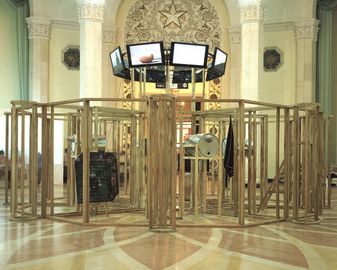 'The Dream of Yabulai', 2008
What is 'Dream of Yabulai' about?
This installation is a three-dimensional octagonal structure, which can be seen as eight people holding hands and communicating. There is circle loop display of eight videos above this structure showing important moments of the history of human development, such as the moments of invention of mapping, energy, art, religion and war, to question the origin of art.

'Great Era', video, 2007
It is said that 'Great Era' is about the urban immigration. Why do you decide to do naked riding as your presentation?
My works are stating the lives in the edge of the city. For example, I live in Shanghai but there is not strong connection between this city and me. No sense of belonging is what I call the critical state. 'Great Era' tells a story full of dramatics: a man riding a bike with a horse head on the Shanghai streets at night. On this image, a naked man frantically rides a bicycle in the shallow pool at a public bath. Half of the wheels are submerged under water. Horse head and bicycle are the inspirations from my childhood memories. Man riding a horse can be understood as a kind of chivalry. The theme of this work is about pursuing dreams from rural to urban.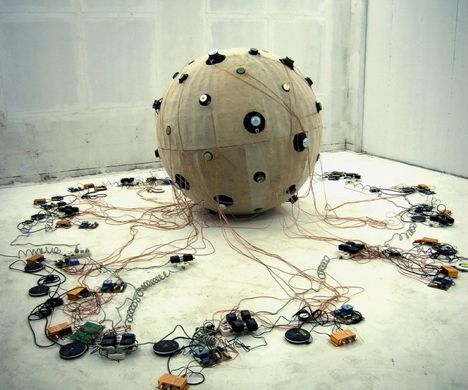 'N kilometers towards the west', 2006
Please introduce your 'N kilometers towards the west'. What is your inspiration?
It is a sound installation with 27 pairs of CD player and speaker connected to the ball in the middle. The sound of the city will be played at the same time with a feeling that the sound is coming from thousands miles away.
Since you became an artist, which work is your favorite?
My favorite and best work will be created in the near future. As an artist, I should never satisfy with the current status. Keep pursuing and creating will be the goal of my life. Just do it!
Zhang Ding solo exhibition 'Opening'
Date: May 21th – July 10th, 2011, 13:00 – 18:00 (Monday close)
Place: ShanghART Gallery H-Space
Address: 50 Moganshan Rd., Building 18, Shanghai
Tel: +86 21 6276 2818
http://www.shanghartgallery.com
Text: Emma Chi, Xue Luyao
Translation: Zhang Yifan

[Help wanted]
Inviting volunteer staff / pro bono for contribution and translation. Please
e-mail
to us.