A leading Chinese artist, Ai WeiWei 's "Sunflower Seeds" has been exhibited at the Tate Modern in London. He is known for his conceptual works but he is also active in architecture, design, publications, curating, and social and cultural criticism. He was commissioned as the artistic consultant on the Beijing National Stadium, also known as the "Bird's Nest". It was a collaboration with Swiss architecture firm Herzog&de Meuron. in 2008, Ai WeiWei had a solo show at Mori Art Museum in Tokyo, Japan.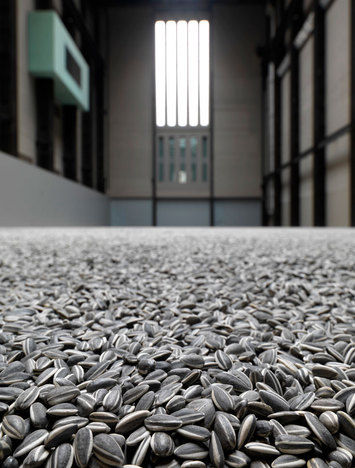 The Unilever Series: Ai Weiwei, Sunflower Seeds 2010
©Tate, London, 2011 © Ai Weiwei
"Sunflower Seeds" consists of more than one hundred million porcelain seeds covering 1000 square meters of the Tate Modern's Turbine Hall. The seeds look quite realistic but they are porcelain replica . Each seed has been hand-painted by specialist working in small-scale workshops in Jingdezhen, 1000km away from Beijing. The city is a traditional "porcelain capital" and one hundred million seeds were made by 1600 specialists taking two and a half years.
You can watch a video about the process of the production of the seeds and a conversation with the artist and craftsmen. When I looked at the vast carpet of seeds in the hall after I watched the video, the fact that each seed was made by someone touched me.
For Ai WeiWei, sunflower seeds is a daily snack and comfort during the famines under the Chinese chairman Mao Zedong's notorious social-political programs. Also, the handmade sunflower seeds remind us all unique and different craftsmen that a mass-production "Made in China" do not have. More than anything else, however, it is no doubt going to make you fix your eyes on it for a while.
Another way to enjoy the exhibition is an online discussion with the artist. It is very important for him to communicate with visitors directly and he also uses twitter! You can send him a video message with your opinion or questions for the exhibit and it will appear on the Tate website. It is very kind of him to respond to some selected questions.
Although the original aim of the exhibition was an interactive installation where visitors are able to walk and touch the seeds directly, a few days after the exhibit opened to the public, it had banned to walk across the exhibit because the interaction of visitors with the seeds occurred a lot of dust which may damage the health. According to a friend of mine who went to see there before the work had been banned to enter, the seeds were "super realistic", so I regret that it is impossible to touch the actual seeds anymore.
Meanwhile, his lively political activities often cause conflicts with the Chinese government. His studio which was newly built in Shanghai was commanded to be demolished by force because it was "an illegal building". However, he had not remain silent. As a protest for the demolition of his studio, he had announced on Twitter to be hold a "River Crab Fest" on the previous night of the demolition, and had served 10000 river crabs for the supporters who showed up for free. The pronunciation of "Crab" and"Harmony" in Chinese are almost same. It was the ironic celebration of the Chinese government that is still remaining a dictatorship and the delay of redressing a disparity in wealth in China. I am looking forward to his future works and activities which remain to hold firm to his opinions even under pressure of the government.
The Unilever Series: Ai Weiwei "Sunflower Seeds"
Date: October 12th 2010 – May 2nd 2011
Opening hours: 10:00–18:00 (Fri– Sat until 22:00)
Place: Tate Modern
Address: Tate Modern, Bankside, London SE1 9TG
Tel: +44 (0)20 7887 8888
http://www.tate.org.uk/modern/
Text: Yumiko Isa

[Help wanted]
Inviting volunteer staff / pro bono for contribution and translation. Please
e-mail
to us.