If you're wondering who the most talked about artist in Berlin might be these days, it would most likely be Chinese artist Ai Weiwei. He previously hadn't had many opportunities to exhibit in Berlin, but a big solo show of his just opened at Martin Gropius Bau, a museum in Berlin. With coverage in newspapers and on TV, there's been a lot of buzz about Ai Weiwei and the exhibit, with over 100,000 visitors to the exhibit in just a month. This is a definite sign of Ai Weiwei fever. This is a report on his Berlin exhibit which has been received with great enthusiasm.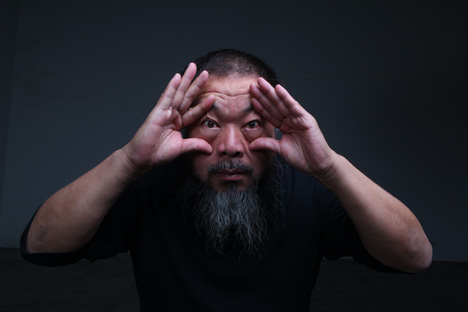 Ai Weiwei, 2012, © Gao Yuan
A huge line leads to the admission window to purchase tickets at the entrance to the museum. Once in the line, your eyes will likely catch a glimpse of some strange sights. Surveillance cameras surround the entrance, giving the museum a pompous impression. However, these cameras are actually one of Ai Weiwei's pieces called "surveillance camera," made from marble, and they don't have the functionality that would be implied by their appearance. This piece is on display at the entrance because the surveillance cameras reflect the theme of this exhibit, which is titled "Evidence," symbolizing what Ai Weiwei has endured while under under house arrest.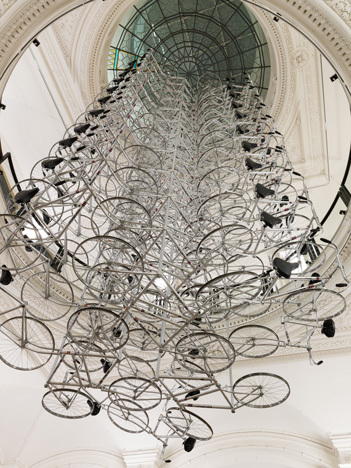 Very Yao, 2009, 150 Fahrräder, unterschiedliche Größen, © Ai Weiwei
Ai Weiwei has participated in internationally renowned exhibits since the 1990's, such as Documents and the Venice Biennale. His artwork's focus usually includes commentary on social problems, therefore the motifs have often disagreed with the Chinese government. Weiwei's opinions on society and the Chinese government were expressed not only through his art work, but also through through the internet. As his opinion increasingly influenced the public, the Chinese government began to put him under pressure, eventually shutting down his website. In 2011, he was arrested by Chinese police, and after being imprisoned for 81 days, the police revoked his passport. As a result, he is now unable to leave the country, and is currently still under police surveillance.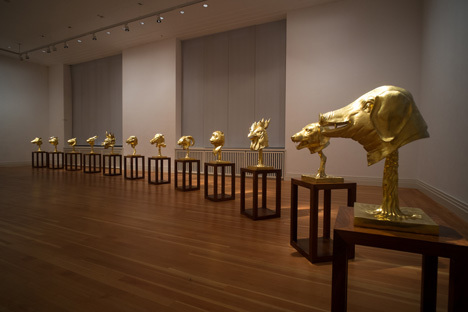 Circle of Animals, 2011, Bronze mit Gold-Plating, 12 Statuen, © Ai Weiwei. Foto © Mathias Völzkei
While the marble security cameras welcoming visitors at the entrance symbolize Weiwei's experiences in prison and his on-going surveillance, the exhibit hall if filled with even more work directly relating his experiences. There's a huge box-shaped container in the hall into which audiences can enter. Inside its confines, there's a bed and a dirty toilet bowl. This piece, "81," is a re-creation of the place where Weiwei was imprisoned, and its stark layout speaks about the poor conditions under which many are imprisoned. Weiwei criticizes the absurdity of the Chinese government's surveillance by displaying footage from a surveillance camera inside on a large TV screen next to the huge container.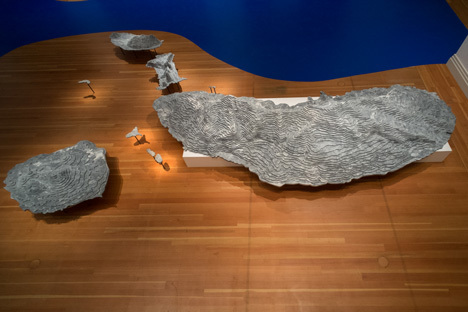 Diaoyu Islands (Diaoyu-Inseln), 2014, Marmor, © Ai Weiwei. Foto © Mathias Völzke
His criticism of the Chinese government continues with the piece "4851." In it, a TV monitor displays Chinese characters one after another, the names of students and children killed in 2008 when a massive earthquake in Szechuan, China caused a school building to collapse from its corner-cutting construction. The Chinese government never released the actual death toll, and even tried to avoid responsibility for their supervision of the construction site. Weiwei confirmed and preserved the names of the dead so that their memory would live on. This is not only to mourn the dead, but a harsh rebuke of the Chinese government's attempt to avoid responsibility.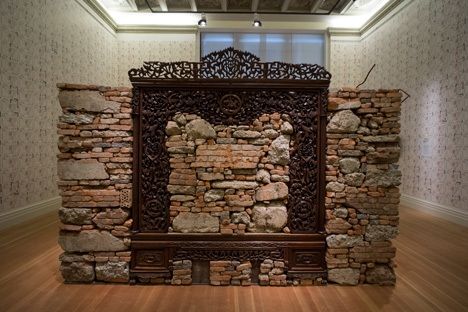 Souvenir from Shanghai (Souvenir aus Shanghai), 2014, Beton- und Ziegelsteinschutt aus Ai Weiweis zerstörtem Atelier in Shanghai in einem Holzrahmen, 380 × 170 × 260 cm, © Ai Weiwei. Foto © Mathias Völzke
It's obvious from Weiwei's work that the Chinese government is very troubled. His stance has not changed even after having been barred from leaving the country or placed under arrest. He continues to create without folding to pressure and criticism from the government, a fact which has led him to be acknowledged as a leading artist in the fight for freedom of expression. The Chinese government plays a significant role in his exhibits and work, and you can't talk about his work without thinking of these themes. However, unlike some of his other work, this exhibit includes works that do not reflect upon the Chinese government.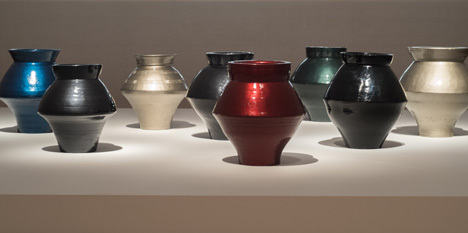 Han Dynasty Vases with Auto Paint (Han-Dynastie-Vasen mit Autolack), 2014,
Vasen aus der Han-Dynastie (202 v. Chr. – 220 n. Chr.) und Autolack, © Ai Weiwei. Foto © Mathias Völzke
2,000 year old Han Dynasty-era pots are lined up and painted with industrial coating for his piece "Han Dynasty Vases with Auto Paint." In spite of their historical value, Weiwei has painted the pots with a shiny metallic coating for cars, hiding their beauty and giving them the look of mass produced products. Although the shapes of the pots are unchanged, the impression given off has changed completely, though it is hard to find commentary on the Chinese government in such a piece.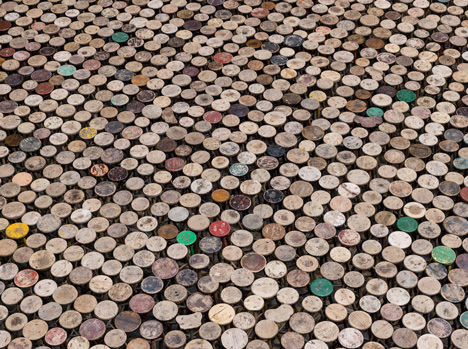 Stools (Hocker), 2014, 6000 hölzerne Hocker aus der Qing Dynastie (1644-1911), unterschiedliche Größen, © Ai Weiwei
Viewers are likely to get the same impression from the pots as from the work "stool" which is displayed on the stairwell at Martin Gropius Bau. Countless simple chairs are placed on the stairwell underneath the sunlight coming from the windows above. Actually, it's 6,000 chairs that are crowdedly placed there. All of the chairs have three legs and circular seats, and might as well look the same. However, they were all collected from the Ming Dynasty to the Qing Dynasty, so some are very old, and some are newer and differ slightly in appearance. This piece leads to the realization that appearances can be misleading or one-sided depending on what can be seen.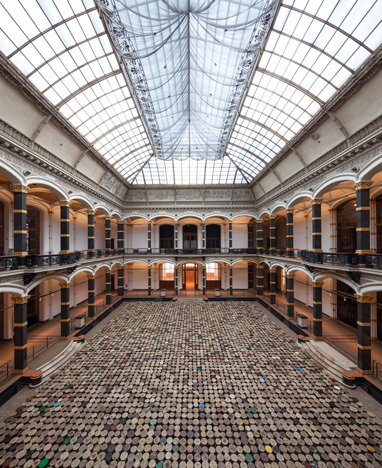 Stools (Hocker), 2014, 6000 hölzerne Hocker aus der Qing Dynastie (1644-1911), unterschiedliche Größen, © Ai Weiwei
A picture on display, "Study of Perspective," is an unforgettable rumination on perspective. The picture features symbolic buildings and places of the world along with a middle finger pointing up. The finger is a provocation, but could also represent resistance against the symbols of cultures and/or countries. The subjects here are the Reichstag in Germany and Japan's Yasukuni Shrine, not the Chinese government. These are the centers of power their respective countries and cultures. In this piece, Weiwei is expressing doubt in the righteousness of these places, just as he does for the Chinese government. The resulting message encourages the viewer to question blind allegiance to the powers that be in their countries and cultures.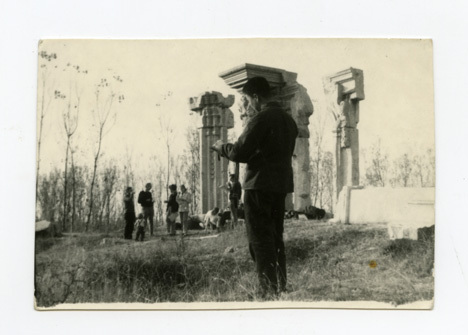 Ai Weiwei zeichnend beim Alten Sommerpalast (Yuan Ming Yuan), Beijing, 1977, © Ai Weiwei
As explained earlier, the shadow of the Chinese government's interaction with Ai Weiwei looms over the exhibit. As international politics increasingly focus on China, this exhibit could also be seen as focusing on the international situation. On top of that, the framework of the artist in conflict with the Chinese government's suppression of free expression could even be used as a stock way of introducing the exhibit. Now, these sorts of compositions have become the dominant tone in media and at the exhibit, as compelled by the audience. However, is Ai Weiwei hoping for just a one-sided view, or could he be hoping for people to swallow the company line? He does not want these outcomes. The important thing when approaching his art work is to understand what he is fighting with, and it is something that will not be forgotten after seeing this exhibit.
Ai Weiwei "Evidence"
Date: April 3rd – July 7th, 2014
Opening hours: 10:00 – 20:00
Place: Martin Gropius Bau
Address: Niederkirchnerstraße 7, 10963 Berlin
Tel: +49 30 254 86 0
http://www.berlinerfestspiele.d
Text: Kiyohide Hayashi
Translation: Yumico Miyagawa

[Help wanted]
Inviting volunteer staff / pro bono for contribution and translation. Please
e-mail
to us.