Currently based in New York, a hair stylist KENSHIN works across the world for Editorial works for fashion magazines, runway collections as well as produces whole visual images for a hair salon "THE SALON" located in Nakatsu Osaka. At the same time he launched an NPO "JAPAN HAIR DONATION & CHARITY" which raises hair donation to make kids size wigs and fund raising for children who have lost their hair.
We pressed ahead with one of the Japanese top hair stylist KENSHIN to discuss the core parts of his extended activities and creations.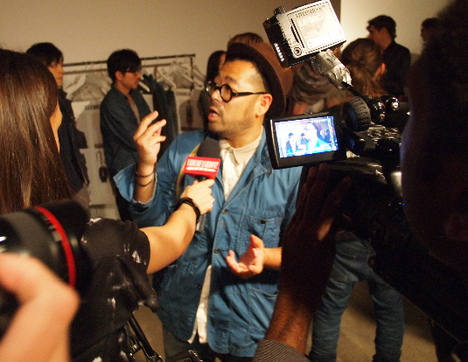 Could you tell us what you did before starting your freelance career?
I always wanted to be in fashion and in the art industry. I was inspired when I was working as a teacher at a school as well as belonging to a hair salon in Tokyo. I began my career as a freelancer to create visual images for runway collections advertisements, and the editorial pages of magazines.
But I didn't know how to start. So I was completely absorbed in brushing up my portfolio and pitching them to publications. It was a hard time, looking back now.
After I went to the US when I was 30 years old, I was offered a job by a New York's top agency "L'ATELIER" where a leading make-up artist Stephane Marais and head stylist Julien D'ys also recently joined.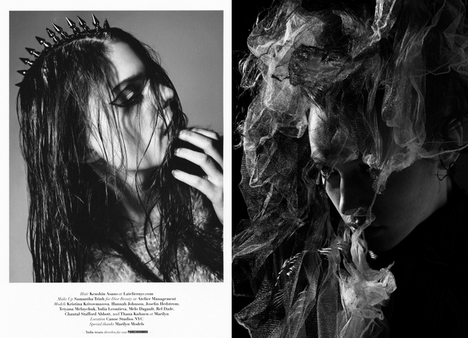 What kind of projects were you doing in Japan until you moved to New York in 2000?
Before 2000, I was working as a hair and make-up artist in Japan.
What made you to move to New York?
I always wanted to work globally, and I was convinced it would help to develop my career certainly and the fashion stories I was always influenced by were magazine editorials in foreign countries.
How often do you currently come back to Japan for work? 
It depends on schedules of clients or projects but I work once every 6 months in Japan.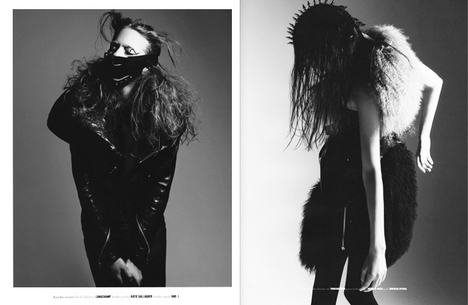 Where is the most visited country or city for you in a year?
I frequently visit Milan, Paris, and Tokyo for work, but I go to all over the world for photo shoots such as an uninhabited island in Panama or Monaco. Personally my favorite cities are San Francisco and Istanbul.
What is your main work as a hair stylist?
Based mainly in New York, I work for magazine editorials, advertisements, fashion shows, as a member of a creative agency "L'ATELIER NYC" in New York, and "EIGHT PEACE" in Japan.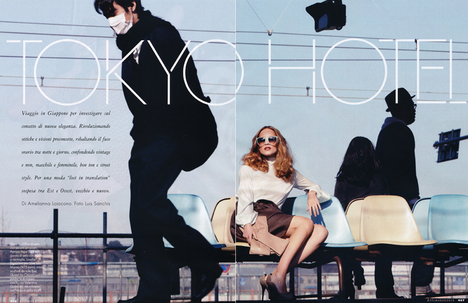 Could you tell us about your work as a beauty editor for "NEWWORK MAGAZINE," which is published by a Japanese editor Ryotatsu Tanaka?
"NEW WORK MAGAZINE" is an independent magazine released by New York based design studio that explores a wide range of creations such as fine arts, design, hi-fashion, culture and politics edited with wonderful philosophy.
Ryotatsu Tanaka of "STUDIO NEWWORK" is a friend of mine. I support editorial pages from point of view of beauty to assist the direction of pages.
Actually there are many things happening which we can't imagine before photo shoots, where we can have exciting experiences to create fantastic pages.
Could you tell us about ongoing projects?
I'm in the middle of creating a hair styling collection book with Ryotasu with an aim to create very innovative one.
You were in charge as a hair stylist for N HOOLYWOOD and ROBERT GELLAR during NY 2011 S/S collection. Are there differences between hair styling for runway shows and magazine editorials? What are the important things in creation process in both?
It's required to make them from different dimension. Technically, hair styling for magazine editorials are required very high skills that restructure and capture from 3 dimensions to 2 dimensions. I try to do it using my intuition, skill, and experience in every different situation. It is very interesting we never know if something good in the 3 dimensional situation is also good in 2 dimensions and the other way around.
For runway shows, I create 3 dimensional and it is shown as it is. I try to focus on representing living energy, atmosphere, and motion of the hair style.
For both works, I have achieved constant success by designing hair with a care with a basis from the communication with collaborators including designers, art directors, and photographers, and by incorporating good happenings.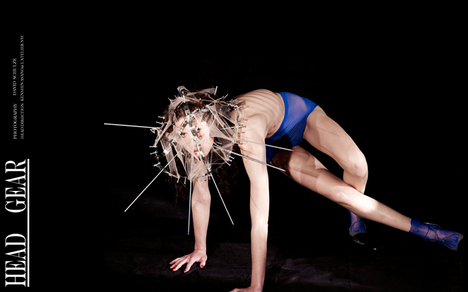 What do you think about the role of hair in total visual images?
 
It always works very important in fashion photo shoots. In my opinion, hair always represents a trend/style, and graphically it fills a space of the photograph.
I think it is sometimes considered as a large part in fashion photo shoots. Hair styles have a big influence on people's character. Fashion is a trend that has temporary changeable elements.
However a style can be shown as a hair style, the way of talking, eating, reading, sense of humor, action, etc that express ourselves eternally, so when I create a hair style, I direct them to express people's own feature.
How do you get inspirations? Do you have any specific favorite musicians, film directors, actors, athletes, or authors?
In my case, there is no particular inspiration source. I create hair style with flexible imaginations which are proved by philosophy to deal with changing situations.
For instance, I repeat creations and break for my process of working. Then there are times when I find accidental happenings. I catch them from where I get inspiration, which reflects my everyday life.
In this way, there are many people who inspired my life, especially a poet Gary Snyder, authors such as Paul Auster, Gao Xingjian, a naturalist Hiroshi Aramata, film directors such as Jacques Tati, Michelangelo Antonioni, and Akira Kurosawa, a costume designer Eiko Ishioka, etc. I am very inspired by movies and literature. And also I am influenced from communication with family, friends, and creative partners.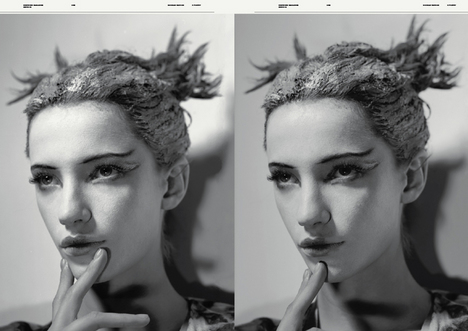 Are there differences and interests between men's hair and women's hair?
Basically it is same in terms of hair styling. I tend to create dynamically and consciously for the men's hair. I have more graphic sense.
For women's hair, I always create with a feeling of women. So particularly mood, imperfect things, texture, shape are essential to me.
Is there any particular artists who were exciting, memorable or inspiring in your career?
Almost everyone who have worked with me gave me a certain influence, but I feel something special working with a great photographer Albert Watson. I have a lot of respect for him and he's very inspirational. Another one is a photographer Luis Sanches, a friend of mine who always tries to open a new door.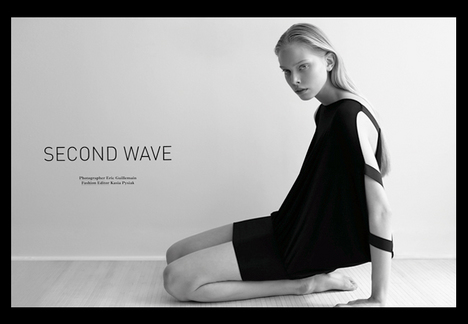 Are there any specific magazine editorials or runway collections you want to participate in? Do you have any specific creators you want to collaborate with?
There are plenty of magazines and runway shows I would like to be in part, and new teams I would like to work with, but I really hope to collaborate with a museum for hair styling.
ニューヨークでの暮らしについてお伺いします。仕事面、生活面両方において、日本と随分違うと思いますが、ニューヨークの良い面、不自由な面があれば教えていただけますか?また移住してきてから今日まで苦労した点などあれば教えてください。
とにかく外国人として他国に住むという事においては、大なり小なり苦労の連続ですが、ニューヨークでは多民族、多国籍な人々が集まる所なので、単一民族の国よりは生活しやすいと思います。
仕事面においては特に撮影時にはスタッフの半数以上は外国人である事が珍しくなく、外国人と言えど、良いものは良いと受け入れる寛大さは素晴らしいと思います。
生活面においてニューヨークはやはり国際都市としてはサラダボウル、メルティングポッドと呼ばれる様に多民族が暮らす街であり、色々な国の価値観や文化を体験できる上では素晴らしいと思います。
ニューヨークで好きな場所、お店などはありますか?
やはりミュージアムは世界の中でも至高な物が多く、カルチャーを確実に引っ張るイベント等も行っている為、見所はいっぱいですね。PS1の夏に行われる「ウォームアップ」やMOMAの「MOVE!」などは見逃せないイベントです。
What is your role as a producer at the hair salon "THE SALON" in Nakatsu Osaka?
First of all, "THE SALON" is a project run by me and friends of mine with a totally new concept. Exploring what the 21st century hair salon ought to be, we had a question about the stance of the current beauty industry. Based on pure sense which we can feel freedom and passion, we started this project to promote a new sense of value for all the hairstylists.
Concretely, I produce for a big direction work for THE SALON, and manage image visuals, BLOG MAGAZINE, website, interior and buying props. And we launched and run the NPO "JAPAN HAIR DONATION & CHARITY".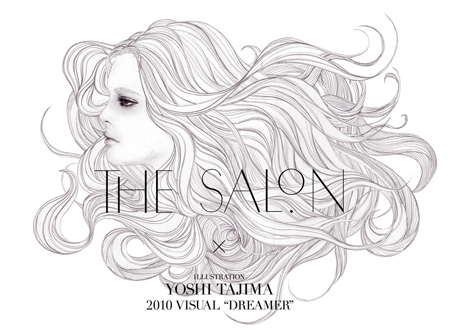 What was the reason to collaborate with an illustrator Yoshi Tajima for the 2010 THE SALON image visual?
For making an ad image of THE SALON, we had a concept "DREAMER" for the theme of 2010 to propose a beautiful woman with hope with beautiful mentality and future hope. We concluded it can't be represented from an ordinary model shoot. And we reached a new value of sense to meet "HAIR BEAUTY ILLUSTRATION". Then we were looking for an illustrator with a great power of expression, we looked at new illustrations of my long-time friend Yoshi Tajima, we offered him to work with us.
You are in the progress of making a new alphabetical graphic art project called "THE SALON A to Z" working with Yoshi Tajima as a creative director. I think the project that a hair salon makes graphic art is flesh and new idea. What do you think about it? Could you tell us your point of view about the relationship between hair and art?
This is 2 year limited new project that is one of the challenges for us. However, we didn't think to represent graphic art at the beginning.
Everyone's mind is beyond the same direction even though we have an environment where we can get any kinds of information and images due to the advanced diversification of media these days.
For example, all the visual images created by hair salons are same trend images with no creativity, and the situation of fast fashion is so popular now is not only because of the world recession and low price. We think that is also because of people's lack of feeling or enjoyment and creativity.
The project was started first with an idea to create a place to represent people's philosophy and individual thoughts at "THE SALON". We have already experienced a potentiality to expand hair expression and the power of graphic through the collaboration with Yoshi Tajima for the 2010 image visual for "THE SALON" or for "NEWWORK STUDIO".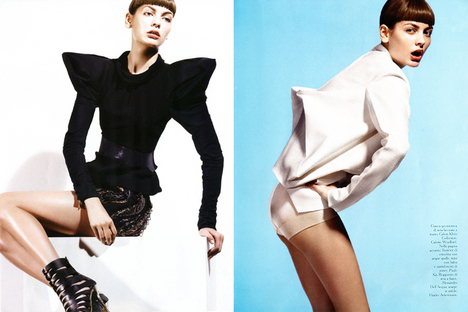 What do you think about the role of "THE MAGAZINE" , which is released from "THE SALON"?
"THE MAGAZINE" is a blog magazine posted by staffs at THE SALON. AS a hair salon, we first wanted to deliver something like in a blog magazine style, but we felt it is not meant for posting our daily routine. So we came up with an idea to deliver our thoughts or our personal topics except for the daily duty. It is based on "our steps in the 21st century" as a main theme.
I think it seems people still trail the 20th century life style even though it was 10 years ago. In "THE MAGAZINE" we explore tips of people's steps in the 21st century through articles from 7 categories including INTERVIEW, PHOTO DIARY, FASHION&BEAUTY, SOUNDS, SOCIAL, CULTURE, and ART.
Consequently "THE MAGAZINE" is becoming an educational thing for staffs' own senses, or simply interesting columns, and is essential for us as a communication tool or education tool. The articles are not written perfectly, but we feel it has something original style after its 55th issue.
It is sometimes reviewed too maniac or unrealistic, but the topics we focused on are always necessary for our ideal life style or hints. It features happenings and topics that are occurring on the earth in the present or happened in the past.
Could you tell us about "JAPAN HAIR DONATION & CHARITY"?
"JAPAN HAIR DONATION& CHARITY" is the first and only NPO which receives hair donation and provides medical wigs to children under 18 years old who are suffering from loss of hair by unexpected accidents, atrichia, congenital alopecia or treatment of kid's cancer and support rehabilitation. The purpose is to protect their human rights, and at the same time provide wigs to those that have lost hair.
I wanted to give something back as much as possible to "hair" that is raising me and will raise many other excellent hair stylists in the future. I started from donation to foreign organization and small size activity making the use of beauty skills and knowledge at a salon. But I bumped into a realistic problem in the middle of volunteer activity that I felt it might be difficult to continue steady activity in the future only with "Feelings" or for the "small activity".
I considered from many angles to realize a system that can support and help suffering people. Then I reached an option to launch NPO by inevitability. But it is not PR of our other activities or a commercial at all. It is purely "an act of kindness" which we are continuing the activity with effort step by step.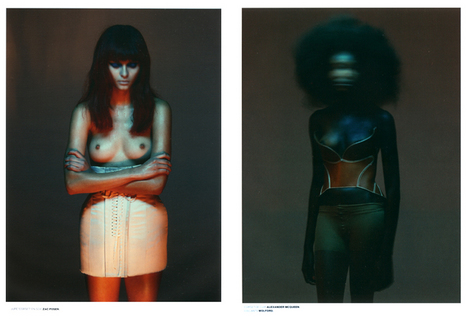 You are quite active in the multiple fields as a hair stylist, beauty editor, salon producer and NPO. Is there any differences respectively?
At the present time, any creative works are made by teams, not individually. For example, editorial pages are created by agents, production companies, editors, photographers, stylists, models, make-up artists, assistants etc.
I would say it is same for the salon and NPO activity. Actually my activity fields are seemed widely spread, but these links closely together in my mind, and I am involved in everything. The core part of it is just hair.
I am working as a member of teams in that way. And also it is related to everything that is going well.
Finally, could you give a message or advise for people who are aiming to become a global hair stylist like you?
Hair stylist is a hard work to pursue. It requires a special talent that always keeps making effort . I think it is vital to love your own job, and have a respect towards "hair".
THE SALON
Address: 3-8-18 Toyosaki, Kita-ku, Osaka
Open: 10:00-20:00 (Sunday and Public Holiday till 19:00) Appointment Only
Closed on Monday and 3rd Tuesday
Tel: 06-6359-3779
http://www.thesalon.jp
Text: Akihiko Hamada

[Help wanted]
Inviting volunteer staff / pro bono for contribution and translation. Please
e-mail
to us.