Lucila Bodelón has many pockets and they're all full of gifts. She has pockets in her dress and in her house. All of her cameras have them also. Her skies, her landscapes and the little books. The portraits and sweets she offers me as soon as I get there. Gifts and pockets are all around.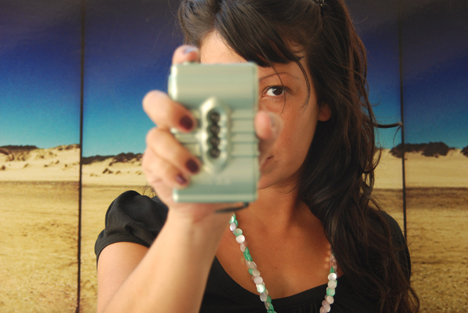 Lucila, who studied photography and film in the nineties, found a great basis for her work on Marta Zátonyi's art history and aesthetics classes, where she's been attending during the last ten years. While she was a little girl, she used to travel with her parents through the Pampas. That's the landscape of her childhood, and also one of the themes she revisited with her Rolleiflex and Lomo cameras.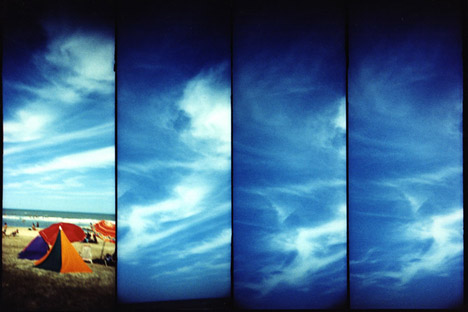 "My father loved driving. We used to get in the car and travel through the roads of the whole country. I'm an only child, so I sat in the back seat of the Falcon. I got pretty bored actually, so I invented a private world, as most children do", she tells me. "The country is a synonym to my childhood. Some years ago I returned to those places with a friend and took pictures, so in a way I made a closure. I like to close my projects at some point".
That's what she did in Rollei Landscapes, the exhibit that took place in August 2008 at Arte y Parte Galería. Every little piece of the puzzle was there: the photos, the book and objects. The gifts spread all around and the exhibit also travelled to other provinces.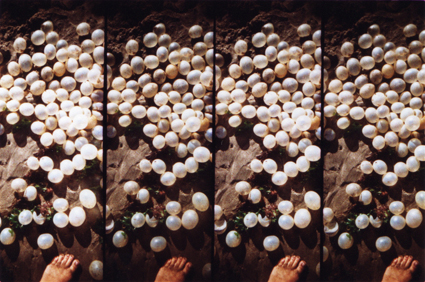 Which would you describe as the most important moments of your career?
My career is very lonely, so I prefer social and collaborative work; those are the moments where I believe something is actually born.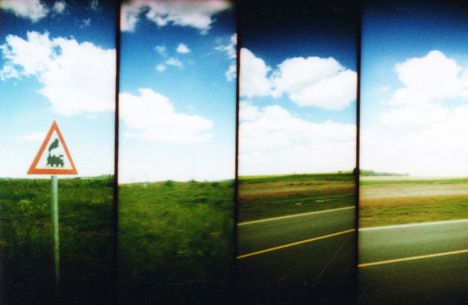 How did you meet Claudio Roncoli?
I met him in an exhibit; I really liked his work at the time so we decided to work together with powerful and beautiful pictures of argentine landscapes. This is a project with no name, soon to be finished.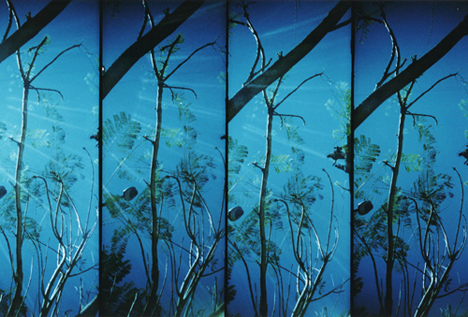 And which are the subjects that inhabit your work?
My childhood and my projection on the other. The project I'm working on now, for example, is about motherhood and women, and how I relate to this "other". My pictures, I believe, are not ugly. Some of them are isolated, nostalgic. And most of them are terrible; they're on the verge of something terrible. I like to visit places of my past, and work with them, reshape them in a way.
Another thing Lucila loves is cameras. She collects them and experiments with every camera: its design, possibilities and styles. It's almost as if she creates every new project inspired by the camera she's working with.
That's what happened with Lomo camera; she found it in a store and chose the supersampler because she was "interested on fragmentation, sequence and composition. I was in a moment where I needed to get out of my own structures so this camera brought the freedom I needed. I could get out of the box and move my own eyes", she says.
"Everything I photographed: the trip, the country, beaches and landscapes were places that belonged to my childhood. I realized it when I saw the images; it was some kind of homage to those moments that were captured in my subconscious".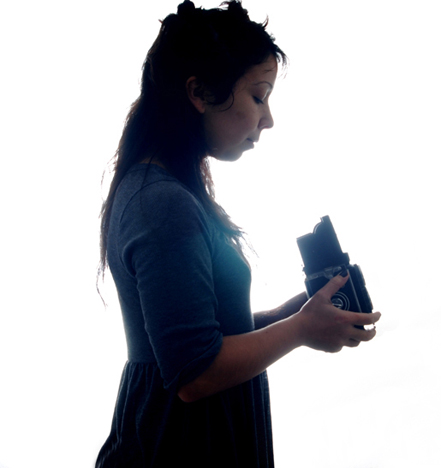 Tell me about "Tesoros Familiares" (Family Treasures), your amazing book with photos of children in the seventies.
Well, we had this idea with a friend who's a graphic designer. One day I showed her a picture of me as a little baby (I have lots of pictures because my father loved it). We wanted to make a book, aware of the fact that family photography is something meaningful, because you can discover social and cultural habits watching those pictures. This is an independent project; we published it and now we distribute the books ourselves. The idea is to compile photos of the sixties and eighties now to make a collection.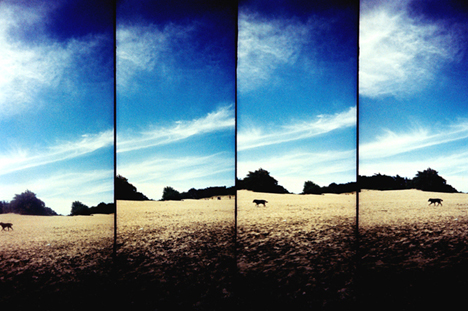 Why do you make videos along with your pictures?
I like to work with images in motion. I work with new and old videos; some of them also belong to my childhood. Every new project comes with its own book, video and objects. It's like a combo, I feel it can be better understood when you can reach it from many angles.
What would you like to do that you haven't done until now?
I'd like to travel more, and see what I find there. A place I'd like to go is Moscow, in Russia. I love Russian culture and history. When I travel everything is hazardous, there's a freedom feeling that motivates and inspires me. I would have to choose one of my cameras and hit the road.
Before she packs her bags, I keep some of her treasures with me. Luckily, she likes to share them, so I leave her studio with my gifts in my pockets and a huge smile in my face, waiting to find a place in the universe. Just like Lucila did.
Text: Gisella Lifchitz

[Help wanted]
Inviting volunteer staff / pro bono for contribution and translation. Please
e-mail
to us.