GUNDAM GENERATING FUTURES: CONTEMPORARY ART
TV animation "Mobile Suit Gundam" (Total 43 episodes) is one of top 3 Japanese animations. This position might be unshakable at least in this century. The work of 27 years ago is still continued making as sequels or related works. In addition, these are not just repetition of one pattern, but different works based on the world view of Gundam, which indicates the intricacy of the basic Gundam world. At the present day with value or interest becoming diverse, Gundam might be "common language" over generations. In the age of which relations between people are reconsidered, to grow such " common language" is one of the important roles of art, I think.
A large-scaled exhibition drawing out the real enchantments of Gundam, "Gundam Generating Futures: Contemporary Art" is taking place in Sapporo Art Museum, the largest art facility in the city with several galleries and an open-air stage surrounded by woods in outskirts of Sapporo.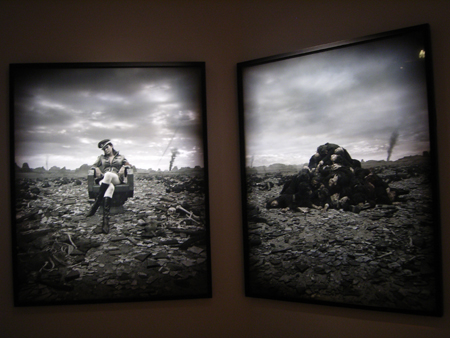 Odani Motohiko, "Whole Lotta Love", 2O05
Speaking of animation work's exhibits, it's usually something like fan-service, such as sales or exhibits of original celluloid pictures, making, setting materials, goods and so on. However, this exhibition is a contemporary art exhibition of original art works by inspired creators of Gundam ages, to look at "War", "Evolution", "Life", which are drawn in Gundam.
Total 22 art works are exhibited; flat pieces by Japanese top creators, video works with many projectors, huge object, and media-art-like works. Also at the lobby of the venue, a work by Yoshiyuki Tomino, a creator of Gundam, is specially exhibited.
Here, I'll write about this Gundam exhibition, with 6 exhibited works I selected, including comments from Motoaki Yoshizaki who is a curator of this museum. First, I asked "What is Gundam to you?" to Yoshizaki. "I was watching First Gundam in real-time in high school years. Just the same, the world view which was completely different from any other animations inspired me a lot", he said. Then I asked about visitors. "A wide range of fans across various generations visits here. I can find more young people in weekdays, and families with children in weekends, and it seems that fathers in Gundam age are most excited about it, rather than they are showing to children." Well, I see.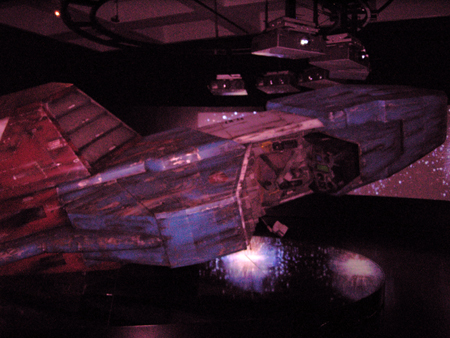 Yasunori Ikunishi x Yasunori Kakegawa x Kuknacke x Magic Kobayashi x Tetsuya Nagato, "Breathe upon the Universe", 2005
Inside, wall surfaces in the dark space are mostly with projector visuals, and video works expressed the universe are played. There is a full-sized object of "Core Fighter" at the center floor, which is a battle plane appeared in Gundam. These are the first artwork "Breathe upon the Universe" (by Yasunori Ikunishi x Yasunori Kakegawa x Kuknacke x Magic Kobayashi x Tetsuya Nagato). They bring the last scene of the last episode of Gandum in their work, and it reminds me of "the end of battle". It was great real reproduction from the body damaged and stained to the instrument inside the cockpit.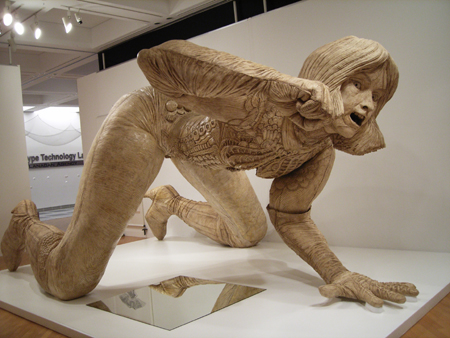 Nishio Yasuyuki, "crash Sayla Mass", 2005
Walking just from there and right after turning, "crash Sayla Mass" (Nishio Yasuyuki) appears. This is a sculpture work of a woman character in Gundam. The stringency is just overwhelming. Although you can't find well in the picture, just the height is lot more than my tall. Sayla in Gundam was a character who shows her difficult nervousness, different from a pretty girl in most animations. The characteristic is linking to her conventional life. This is a character symbolizing the complexity of many Gundam characters.
Read more ...

1
2
[Help wanted]
Inviting volunteer staff / pro bono for contribution and translation. Please
e-mail
to us.