Budapest has a show of interactive computer art until May 25th (open every day noon to 8pm at the C3 Gallery in the Castle District) called 'Kalendarium', one of the Hungarian words for 'diary'. This is the work of two Hungarians, Miklos Szalay, and – again – Robert Langh, who was also a codesigner of the 'Smalltalk' chatterbots show earlier this year.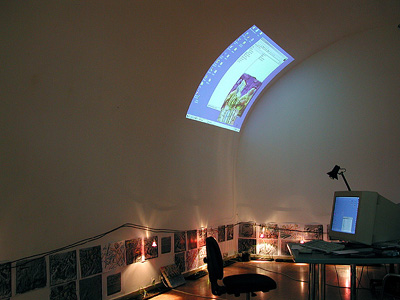 Visitors operate a red ball to move the screen cursor and hit a handsome red button to 'click' on-screen. They call 'Kalendarium' a "work in progress" – as diaries are, by and large – but the screen suggests a life of such richness and multifaceted multimedia gorgeousness that it is hard to see _how_ the work could ever be successfully finished.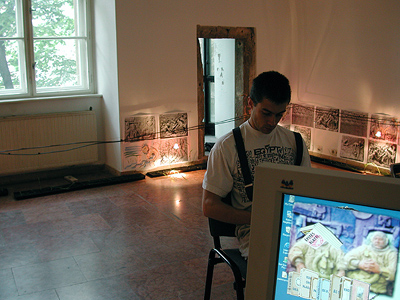 The aim is to build up a collaborative approach – someone English might call it a 'scrapbook' – from different contributors, so as to describe time, the passing of time around the year, through the metaphor of the calendar or diary.
"We want to stop time." "We would like to see." The artists explain that the ever-moving passage of time confuses us, and makes time hard to look at, stops us from seeing life itself as time constantly buzzes past.
As you move the cursor on the screen (they want this work to ultimately be a CD-ROM), little windows on different themes flicker open and closed wherever the cursor goes.
Meanwhile the revolving paper diary, the book with pages splayed open, revolves in 3D in part of the screen, as if floating in space. The writing on at least three pages is visible and readable.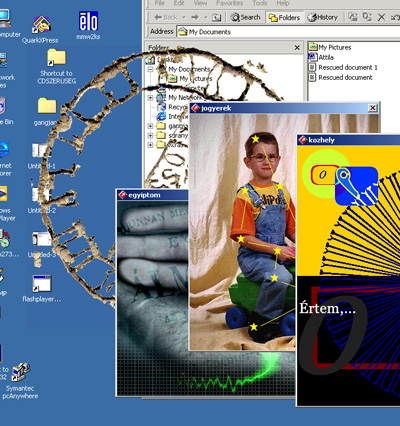 I got quite a thrill when I found that by moving the cursor past the revolving diary I could actually change the speed and orientation of the little spinning paper token of passing time and personal life. In fact I could sometimes whisk the spinning virtual booklet to a different part of the screenaltogether, almost as if (in the form of the cursor arrow) I had flicked past the pages with my fingertips. Visitors should definitely try to do this, since the actual windows are a little too small to read from where you have to stand, so the flickering multiplicity of possible lifestyles is only really clear to see on the lovely information card given away at the exhibition.
The small revolving book suggested a curious paradox. On one hand, the idea of freezing time and seeing lots of lifelines at once is ideally suited for multimedia, whether on CD ROM or the Internet. The very idea of interlocking trees of destiny sounds like a model of the World Wide Web.
Read more ...

1
2
[Help wanted]
Inviting volunteer staff / pro bono for contribution and translation. Please
e-mail
to us.