Which personal principles do you follow in working?
To serve viewers of our works as much as we can. I think design is a service industry and we're always trying to feast their eyes.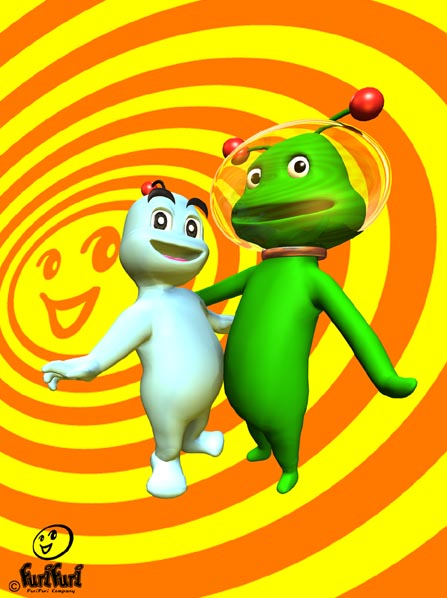 You are developing original products such as T-shirts. Do you have any concepts on them?
We don't have any certain concept on them. We just wanted to wear the characters and designs we've made. We hope both we and other people can be pleased with them. In fact, we want to grow our original products into a big business, but there is a proper order for doing things. So we'll do this little by little.
You have been participating in some exhibitions not only in Japan but also in Germany, UK, etc. Is there any differences in audience's reaction between Japan and overseas?
Their reactions are really straight overseas. They strictly say what they like. I like such reactions coming from their own opinions. It's interesting to know if their opinions are totally different from our concept.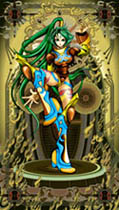 I have heard that you will hold an exhibition this November in Tokyo. How will it be?
We've mainly been participating in overseas exhibition until now, so this is the first time for us to do an exhibition in Japan. We'll exhibit seven pieces of illustration in total. The title is 'Furi Furi Thangka'. Thangka means a Buddhist painting in Tibetan. The basis of works that will be exhibited at 'Furi Furi Thangka' has a concept mixing what we respect and what Buddhism is for us.
The figure of Buddha that appears in those works looks like a woman in animation or manga. This is because we're thinking that animation/manga culture has a reality (things that are closely related to ourselves or things that have reality for us) for our generation, the same as the fact that Japanese are within the sphere of Buddhism. Our exhibit will showcase illustrations with a new style called 'Spiritual Manga Style' to show animation/manga culture and the bewitchment of Buddha in mandala and Buddhist images in Tibet, China and Japan.
Who are your favorite designers/artists/websites?
Ryosuke Tei: There's no favorite artists especially, but I want to meet and have a talk with Akitaro Daichi, an animation director. I'm thinking to do a project and there are lots of things I can learn from his works. Maybe you could provide a opportunity to have a talk with him, though it's different from the style of SHIFT. (laugh)
Miho Sadogawa: As I'm writing illustration with a taste of manga, I like cartoonists, especially comic artists overseas such as Joe Madureira and Scott Campbell. They're really good at drawing girls. I'm fascinated by the massive and unique taste of American comics.
Itsuo Ito: I keep watching 'myself'. It's just because I'm a natural worrier (it means positive).
Taro Yamada: Recently, I have the minimal tendency in mind. I keep doing just because I want to see the next development.
Osamu Iwasaki: As I spent six years at preparatory school and university, I'm a bit behind the others who have been in the forefront from the beginning. So I'm watching the trends of the same generation as myself.
Do you have any plans for the near future?
Ryosuke Tei: I want to create a game from the beginning. It's really hard work, but I want to challenge myself. Also, as we're working in North America with CWCI, I want to do more works for overseas in the future, to say nothing of the exhibition.
Miho Sadogawa: I want to make inroads into overseas more positively. I'd love to do an exhibition as Furi Furi Company, as well as works for magazines and advertisements.
Itsuo Ito: I want to create a game that makes a deep impression on users. Of course I'll keep designing cute and cool game characters.
Taro Yamada: I want to make an interesting book that people cannot help buying just for its cover design. It needs know-how and it's too hard to make such a book, but it's worth doing.
Osamu Iwasaki: I want to produce commercials and promotion videos that can be recognized as Furi Furi.
This November, they will put their works on exhibition at Zakka, NY.
Furi Furi Company
Address: 306 Nakayama Residence, 2-30-8 Jingumae, Shibuya-ku, Tokyo
Tel: +81 (0)3 5414 5443
http://www.furifuri.com
Text: Mayumi Kaneko


1
2
[Help wanted]
Inviting volunteer staff / pro bono for contribution and translation. Please
e-mail
to us.