In the next session, on the theme of "Whole Earth Catalog and Art, Culture," Jane Metcalfe (Founder and CEO of NEO.LIFE. Cofounder, former president of Wired Ventures, Inc.) and Nick Philip (artist) took the stage via a live broadcast from San Fransico, and Mitsuhiro Takemura (Founder, Takemura-Juku) moderated a tripartite discussion. We were able to hear many interesting things from all three of them.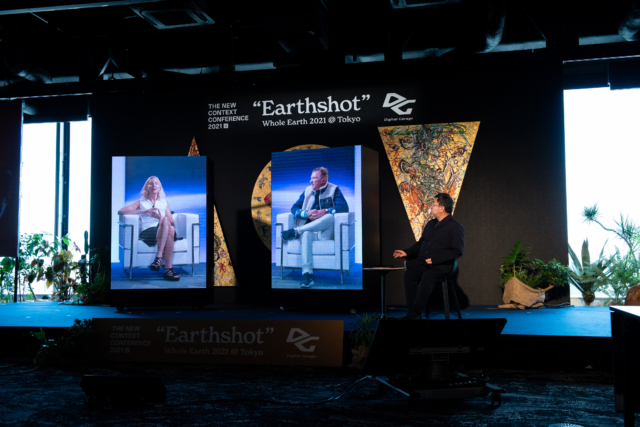 Panel Discussion "Whole Earth Catalog and Art, Culture". Photo courtesy of Digital Garage
Takemura pointed out that there was diversity in the culture of the 70's to 90's, from the Hippie movement and Cyberpunk, along with words like community and technology, rave party, and Cyberlibertarian.
As an artist, he collaborated with Timothy Leary, known as the father of the psychedelic revolution, and launched the street brand Anarchic Adjustments, which embodied the rave culture. He says that it is up to each individual to decide how to use technology and software, and that his work is the result of having fun. He also said that with the evolution of technology such as NFT (Non-Fungible Token), digital works are now being actively traded and distributed, and that it is good for the digital native generation that artists are now able to make a profit through secondary distribution of their works, which was not possible in the art market until now.
With the spread of tools, diversification of software, evolution of technology, and expansion of communities, today's Blockchain, Remote Work, Metaverse, Cryptos, Web 3.0, and the trend from legacy systems to individuals seems to be a resurgence of Cyberlibertarianism. On the other hand, in an age when anyone can be a media creator and information disseminator, there is also a negative trend critical of technology called Monopoly, Gatekeeper, and the Tech Rush of privacy, data scandals, and dropouts, Jane said.
Also, the Black Power movement continues to grow a year after the death of George Floyd, the black man who sparked widespread protests against racism in the United States. The talk concluded with an explanation of the power of the individual and the effectiveness of raising one's voice to realize a better world.
Read more ...
[Help wanted]
Inviting volunteer staff / pro bono for contribution and translation. Please
e-mail
to us.