Performing Arts Festival Berlin 2019 will be held from May 28 to June 2 for artists who live in Berlin. This time, I checked out the opening party and a contemporary dance performance on the last day.
PFA, Performing Arts Festival, is a relatively new event launched in 2016 sponsored by the Independent Performing Arts Association of Berlin (LAFT – Landesverband freie darstellende Künste Berlin e. V.). It was held for six days at many theaters and performance venues throughout the city, so the event posters can be seen everywhere in the city. What I personally felt about advertisements in Berlin is that, unlike the ones in Japan, there are a lot of public advertisements. Rather than profiting from paid advertising, they often offer advertising sites to promote local revitalization, and PAF's ads have often seen everywhere, especially in Berlin.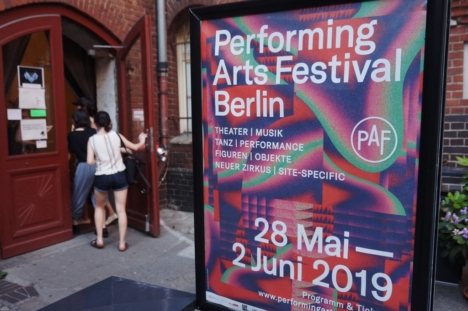 © LAFT Berlin
On the first day of the show, at 8:00pm when the outside was still slightly bright, I expanded my expectations and headed to Weekend Club near Alexanderplatz. On the 15th floor of a building that looks very much like a typical Japanese residential complex, it was indeed a clubhouse after getting out of elevator. It was free to get in, but participants were required to make advance reservations. There, I saw people at the venue, teachers and students of art school and some general audience besides dancers, artists and public relations people.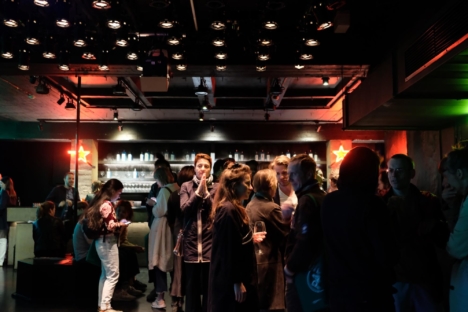 When I arrived, the bar counter had been already full of visitors, and German and English are flying around. I was a bit scared, so bought a Heineken, which was easy to order and went up the stairs to the rooftop patio on the 17th floor.
This year, people say that it is a cold summer in May in Berlin. As soon as I reached to the rooftop patio, I got impressed and made a voice to the Berlin TV tower that appeared in front of my eyes. Somehow I even felt some pleasure in the superb view that I wouldn't imagine at all from the appearance of the residential complex. It's 9:00pm. The night is still young.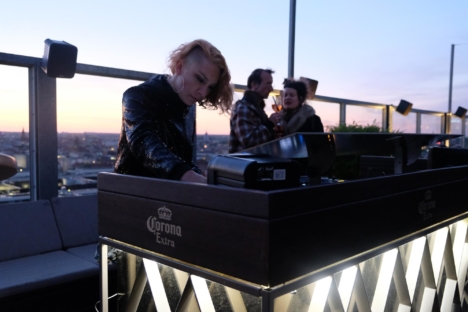 There is also a bar counter and a DJ booth on the rooftop, and Berlin-like minimal techno is being played. In addition, pizza, pintxos, sweets and much finger food were served for free. What a treat.
I returned to the inside again and noticed that more people have come out. The live performance by Dzaijil from Berlin started at 10:00pm. All nine members showed off their original costumes and played songs like ones by Ray Charles, Nancy Sinatra, Queen and AC/DC one after another as if they were a living jukebox.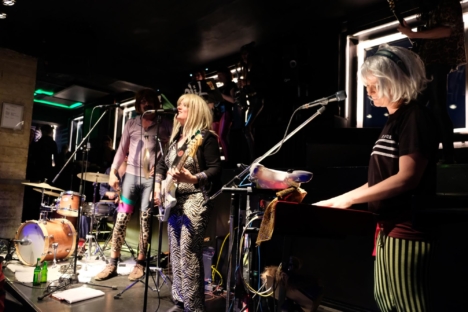 The audiences were not ashamed of anything and sang out loud, screamed, jumped and enjoyed the sound with full use of their body. There was no need to hold back at this party, and I felt I was able to see the essence of Berlin, the city of art.
For the first impression, I thought that the band, Dzaijil, was playing fool. But as I watched their performance, their song selection covered peaceful songs that attracted everyone, and I thought from the bottom of my heart, without being exaggerated, their existence itself is a political statement to the current Europe. During the show, a middle-aged man grabbed my shoulder and said "This band is so good! " with a very pleasant look. People who are around the same age as my parents who showed their heart of youth, removed their scarves and raise their fists to the ceiling, and sang along. The rhythm doesn't matter. Even the lyrics are wrong, you should forget about such shame – that's what I felt like being told.
Art festivals often make me feel like a high threshold, but this Berlin Performing Art Festival is very friendly and welcomes artists who love Berlin and long to come from far away as if they were invited to a home party. The beginning of such a rare art festival, that can be held every year in Europe only because of this charming city Berlin, continued until next morning.
Read more ...

1
2
[Help wanted]
Inviting volunteer staff / pro bono for contribution and translation. Please
e-mail
to us.