The final night was more intense and included a club night with Danish Dj Hvad who brainwashed the audience with a sort of sound bath of beats and massive bass.
Previously, Danish quartet We Like We performed in the main room of Fylkligen. Arguably, Fylkingen is the most important artist-run venue in Scandinavia dedicated to experimental music and art. The association was founded in 1933 and currently consists of around 300 Swedish and international artists that develop and present new works at the Fylkingen space.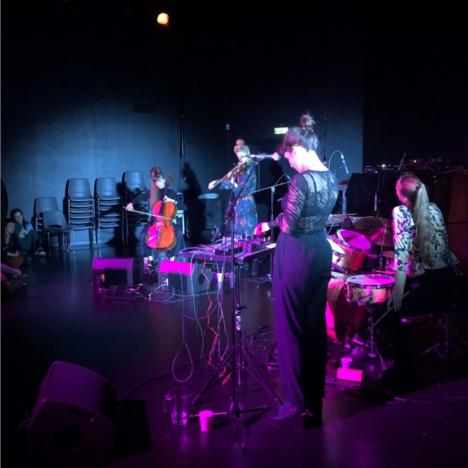 We Like We © Sound of Stockholm
"It is so interesting to be at Fylkingen and SoS. It is so popular within our niche. It is very unique and it has such a nice vibe," explains Katrine Grarup Elbo, member of We Like We, and she continues, "We released our album with a label called Sonic Pieces in Berlin, who is in contact with this Festival, so they liked what we do and invited us to play at Fylkingen during the Sound of Stockholm." In addition, we asked for their back story, "We met through conservatory at the Royal Danish Academy of Music. We are all classical trained in cello, violin and percussion. It is five years, after conservatory. We explore togetherness, because we come from the classical world, it was a bit of a revolution to play without score from a composer. So we are a group in that sense. We have influences from the classical music but we use dynamic range music. We work with metallic instruments, analog FX pedals and voice too. We tend to call ourselves composers. We jam a lot. We get an idea and recorded it, so we focus the composition from there. We rarely use score in our performances, it is part of our concept, to get rid of the score. However, we do that too, we'll do an Opera for instance," concludes Katinka Fogh Vindelev, voice of the band. We asked Wedlund about the importance of a venue such as Fylkingen for SoS, "Fylkingen is immensely important to Sound of Stockholm – as a venue, as a place to come back to each year, as a place that provides continuity, not to mention as a hub that connects a lot of the different people and genres involved in the festival, and finally as part of what defines the soul of the festival. I couldn't imagine a Sound of Stockholm without Fylkingen."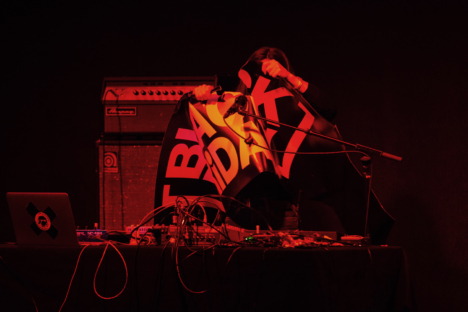 Maja S. K. Ratkje © Sound of Stockholm
Another performance that grabbed a lot of attention was Norwegian composer Maja S. K. Ratkje. She has acquired praise from professionals and scholars from the different Royal Music Academies in Europe. As a matter of fact, her works includes contribution with institutions of the likes of the Norwegian Radio Orchestra and the BBC Scottish Symphony Orchestra. Here you can have a look to the complete list of artist at SoS.
Sound of Stockholm festival has a huge potential to work as a hub for musicians, professionals and students due to the number of well-regarded institutions around Scandinavia dedicated to experimental music and sound art. Furthermore, Music Verket is a Swedish governmental institution that supports Elektronmusikstudion (EMS). In words of Wedlund himself, "Elektronmusikstudion (EMS) has a long-running relationship with Sound of Stockholm, helping out with resources, presenting artists, providing opportunities for residences or contexts for workshops. This year, SoS artist Rob Lowe spent two days in residency at EMS, last year Gabriel Prokofiev and Etienne Abelin of the Club Contemporary Classical network arranged a workshop at EMS, 2016 EMS and SoS presented jointly presented Canadian composer, artist and musician Myriam Bleau at the festival. Musikverket is not only an important contributor to the festival through EMS, but has also been an essential economic benefactor to many editions of the festival through grants."
Sound of Stockholm 2018
Date: November 22nd – 24th, 2018
Place: Eric Ericsonhallen + Fylkingen etc.
http://soundofstockholm.se
Text: Victor Moreno


1
2
[Help wanted]
Inviting volunteer staff / pro bono for contribution and translation. Please
e-mail
to us.