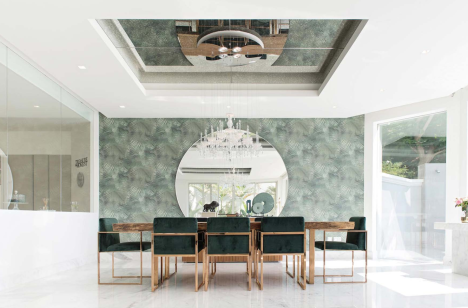 Villa Palm Jumeirah Photo: Natelee Cocks
Do you have a philosophy that you adopt for most of your projects?
To me, great design is not solely about the outcome, because the essence lies in the process. A motivating aspect of the design and build process is the emotional impact that it will have on people who will see and experience it. When I think about that and how I was able to achieve it within a fixed time and budget, the entire process becomes successful.
When it comes down to the logistics, we have a comprehensive approach of having intense interaction with the clients and everybody involved in the project and its execution with constant supervision of work as well as a discerning selection of contractors.
Moreover, any motivated designer would want to create something distinct each time but my motivation is something else. The chance to radiate an attitude of timeless elegance through my designs, across the region, and throughout the world is my motivation.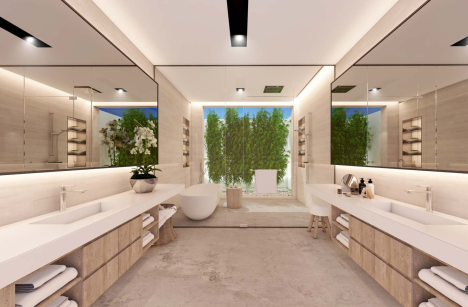 Villa Meyden Photo: Natelee Cocks


How do you create a space that is memorable for the client?
We believe that good interior architecture contributes to improving people's quality of life. The spaces and the way we live in them have a direct influence on people's daily lives.
We try to understand how we will use the space and what we will bring to the table to increase its commercial profitability. First, we have to discuss with the client and I think it all comes down to good listening.
Sometimes the client's brief is not necessarily equal to what he wants. Therefore, we consider it our job to read between the lines and create value through our professional understanding of the requirements. 


Is there an objective formula that we apply to all of your projects?
A formula would imply that I use a specific type of ratio, mold or prototype for every project. No, I don't. I don't believe in prototypes of ideas but I'd rather follow principles that we apply to each project. These principles include; strong detailing, geometry, balance and intricate space planning.
Our process involves a series of sketches and brainstorming based on an initial idea, which we refine and develop. At times, the initial idea is not feasible and this process of questioning just makes the concept stronger.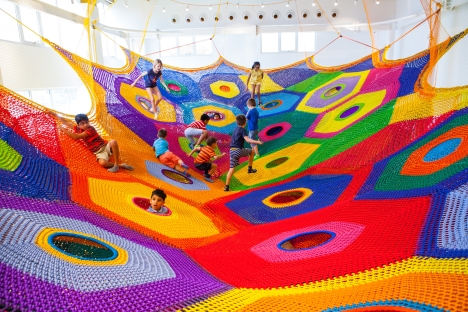 OliOli Photo: Nikola & Tamara


Out of all the projects you've completed, which one would you call your favorite?
I designed and watched all my projects be built from scratch, I hardly think that I can choose just one. I have invested an equal amount of time, effort and ingenuity in each one; they're all my favorites. That said, I naturally do have a sense of excitement for whatever project I complete.
I do think that some of my projects are quite memorable, because of their originality, in terms of concept. Based on this, I think that OliOli in Dubai, which is a children's museum and educational play space in Dubai is quite memorable.
Tell us about people or artworks that inspire you.
Architects like Marcio Kogan and Isay Weinfield are the most inspiring. The way that they seamlessly transition from architecture to interior design by blurring the lines between both is amazing. The work of architect Geoffrey Bawa contains a lot of geometry and integrates with a unique narrative. I think it's quite inspirational.
With regards to art, Richard Serra's sculptures, and Cai Guo Qiang's abstract paintings have a stimulating effect on my creativity. In addition, Alexandre Farto's street art is quite exceptional because of how it motivates me to add a more down to earth persona to my character.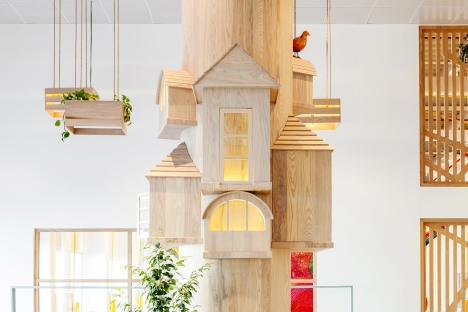 La Petite Treehouse Café Photo: Natelee Cocks
Where can our readers see your work in Dubai? 
The Atelier has completed a number of different kinds of projects in Dubai. Some of them are residential, such as the Burj Daman Apartment in DIFC and a villa in the Palm, both of which won the award for best residential projects in local and international platforms. In addition, Banyan Tree residencies is an upcoming residential project for which we conceptualized the show apartment..
You already know about OliOli and La Petite Treehouse Café, both of which are in Al Quoz. We've also completed many commercial projects like Executive Offices for Dubai Holding and Maska Wraps in Dubai Mall. However, aside from Dubai, SDA has a global presence with projects in Portugal, Oman and Los Angeles.
What are your goals for the future?
I want to incorporate a greater factor of sustainability into our projects. I keep the widespread concern of issues, like global warming, in mind. Even though this isn't a novel goal that I want to pursue in the future, we are already working on it as we speak. Still, I'd like to make a contribution to new innovations and ideas that can make sustainability more desirable and achievable.
Text: Editor


1
2
[Help wanted]
Inviting volunteer staff / pro bono for contribution and translation. Please
e-mail
to us.