In 2009 in your graduation work for Musashino Art University (School of Art and Design, Department of Spatial Production Design) you announced a work using light emitters, so it seems like you have held a deep interest in light for a long time. What is it about the element of light that attracts you so much?
I wonder if I am attracted to 'light.' It has an abstract existence and it is really difficult to capture the element of light, but it is something that is closely connected to every facet of our lives. It doesn't matter if it is moonlight, candlelight or fluorescent light, they are all light, but more fundamentally I feel that I want to discover universal light and the beautiful parts of light. I guess I don't quite understand it myself!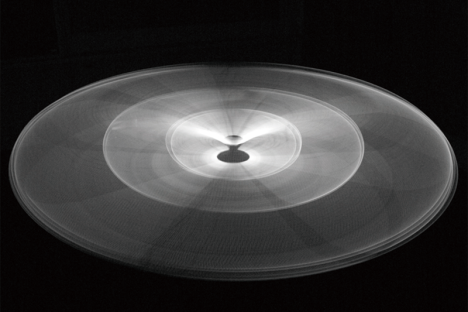 "CLEAR", Hiroto Yoshizoe, 2009, Musashino Art University Graduation work
Since becoming a freelance spatial designer what kind of projects have you worked on?
When I worked for a company I concentrated on facilities for commercial purposes or for department stores. Nowadays I work in planning (project flows) and concept making in large commercial and urban developments, and also co-ordination of artwork or other displays for restaurants and hotels, as well as exhibition designs and interior design if there is a small floor space.
In order to successfully realise the ideal design for a space are you conscious about communication?
I work on spatial design in a team. Of course there is also the client, other designers and interior designers as well as other employees, so it is work that can't be accomplished without having a variety of other people involved. In my usual work I have to think about the image closest to which the client and other members of the team want to create rather than my own personal designs.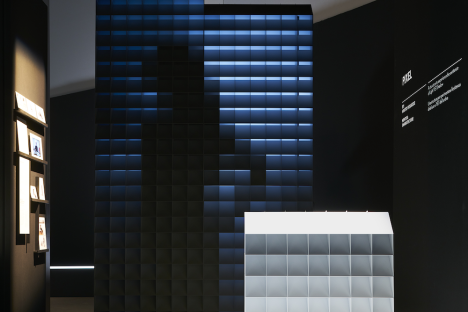 "PIXEL", Hiroto Yoshizoe, Lexus Design Award 2017 Grand Prix prize
Besides design, what else is important to you?
I guess important things to me are like having an interest in the world imagined by other people, and together trying to make that world a reality. I can't create a world on my own; it is something that has to be done together with someone beside me. I think it is really enjoyable to see the imaginative worlds of people from across the planet.
Can you tell us what goals and activities you have planned for the future?
This competition led me to notice the importance of working on a project of my own. I think that it is best that I put my energy into more activities like this, while still doing my daily work to the best of my ability.
For the Lexus Design Award 2018 the theme is CO- and entrants can now submit their work. Do you have a message for young designers who are thinking to enter the competition?
I feel that this award is a place where everyone can develop together, and shine a light on new and young possibilities. Applying with even a small idea or thought may lead to new opportunities. I am looking forward to seeing next year's designs.
Lexus Design Award 2018

2018 Creative Theme: "CO-"
Application Period: July 24th – October 8th, 2017
Judges: Shigeru Ban (Architect), Paola Antonelli (Senior Curator MoMA), Birgit Lohmann (Chief Editor of designboom), Alice Rawsthorn (Design Commentator), Yoshihiro Sawa (President of Lexus International)
Mentors: Formafantasma (Designer), Sou Fujimoto (Architect), Lindsey Adelman (Designer), Jessica Walsh (Graphic Designer)
Organized by Lexus International
Supported by designboom
https://lexus.jp/brand/lexus-design/design_award/
Text: Ayumi Yakura
Translation: Mike Sullivan


1
2
[Help wanted]
Inviting volunteer staff / pro bono for contribution and translation. Please
e-mail
to us.