Earlier this year you had a training unit performance called "Baby Tooth" with choreographer and dancer Megumi Kamimura. What kind of training was this?
It was directed towards a different kind of training, like practicing to enter oneself into an image or to see something which can't be seen. The unit's name was "Baby Tooth" because as we are working in different fields to each other (she is a dancer and I am an artist) we weren't trying to do something requiring high level expertise, so we have to look at the point before the baby teeth, or what you can call the milk teeth, come out. As a beginner it is possible to do things simply and honestly.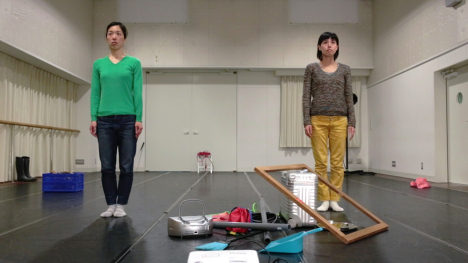 "Tidings" Performance, 2016, Still cut from video material © Baby Tooth
I think the training had features which couldn't be directly connected, but there was content to be tackled and there was what you could take away from it. We can say that as a performance aspect to take on, like to become able to see something, or even as an "experimental" performance, we need to verify whether the result is successful or not and the experiment has to also include examination too. I think it is appropriate to call showing via performance "training" and so it can be said that we were a training unit.

"Tidings #2" Performance, 2017 © Baby Tooth
Did you work together with the performers from the planning and production stages?
The performers and the planner are not separated; it is a performance and production by two people. In March 2016 we did a different staged work called "Tidings" at the Morishita Studio, initially Ms Kamimura was trying to enact a stage as a theme and when she invited me to be part of it her she told me "don't plan anything, let's think together during the process of production" and from there we began to work together.
Her work is radically interesting and I thought to myself that I would like to try joining the performance, and so that is what happened. Since then I have had the opportunity to do this again and again. In February of this year we presented "Tidings #2" where Ikuhiro Yamagata joined the performance and from the production process to the work itself we asked for assistance from several other people.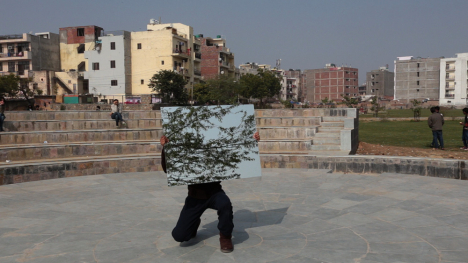 "KHIRKEE" Performance, 2015, Still cut from video material © Michiko Tsuda
In 2015 you had a performance called "KHIRKEE" for the Japan Foundation New Delhi in India, what was this about? What kind of response did you get?
This was a performance where in a projected video there was an individual with a mirror and they then danced, half of which was choreographed and half of which was improvised. As I had decided to have the performance filmed at a particular outside site it was like having a studio in the middle of a city, I felt that I wanted to include geographical features and out of the different areas that I was shown there was one called Khirkee Masjid. It seemed that Khirkee also has the meaning of being a window.
It is located on the outskirts of New Delhi and has ruins, but from there you can see not too far off apartments where people are living, and so you had both modern day life and ancient ruins together in one spot. I thought that there is quite a contrast in this alluring area and I discovered that there was an amphitheater between the ruins and the apartments. A New Delhi based dancer joined me there and danced while holding a mirror. When the ruins were in the background the apartments were reflected in the mirror, and vice versa when the apartments were behind her the ruins were shown in the mirror. We made a 15 minute video of this.

"KHIRKEE" Performance, 2015, Documentation Movie at Kyoto Casual by Zasha Colah © Michiko Tsuda
For the performance I projected the video upon the back of the stage and then I had the same dancer with the same mirror on stage as well. It became like a score, as the mirror moved in the video sometimes the rotation or movement was synchronized with the live performance, sometimes it was like a conversation was going on as the dancer and the mirror itself also became screens. When the mirror faced the front it reflected the inside of the venue, it was a simple phenomenon yet it led to the birth of a moment when it was impossible to tell what you were looking at.
Beforehand I did a lot of the groundwork, and the dancer had a good sense for what she was doing so we could include improvisation in a way that it occurred quite naturally, so I think the event was a success. I was really glad that the audience felt that they were seeing something that they hadn't seen before.
Read more ...
[Help wanted]
Inviting volunteer staff / pro bono for contribution and translation. Please
e-mail
to us.