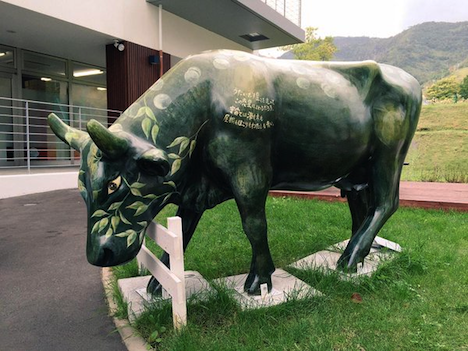 "CowParade Niseko", Yumi Fuzuki, "Komore-bi", Hirafu Downtown Area, 2015
You do collaboration works with art. How did you like the artist residence experience at "CowParade Niseko" held in 2015?
Since I was in an art club at high school, I wanted to express myself with colors on paintings. Though I can't be compared to professional painters, it is nice that I could stay somewhere to create, so I participated the program. Someone told me at the beginning, "I thought that you would write poems all over a cow's body." But if I do it, it would carry an image like a Japanese scary tale "Hoichi the Earless." Also, I do not want to overpower people with words. I can't really design with characters, so I painted leaves on a cow imagining that it's resting under sunlight filtering through trees and wrote a poem that I came up with while I was working on the art.
While creating with artists in the same space during the stay in Niseko, it was also interesting to communicate with other artists who work in different fields to discuss "what type of poems I write," and "why I decided to become a poet." Since the cow was bigger than I thought, five days are barely enough for me to complete my work. But the scenery of Yoteizan where I could see from my production site calmed me down along with beautiful starts at night, so it was still fun although it was tough.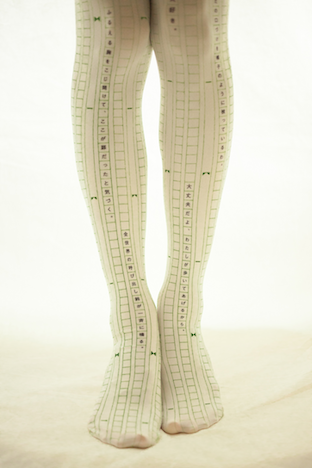 "Genkouyoushi" tokone
In fashion field, you have "Genkouyoushi" that you collaborated with stockings.
Someone who I knew launched a stocking brand and asked me to participate a project. I can write poems. So when I started thinking about having my poems on stockings, a designer suggested to use manuscript paper as a motif. Subject to the motif, I wrote poems related to feet and walking, such as "put heels together to await for a battle." Then, the designer took care of the layout.
It's interesting to wear poems.
I find many people who wears these stockings as fashion on SNS. If there were only characters on stockings, those poems might bother people. But I feel that having manuscript paper on stockings creates a filter not to focus too much on words and leads the idea of cuteness with nostalgic feeling of writing paper at school. It doesn't mean much if people don't wear them regardless of reading poems or not.
Normal people get overwhelmed if I appeal too much that I am a poet. It's easy for me to push myself on Twitter and such saying "Here it is. Read my poems!" But no one really reads them with such approaches. Then I started wondering about how I can approach people. If people can wear these stocking thinking they are cute and find that these words are actually interesting as a second information, that would be ideal for now.
Read more ...
[Help wanted]
Inviting volunteer staff / pro bono for contribution and translation. Please
e-mail
to us.