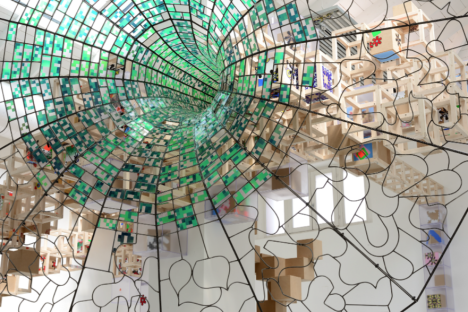 "Never Comes Tomorrow", 2015, Wrought iron, wood, plastic, cardboard, and vinyl stickers. Photo: Michele Alberto Sereni
As a pre-X games, 80's era bmx fanatic, it's kind of like my sticker-bombed bedroom door, transposed on, violating, the core heroes of my artistic development. Jammed through the middle, supported, and violation my Lewitt-like cloud is this metal cornucopia, a black hole of a funnel that is tiled, Tiffany lamp-like with polycarbonate images taken from Minecraft foliage. Clearly, the artwork is influenced by 20th century American crafts, dirtbike racing and Greenbergian Modernism… but outside of that, I'm kind of loath to unpack all of smaller, more nuanced references buried in the stickers and the sculpture, as I really feel like that kills the spirit and the generosity of the artwork.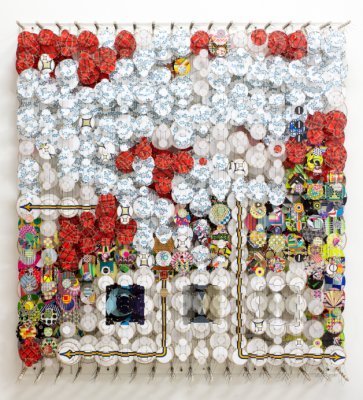 "The Long Anticipation of Winter", 2016, 66 x 60 x 8, acrylic, paper, dacron, wood, and bamboo. Photo © Anna Wierzbicka
And we want to know your new exhibition "The First Known Map of The Moon" at Mary Boone Gallery now in New York.
"The First Known Map of the Moon" opened last week here in NYC and it should run through mid October 2016. It is comprised of 6 new wall works and a small resin and wood installation. The works, again are built on a foundation of landscape, branching off to dabble in cold war book covers, Ptolomaic maps of the universe, mass transit, orbits, exoplanets, and myriad other minute references.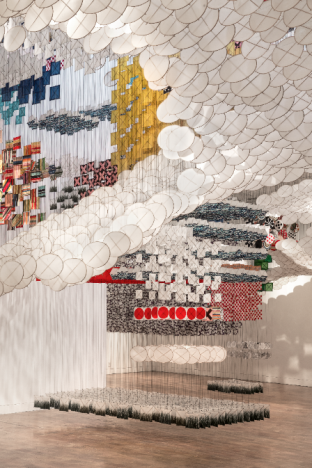 "Gas Giant", 2014, acrylic, paper, dacron, wood, and bamboo. Photo © Fredrik Nilson
Its press release refers "This medium – and its enduring physicality – represents a departure from earlier large-scale works, while the architectural volume defined by the translucent discs recalls his acclaimed 2014 installations; for Moca Pacific Design Center." How do you think about it by yourself?
That's a funny quotation, because I hadn't actually read the press release for the show. I think that the quotation must be in reference to the small installation in the back gallery and I can see how they must have wanted to bridge that piece to "Gas Giant" the 2014 MOCA show. In my own thinking, the piece is a natural outgrowth of that particular artwork and, while I think that the visual, graphic vocabulary evidenced in the installation is substantially more complex that "Gas Giant", I think the bones of this new work are the same. Growth is incremental and the choice to shift the material from paper to resin in the new work has presented a complex, procedural challenge and I think that this change in process is really this artwork's most significant achievement… that and it's actually really beautiful in the end.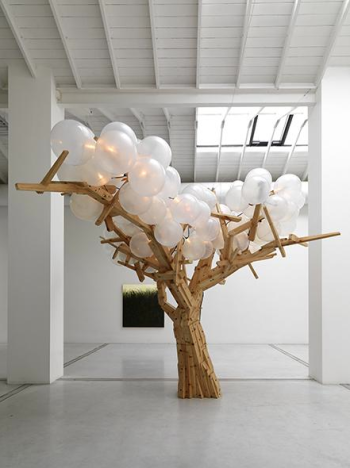 "Tree III", 2008, Swiss stone pine, opalescent P.S.T. elements and lights. Photo © Jacob Hashimoto
"Ad Naturam" at Museo di Storia Naturale and "Havet Det Andet Landskab – The Sea – The Other Landscape" at Brandts Museum looks different from your recent works. Could you please tell us each concept?
The two pieces that you are referring to are considerably older than the work that we've been discussing. The artwork included in "Ad Naturam" is an untitled work from 2008 which depicts a tree lit up with lights. These lights, buried in translucent globes shimmer on and off creating stormcloud of shimmering light. Originally, the artwork used a sound to light mechanism to trigger the lights. The lights were actuated in relation to the soundtrack of thunderstorms moving in and over the city of Verona (where my studio was at the time) from Lago Di Garda.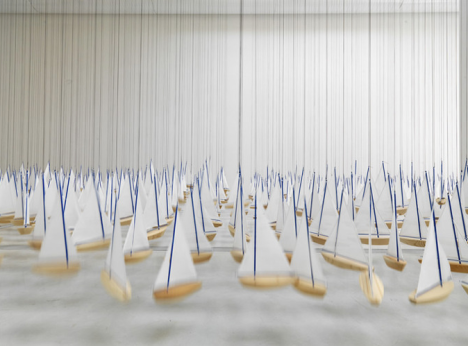 "Armada", 2011, wood, stainless steel cable, cotton, painted metal. Photo: Michele Alberto Sereni
Also an older piece, "Armada" was included in "The Sea – The Other Landscape" at the Brandts Muesum. It is a sculpture of the sea, built from 800 small sail boats. Each boat is attached to an interwoven series of pendulums such that they bob up and down as if they are floating on a sheet of invisible water. This project, built originally in 1999 was one of a number of large scale landscape sculptures that I was building at the time and was the piece that I build directly after "An Infinite Expanse of Sky" – a sculpture of the sky that I built in 1997 from 10,000 small paper kites.
Read more ...
[Help wanted]
Inviting volunteer staff / pro bono for contribution and translation. Please
e-mail
to us.