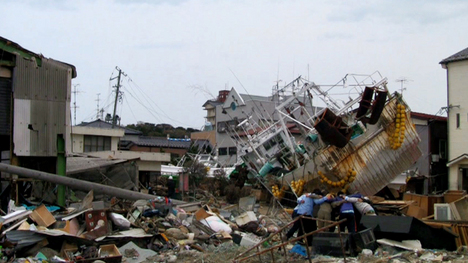 Chim↑Pom "KI AI 100 (100 cheers)" video, 2011, 10:30, © Chim↑Pom, Courtesy of Mujin-to Production, Tokyo
Inaoka: We've shown "Ki Ai 100 (100 cheers)" abroad a lot, to the extent that it's often considered to be our most representative work. But once when we were discussing an overseas exhibition funded by the Japan Foundation with the curator and staff from the foundation, we were told that they were "not sure about the nuclear power, radioactivity, and Fukushima (which the youths say in the video)." We were surprised to hear this. This video was one that's been shown all over the world, and we were also told that "Korea and the comfort women" were also off limits. In the end, we presented different works. The foundation is affiliated to the Ministry of Foreign Affairs, so I understand that they are careful about positions that are not in line with that of the ministry's. Still, there was a bit more flexibility before. Now, there are times, apparently, when complaints come directly from the prime minister's senior aides; censorship has definitely gotten stricter since the Abe administration has taken office. Chim↑Pom's works are susceptible to self-regulation and censorship pressures, so we had always thought that it would be fun to hold an exhibition featuring such works. They weren't exactly works that were taken down in prior exhibitions, but they are pieces that were asked to be changed or altered for political reasons before they were exhibited, or ones that became problematic during the production process and could not be exhibited. We displayed these in the exhibition "Enduring the Unendurable and Suffering What Is Insufferable" at the artist-run space GARTER Gallery, which we also partly manage.
Sakuta: With self-regulation, people often try to deny it, like "we're not restraining anything."
Inaoka: People seem to hold that image especially of Chim↑Pom, that we welcome criminal activity or something.
Sakuta: When you receive such requests for other pieces, to change a certain part, what do you first think of? Do you have a rule or tendency?
Inaoka: For exhibitions abroad, we would sometimes go on preliminary site checks. We want to express the most interesting aspect of that country, but often, the most interesting aspect of a country is one that the country does not want showcased. There's that exterior side wanting to just "show what's attractive." When we say that that's not interesting, we're told, "no." When that happens, we try to include it all (what we originally wanted to express), and find a way to get it through. It's not apparent at first glance — we try to be discreet — but when you take a closer look, it includes everything we initially wanted to do.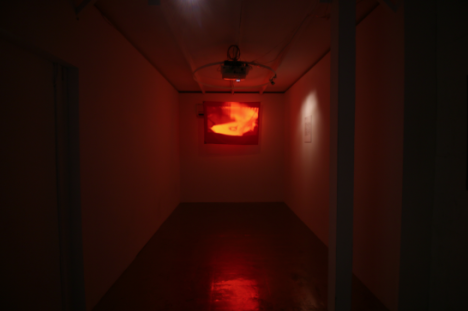 Chim↑Pom "Enduring the Unendurable and Suffering What Is Insufferable" exhibition, 2015 © Chim↑Pom, Courtesy of Mujin-to Production, Tokyo
Sakuta: You were able to exhibit "Enduring the Unendurable and Suffering What Is Insufferable," because you have your private exhibition space?
Inaoka: A lot of the people who like Chim↑Pom, or think we're interesting, don't have proper training in the arts, but they have a lot of energy; they're strong and very real. Still, they don't have a place to exhibit, so we want to showcase not only our own work, but also that of artists who we think are interesting (think we're interesting) and have no place to exhibit.
Sakuta: Mr. Okamoto, you also have a gallery in Kyoto. You have disclosed the pattern for "BATTA mon" on the web, getting more people to create it, and you've exhibited them.
Okamoto: Thanks to company LV, I've learned that "unless there's a place where somebody will take responsibility, it's impossible to exhibit." Four years ago, I established "Kunst Arzt." I collect and display interesting art like ones dealing with sexual expressions, within a given capacity for which I can take responsibility. I called on other artists and we even held an exhibition called "Art Penis."
Even when I got into that skirmish with company LV, there'd be jokes like, "just don't deal with Disney," or the opposite: "you need to do Disney next," and I finally reached for the forbidden fruit. I didn't want to be annihilated alone, so I got Mr. Sakuta involved. As you all know, Disney holds a lot of copyrights for all those characters you all know. Disney is the king of copyrights. I was concerned that if regulations became stricter, we'd live in a suffocating society where even doodles by children and crafts by grannies would be out. The appeal of art is in tampering in the grey zone.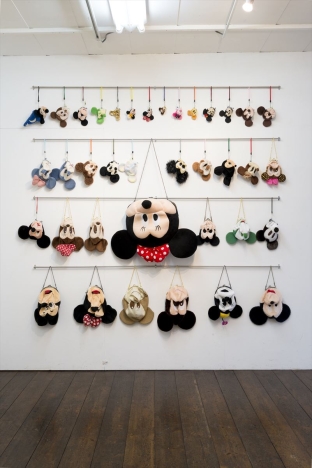 OKAMOTO MITSUHIRO "SUHAMA / Recycling Kills the Copyright" 2014–, recycled objects (stuffed animals), metal clasp purses, Photo: Hana Sawada
My family crest happens to resemble an upside down Mickey Mouse head, so in my piece "SUHAMA / Recycling Kills the Copyright" — as the descendant of a samurai — I cut off the enemy generals Mickeys' heads, and displayed them as "sarashikubi (exposed decapitated head)." But when I was making these, all the Mickeys' torsos were all over my studio, so I was quite careful when my parents came to visit. I wanted to use the torsos as well, so sticking to the Disney rule about personifying animals by giving them white gloves, I created "Mickey Humanoid." Company D didn't say anything. Of course, they knew about the exhibition. In the end, they didn't exert any pressure on me like company LV; they seemed to know where to draw the line between general copyright infringement and art exhibitions in museums and galleries. It's quite impressive; I mean, I hope Japanese companies and company LV learn from them.
Read more ...
[Help wanted]
Inviting volunteer staff / pro bono for contribution and translation. Please
e-mail
to us.