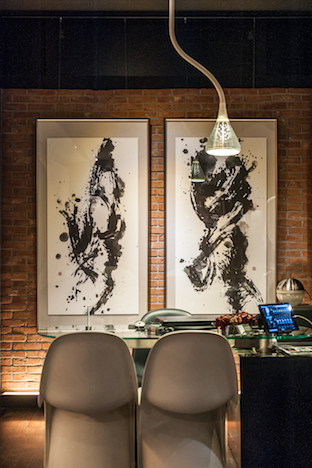 "In (shadow)" "Ei (dimness)" 2015, 1,634 x 854 mm, ink, drawing paper, Photo by Akko Terasawa
The exhibition titled "In-Ei" was written for welcoming people at the entrance of the hotel. Chinese character has many meanings in a letter. A Japanese word "In-Ei" has a meaning that is "with variety of color, sound and emotion", it's deeply sentiment.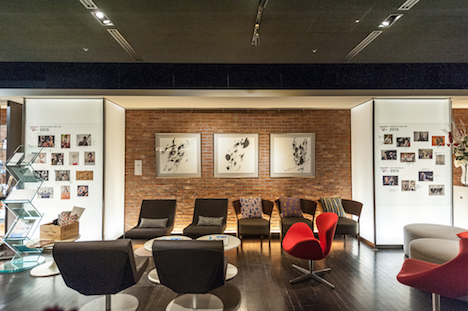 "Koe (Voice): voice hidden in the bottom of my heart" "Sai (colorful): two, three colors" "Hibiki (echo): the color of the sound echoing in the silence" 2016, 834 x 854 mm, light ink, drawing paper, Photo by Akko Terasawa
Following "In" and "Ei", 3 letters "Koe (voice)", "Sai (color)", "Hibiki (echo)" were exhibited. As previously told Yamaguchi's works are based on "poem". If you see the "works" with "titles" and "poems", those every essence are linked and you will have sympathy for the poem, deeply understand for the calligraphies and deepen your emotion for the expression.
After you enter the meet lounge through the lobby, 10 works were seen on the expressive wall like modern wallpaper, red brick and so on. 3 series: "colors" image of the poem about color with light ink, "sound scape" image of sound, and "emotions" image of emotion were exhibited by order. Each subtitle was from words in the poem.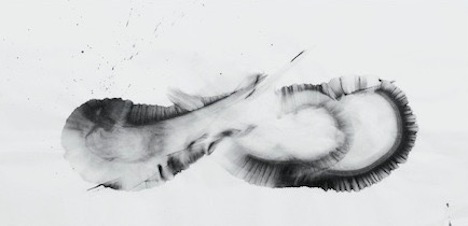 "Emotions II: space of mind" 2015, 340 x 690 mm, light ink, drawing paper
Looking works closer made you find that light ink distinctively stained on the paper. Nobody can copy it. There seems to be a secret way to adjust the quality of paper and the ink. Especially fine technique for the ink and rarely talented expression stood out. The flow of the light ink on one work was like black and white photo that caught a moment of river surface and it made us think of transition of light and shadow. It was sometimes vigorously scratchy and sometimes very elegant as silk bending to the wind.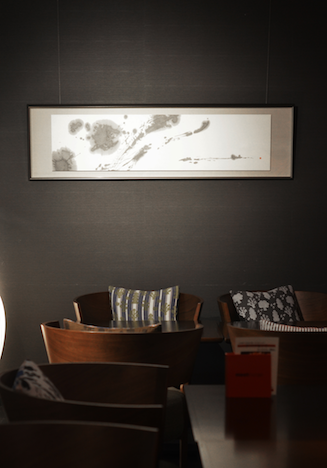 "light: before long" 2016, 345 x 1,360 mm, light ink, drawing paper, Photo by Aoi Yamaguchi
Passing through the meet lounge to the right, you see an oblong work "darkness: small galaxy called as In-Ei" on the wall. There was also a pair piece "light: before long" further inside.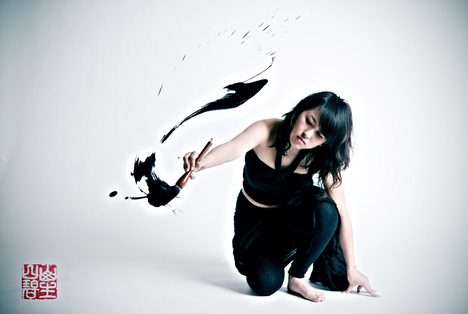 Photo by Tokio Kuniyoshi
Yamaguchi called herself as "Japanese Calligrapher" in English. She has been doing trial and error of brush expression for making people who don't know Japanese understand the meaning of the letters. She thinks, however, because people don't know the meaning it may become a pure art. Even Japanese will be able to see her works as pure art with the beauty of brush expression if we don't have stereotype for calligraphy.
In the end of the performance, she said, "Japanese heart which can catch even small changing is treasure". "If you imagine something you have to make it real. Otherwise people can't feel it". Important thing is not only the style of expression but catching the shadow. She is looking for the possibility of calligraphy and trying to tell something over the wall of words and genre.
MACHINAKA ART-X_edition vol.19
Aoi Yamaguchi Exhibition "In-Ei: The Resonance of Shadows"
Date: February 20th – April 30th, 2016
Place: Lobby and meet lounge on 2F, Cross Hotel Sapporo
Address: North 2 West 2, Chuo-ku, Sapporo
Organized by Cross Hotel Sapporo (Planning department +81 11 272 0051)

Curation: Clark Gallery + SHIFT

Supported by Machinaka Art
http://www.crosshotel.com/sapporo
Opening reception & Aoi Yamaguchi Live Performance of Japanese calligraphy with Corey Fuller
Date: February 19th, 19:00 – 22:00
Place: meet lounge on 2F, Cross Hotel Sapporo
Admission free (Please order 1 drink) *No advance order necessary
CROSS GENERATION in ICE HILLS HOTEL
Date: February 18th, 2016, 20:00 – 21:45
*Chartered bus/19:00 Cross Hotel Sapporo, 22:00 Ice Hills Hotel departure
Place: Ice Hills Hotel in Tobetsu (Sweden Hills Golf Club)
Address: 2788-28 Sweden Hills, Tobetsu, Ishikari, Hokkaido
DJ: Fuminori Kagajo
Guest DJ: Naohito Uchiyama
Special Art Performance: Aoi Yamaguchi Live Performance of Japanese calligraphy with Corey Fuller
MC:Shione
Admission: 2,500 yen (Including bus and 1 drink + finger food)
Capacity: 50 people
Inquiry: Cross Hotel Sapporo (Planning department +81 11 272 0051)

Text: Ayumi Yakura
Translation: Fuyumi Saito

[Help wanted]
Inviting volunteer staff / pro bono for contribution and translation. Please
e-mail
to us.