The Taro Okamoto Memorial Museum in Aoyama, Tokyo, presented "Hisss", the second installment of the two-part special artist's exhibition for the 17th Taro Okamoto Contemporary Art Award in 2015. The Toshiko Okamoto Award was won by a fine artist called Saeborg. The work was made of a rubber and elastic suit that she calls a "fire wrap" born from a giant snake. Saeborg seems to be very interested in the animal theme, but it's not true. Let's see her world.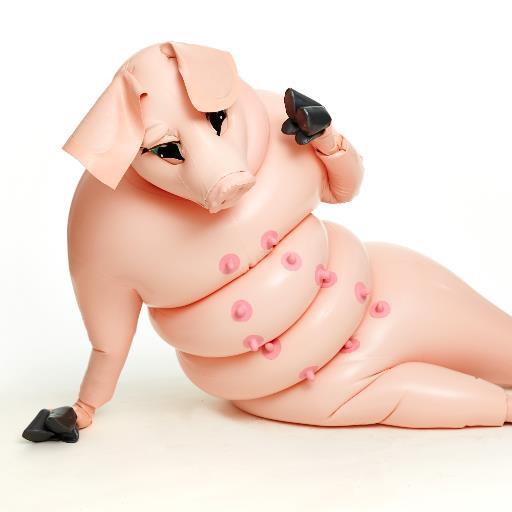 Pig made from Rubber, Photo: ZIGEN
Where does the name "Saeborg" come from? Who are you?
My name is Saeko but I am fascinated with cybernetic technology and combining cyborg with my name, the result is "Saeborg" and I am a fine art artist who designs with rubber, creating designs for my own artwork.
When did you first become interested in rubber and latex?
When I was about 20 yrs old, I visited a rubber store in Shinjuku Tokyo and found a rubber mask that was very interesting. Also the movie "Vegas in Space" had a big impression on me and so my journey started into the world of rubber.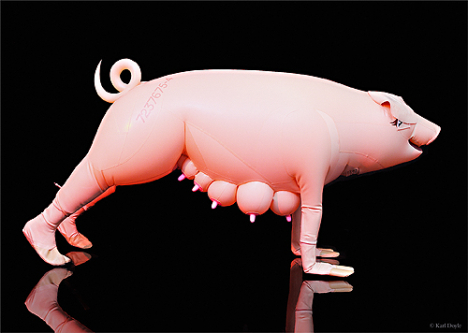 Saeborg installation
You seem to be very interested in the animal theme, why?
It is not that I am interested so much in animals but more that my characters are not human. So I chose animals, and especially animals that are weak, such as sheep, pigs and chickens which are kept by humans for the purpose of food and for their skins. The process of breeding and then killing animals seems to me very artificial and unnatural.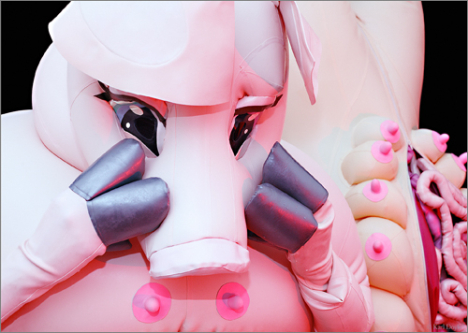 Pig made from Rubber
What are your plans for the future? What animals or characters are coming next?
Yes, it's very exciting. I'm at present working with the character of the snake. I am very interested in the flames expelled from the mythical serpent and the balance between it's antenna representing good and a clever side and the medusa head which can express the evil dangerous side. Japanese have a long relationship with the term "Kaiju" meaning strange creature where as the west the snake shows up in the Bible in the garden of Eden. I will use the snake as a metaphor for my new work coming out early next year.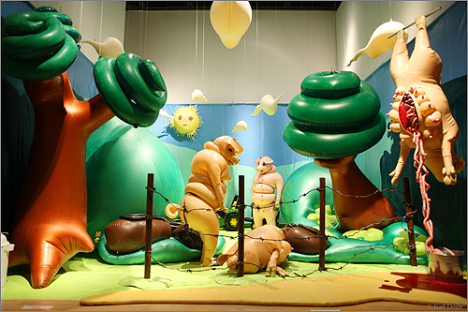 Saeborg installation at the Taro Museum, Kawasaki
You also perform at a famous underground event in Tokyo called "Department H". Can you talk more about this club? Where else do you perform?
I have been part of the Department H family for many years because I enjoy supporting the gay, lesbian and drag queen community but especially uncatagorized groups that come. Every year in the month of May, we have a big rubber festival here in Japan and Department H hosts a very big rubber fashion show celebrating new rubber designers and performers. This is very exciting and I enjoy helping and promoting these new creators and also it provides a stage for me to share to the audience my new work.
Read more ...

1
2
[Help wanted]
Inviting volunteer staff / pro bono for contribution and translation. Please
e-mail
to us.