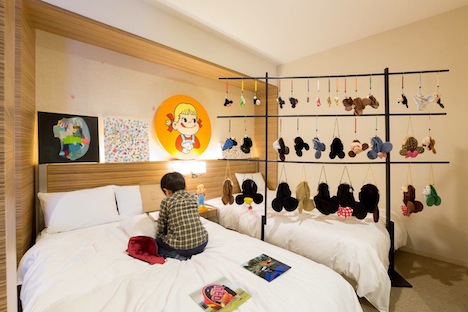 "Art Fair Sapporo 2015", Cross Hotel Sapporo, #1407, eitoiko (Tokyo), Photo: Erika Kusumi
Could you explain about "SUHAMA / Recycling Kills the Copyright" exhibited in the Art Fair Sapporo 2015 as well? Do you expect any response from the viewer?
"Recycle" is an important action in this society overflowed with disposable things. I wonder how much nasty copyrights-business can be exercised. For a descendant of Samurai of Genji Family, taking enemy's head is one of the missions. Mickey mouse was certainly a king in the copyrights world, however, it's an endless game and everything has slightly different faces. It was as if I was following a general's double. Suhama is Okamoto clan's crest and accidentally looks like an upside down image of Mickey Mouse.

Right: SUHAMA / Recycling Kills the Copyright OKAMOTO MITSUHIRO 2014-, Recycle work (stuffed toy), purse with a metal clasp, Left: "Tagasode zu: picture of Whose sleeve is it" Miran Fukuda 2015, Acrylic painting on panel, Exhibition "Disny Art", KUNST ARZT (Kyoto), 2015 Photo: Hana Sawada
What was the concept of "Disny Art" produced in 2015?
There are many people who say "Don't touch with Disney", so I rather touched it. Many characters are under the control of Disney that I thought I should ask if it is right. If this management continues it would be choky in the future too. As a result, Disney hasn't called me as "would-be artist" nor made complain so far. In other words, they clearly grasped the difference between place for expression like museum and gallery and violation of copyrights. I could say ignoring is one of the contribution to society from my previous experience. I thought this trial made a small air hole into the stuffy copyrights world. I hope other artists continue challenging based on this mini catalogue.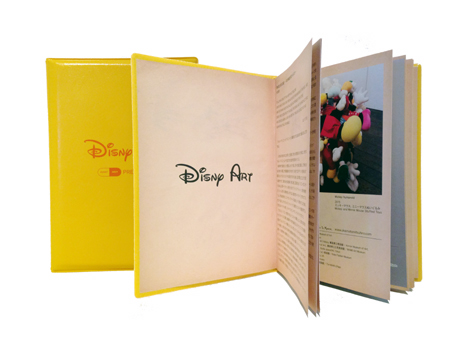 "Disny Art" exhibition catalogue 2015
Miki Okubo (part time instructor of Paris 8th University) introduced you as "one of the most militant artists in Japan" in the catalogue. Please tell us your thought about possibility of art when you face to the society and what you highly value when you create your work.
I think a great deal of the death's point of view. Because of it I could finish the restoration project of shrine in the era Japan ruled Taiwan, in which I received murder notice. You could see the point in the "Red Carpet" project which was criticized severely, and in this "Morechand" as well.
What do you pay attention to or are you interested in now?
Terrorism. Where I stayed in Paris in January 2015 for the exhibition was close to the news paper company which was attacked and a journalist was killed. All the 10 works which I suggested were rejected though…
Lastly please tell us your plan in the future.
There is a public talk "Art given Out" at Aoyama Book Center on January 6th in 2016. I will talk with Mr. Tomoki Sakuta who has been helping me a lot and Mr. Motomu Inaoka of chim↑pom who I meet for the first time. Solo exhibition "69 (tentative title)" curated by Mr. Takeshi Kudo is to be held at "eitoeiko" from September 10th to October 8th, 2016. The book showing 69 pieces among 1,800 my works are going to be published at the same time too. There are some works which are not available to be shown on the website because the web is more dangerous than people think. It can be sealed like adult magazine in the book store. There are also non-extreme works. Please take a look.
[Help wanted]
Inviting volunteer staff / pro bono for contribution and translation. Please
e-mail
to us.