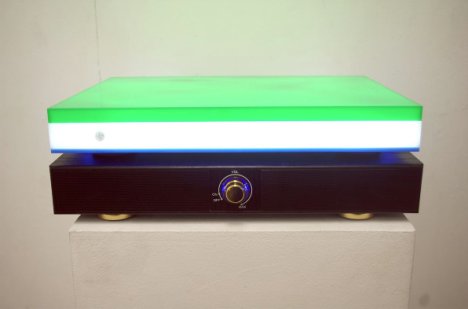 "Outside na Famima 2: Outside Family Mart 2" 2015, Arduino, HUMAN-BODY DETECTING SENSOR, sound of welcoming to Family Mart : Great Success, acrylic plate and other.
"Outside na Famima 2: Outside Family Mart 2" from the gallery "eitoeiko" exhibited in Art Fair Sapporo 2015 had human-body detecting sensor and rang the sound of Family Mart which welcomes people at the entrance. Could you tell us the concept of this work? Incidentally, this sound was titled as "Melody Chime No.1 D major: Great Success" in May 2015 by the composer. Is there any influence by the episode why one of the song made in 30 years ago became the welcoming sound of Family Mart?
"Outside na Famima 1: Outside Family Mart 1" rang the chime loudly whenever the viewer cames to the gallery Kunst Arzt to see the exhibition "Bijutsu na Conveni: Artistic Convenience Store" in 2012. So the episode was not related with No.2. "Outside na Famima 2: Outside Family Mart 2" was made based on the wicked idea of the director of "eitoeiko", Mr. Kibukawa. He wanted to echo that sound at the art fair. People laughed "why Famima, here?" when we exhibited it at the museum shop of Aomori Museum of Art. A foreigner who wouldn't know about Famima bought the work though… I wonder if he misunderstood it as a work by Masato Nakamura. The concept is revenge, alert, and appreciation for "etching the melody into our memory even though we never ask to do so" .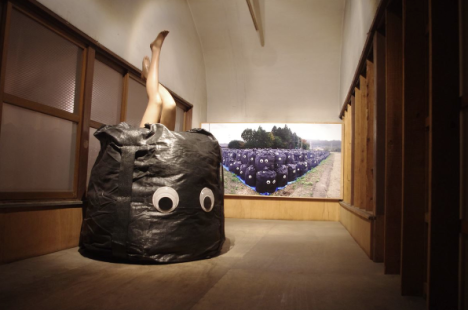 "Morechand" 2015, Flexible container bag, mannequin, parts of "eyeball"
Please tell us about "Morechand", too.
The idea came from what I saw: bunch of bags of pollution disposal and its sloppy management around the nuclear power plant when I went to preview of the exhibition at Fukushima prefecture. It is a life jacket for shutting down pollution disposal and I also want it develop as Yuru Chara (cute mascot). First name was Josephine from "Josen: decontamination" but I found out a lot of things was actually leaking at the site and changed the name as "Morechand" from "Moreru: leaking".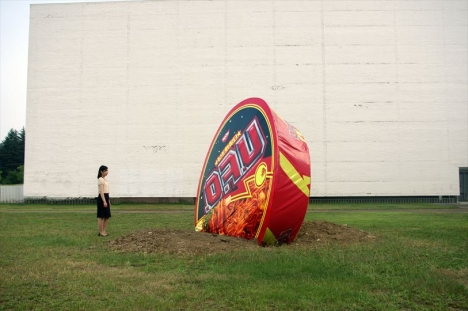 "UFO -unidentified falling object", Exhibition "Bakemono: Monster", Aomori Museum of Art 2015, oil based ink on PVC sheet, wood , and other
You made "UFO" fall in the front garden of Aomori Museum of Art, for the exhibition "Bakemono: Monster", in summer. It was introduced in the official website of occult magazine. Please tell us why you exhibited it and more detail about the work.
The preview day of all days, there was a rumor "fireball or UFO fell in the museum". I wanted it develop as a work. Even though the museum was built on Sannai Maruyama Site, the curator Itakura kindly got permission to dig in the front garden of the museum. Nisshin even allowed me to exhibit without any permission. Using pickaxes, Mr. Kibukawa and another exhibitor, Mr. Shimamoto cooperated with me and dug a huge hall for the fall. We had slight avid disease. It turned out to be a big topic and even TV covered the exhibition. Although it was my work, TV station cared so much about permission of Nisshin if they allowed to show the work. I thought it represents today in which people are very sensitive for the copyrights.
Read more ...
[Help wanted]
Inviting volunteer staff / pro bono for contribution and translation. Please
e-mail
to us.