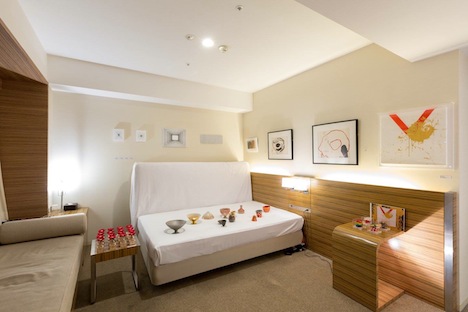 Room 1305, YOD Gallery (Osaka), Photo: Erika Kusumi
While artistic expression has been globalized, Yod gallery in Osaka discovers and introduces both international and domestic artists and works that share the same values to the world. When you look at the entire room, it looks quite simple with white and red color artworks, but each art piece also has its own characteristics. The 8th piece of 3D sculpture series called "Hana Hito '1〇〇masu'" by Masashi Hattori, born in Hokkaido and raised in Osaka, is an artwork that expresses the feeling of appreciation by piling up a human shaped motif. Also, modern ceramic pieces with vivid colours like gold and vermillion by Nobuyuki Ogawa were displayed to help people to re-recognize Japanese values. These are really true international art.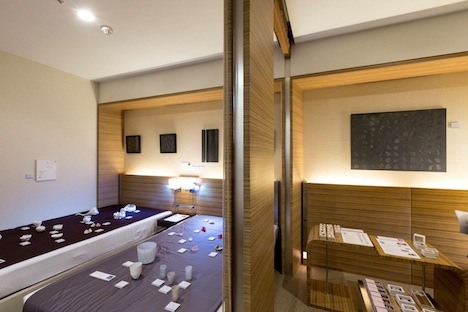 Room 1306, Gallery TEN (Kanazawa), Photo: Erika Kusumi
Gallery Ten from Kanazawa has artists, who have high-level traditional art skills and create work using beautiful expression, and introduces them widely around the world. Unusual traditional art works like jewelry were displayed on the bed, for example fragile looking flower petals made by Runa Kosogawa, beautiful bowls that look like broken sculptures by Kenichi Sasagawa, and porcelain "Kakan" that seems like it has been imbued with plant power by Shigeyuki Tanba from Sapporo. On the wall, the blackness of Kazuko Kaneda's work with sumi ink contrasted with the whiteness of Fumi Terawaki's work, while a small piece called "Fujisan" by Satoshi Kikuya from Hokkaido also provided a strong impression and made visitors want to see his other works.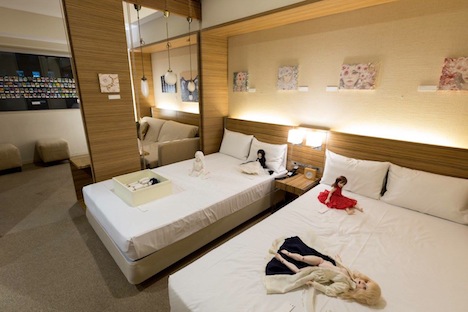 Room 1307, Gallery Minazuki (Gifu), Photo: Erika Kusumi
Gallery Minazuki from Gifu has detailed work from various genres and exhibits at many art fairs in different regions. At the entrance, "Sheep on the paper" by Akifumi Okumura, who combines animals with mysterious motifs and paints them in a style as a still-life painting, welcomed visitors to the room. On the bed, beautiful porcelain ball-jointed dolls made by Seiko Hatori were dressed in contemporary clothes and posed in different positions. From afar, an oil painting "MaruMaru" by Yuki Iinuma looks like an abstract piece, but it is actually a very detailed painting of many sleeping cats tightly packed on the canvas. Even their hair was painted realistically.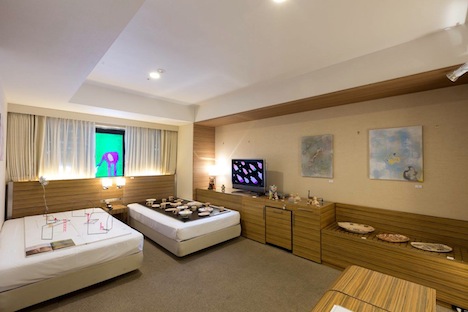 Room 1311, GALLERY MONMA (Sapporo), Photo: Erika Kusumi
Gallery Monma from Sapporo shows the stance of being close to artists with an objective vision by organizing planned exhibitions that become a turning point for artists, who are often young. They have been actively working to raise the profile of artists, such as introducing young photographers at art fairs in New York. This year, they introduced four male artists. A poetic formative art by Leo Fujisawa, created with thin metal sticks, throws a shadow on the left-side of the bed, and a colourful hand-drawn animation work by Mikio Saito was played on a TV monitor. Kibun Kayano's unique ceramic work was displayed on the right-side of the bed and a 3D style abstract painting by Taisi Urakawa, who is currently living in Fukuoka, was on the wall.
Read more ...
[Help wanted]
Inviting volunteer staff / pro bono for contribution and translation. Please
e-mail
to us.