THE 19TH JAPAN MEDIA ARTS FESTIVAL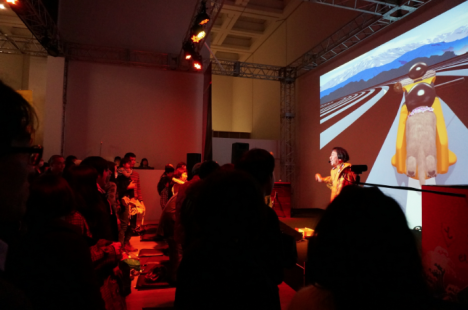 "Best Way for Counting Numbers" Yuchi Kishino
A grand prize work of the Entertainment department, "Best Way for Counting Numbers" by Yuchi Kishino was exhibited at the National Art Center. In a little theater, a performance was held once/twice every day and it was filled to capacity when I covered the exhibition. The performance was produced as a musical for kids and composed of several elements such as a puppet show, drama, animation, and music.
The story is an adventure story based on the Exposition Universelle of 1900, which the main character's journey is incited by trouble which would then involve him and an audience. The drama was interactive and at the same time, some old fashion techniques including a puppet show and songs were used throughout the performance. Also, it made adults imagine a brief goal and process of the story. But, at the end, the story betrays their supposition and makes them realize that it is also for adults.
Surprisingly, it was created with support from the latest technology and various creators while the performance seemingly looks like an old fashioned stage. Kishio calls himself a studyist and gropes expression without the latest technology after learning it. This piece was selected as the grand prize, which was achieved because of his study and pursuit, showing a multiple valuation basis of the Japan Media Arts Festival.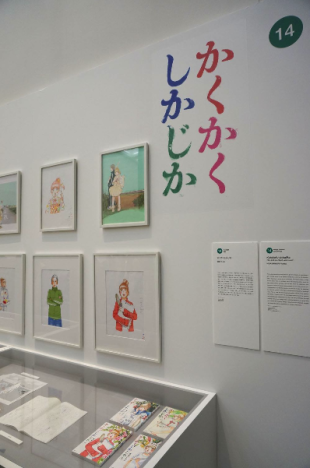 "Kaku Kaku Shika Jika" Akiko Higashimura
"Kaku Kaku Shika Jika" a grand prize of the Manga department is an autobiographical manga of the author, Akiko Higashimura's life from high school to becoming a professional manga artist. It already has received some prizes such as the 8th Manga Prize last year and this time she got the prize at the Japan Media Art Festival openly. "The life until becoming a professional artist" sounds like a really personal story of someone who chose a peculiar type of job. But, her stories in this comic are familiar to many people. The examples are endless, such as younger days fancying self-talent, meeting with a mentor, university examination, college life playing around every day, having an undesirable work, and time to spend with coworkers. Also, she commented "….I drew my memory with my mentor even without thinking, just as I remember…." when she got the prize and her attitude to create a story objectively succeeded to make a personal story more familiar to many people.
Also, I think that there are many aspects in manga that fascinate many people besides the features of an autographical manga. It is the gag manga, the instruction book for those who wish to go to art college and be a manga artist, and a strong will for workers. In relation to Higashimura originality and honesty is encouraged as she recalls from her mentor to "draw earnestly, in any case".
Read more ...
[Help wanted]
Inviting volunteer staff / pro bono for contribution and translation. Please
e-mail
to us.