Detail of "The Chosen", Silvia Levenson, The Museum of Craft and Design, 2015
The exhibition features a selection from Levenson's most recent series, Strange Little Girls, in which she juxtaposes life-size, cast-glass figures, clothed in hand-sewn dresses, with two-dimensional, kiln-formed glass panels of contrasting sizes. Through these works of art, Levenson explores her personal experiences with domestic violence and life as a child in politically unstable climes; more broadly, she addresses feelings of alienation and estrangement felt by many children today.
"Strange Little Girls" takes its title from an album by the Ameri-
can singer/songwriter Tori Amos. Levenson's series are essentially about childhood and the external factors that contribute to children becoming betrayed, anxious, lonely adults. Levenson believes that while most adults equate childhood with innocence, unpleasant and politically incorrect events that children unwittingly experience can have lasting consequences. Levenson has said, "My experience as a little girl was that my father and mother loved my sister and myself but I never felt protected by them. So my life was about the lack of protection."Not knowing initially how to tell this story, Levenson finally found inspiration in the centaurs she read about in stories of ancient civilizations: all the "Strange Little Girls," three of which are featured in this exhibition, are half-human/half-animal. In fact, many of the protagonists in the series assume such form. The father figure in Familia 2 , for example, bears the head of the wicked wolf of fairy tales.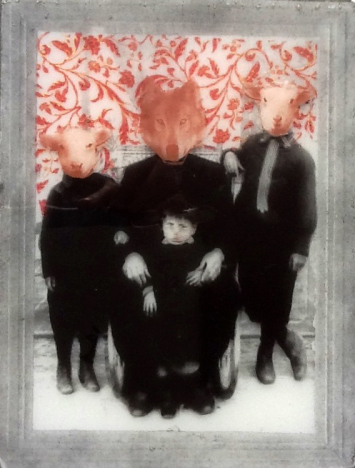 Detail of "The Chosen", Silvia Levenson, The Museum of Craft and Design, 2015
"The Chosen" demonstrates that such betrayal is intergenerational. The lamb, marked with a red cross on her back, looks directly at the youngest boy, Levenson's grandfather, in the family photograph Familia 3. Here, Levenson was making a refer- ence to the novelist Count Leo Tolstoy, who said that every fam- ily has secrets and guilt that are handed down through one family member from generation to generation. In this silent exchange between the lamb and her grandfather, Levenson expressed her compassion for the angst he felt as a child living in a multicultural family.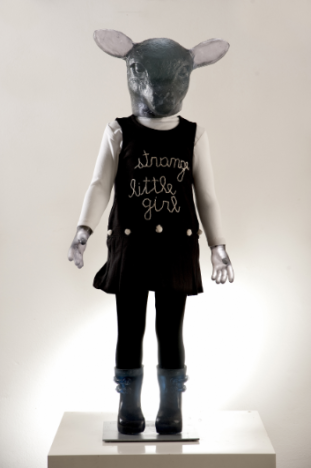 Detail of "The Chosen", Silvia Levenson, The Museum of Craft and Design, 2015
There is the gap between what superficially seems to be okay and the reality. Frequently, society expects children to be part of this perfection—to be happy and carefree like in the ads. But living up to these expectations is difficult. Levenson rejects the notion of childhood as " the golden age" to be looked back on with nostalgia. "Childhood is a sort of enigma"she said.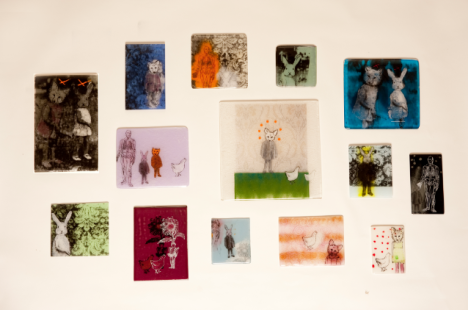 "Where are you going", Silvia Levenson, The Museum of Craft and Design, 2015
Strange Little Girls," is related to the mysterious universe of childhood. She thinks adults fantasize that they can understand kids only because they have been children too, but the world of children is far more complicated: they have no reference point or context to distinguish good from evil. Those years mark a time when the boundary between reality and dreams is evanescent. 
Like many artists working in glass today, both Kaffeman and Levensen stress message over medium; they find their needs best served by combining glass with other materials. It's significant, however, that Kaffeman and Levensen have largely resisted the contemporaneous international trend–especially prevalent in Israel–of using video for social and political commentary.
Without Camouflage. Dafna Kaffeman. Sivlia Leveson
Date: September 26th, 2015 – March 27th, 2016
Opening hours: 11:00 – 18:00 (Thursday till 19:00, Sunday 12:00 – 17:00)
Closed on Monday and Public holidays
Place: The Museum of Craft and Design
Address: 2569 3rd St, San Francisco
Tel: +1 415 773 0303
Admission: General $ 8, Senior & Student $ 6, Under 12 Free
http://sfmcd.org
Text: Fuyumi Saito

[Help wanted]
Inviting volunteer staff / pro bono for contribution and translation. Please
e-mail
to us.