On July 2nd 2015, makeup artist Miwonderful (Miwa Yokoyama) held the event "Makeup Restaurant" at GLOVE WITH AQUA STYLE in Sapporo, Japan, almost a year since her last event in the city. Miwonderful, who has been expanding her audience base by performing in New York, Los Angeles, Paris, and several Asian countries, held "Makeup Restaurant" to celebrate 10 years of her work.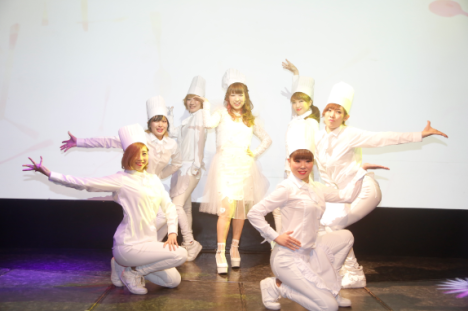 As the title implies, the concept of the event was a "makeup restaurant." The chef was, of course, Miwonderful. The concept took shape after the artist came up with the idea of offering an exciting experience like a full course meal, but through makeup.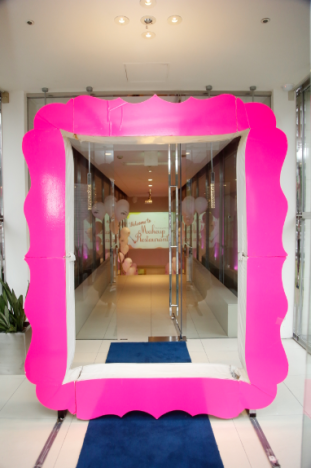 A giant pink frame, which has become Miwonderful's symbol, stood at the venue entrance to welcome guests. Walking down a set of stairs, tables with cosmetics menus and cute table settings awaited. The table decorations epitomized the world of Miwonderful.
The menu created for this day was a makeup experience resembling a full course meal from appetizer to dessert. Starting with cleansing, followed by foundation, cheeks, eyes, and lips, she designed the menu in the order most women do their makeup. Sensing the special makeup experience they were about to enjoy, the guests waited with anticipation.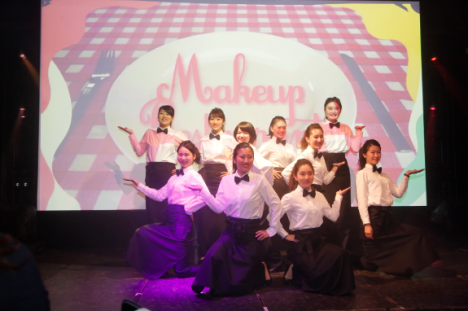 A little past 7 p.m., garçons and dancers appeared with an opening video playing on stage. Students from the Japan Aviation Academy served as garçons, and the dancers in chefs' outfits were members of the "TAPS" team from Dance Studio Mind. While the dancers performed to original music by Miwonderful, "Make It Tomorrow," the head chef herself appeared on stage. The performers worked the crowd with their opening dance number.
This one-night only restaurant was now open. Plates of cosmetics were served, each dish changing in presentation and makeup brand.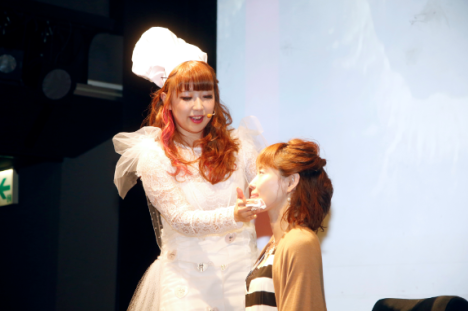 Accompanied by music and videos on stage, Miwonderful demonstrated how to use the makeup on everyone's plates, so that participants could learn her techniques. Women with questions about makeup could be heard sharing their appreciation of the tutorials: "this is fun" and "I like this color."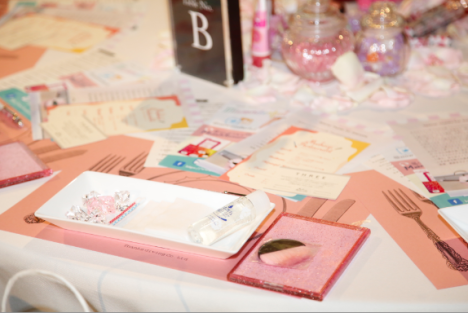 The event could not have taken place without the help of numerous collaborators. Shiori Maemura, coordinator at the venue GLOVE WITH AQUA STYLE, was in charge of the drink bottles and table settings.
Live performances by Craie: d'Azur also enthralled the crowd. The accordion, violin, and piano ensemble's music enhanced the moving experience that is Miwonderful's makeup world, turning the event space into an elegant restaurant. Ko Kudo brought technical expertise to the table with his video performances. KAZYANIGHT who is active in both Sapporo and Tokyo was the DJ for the night, playing 60s French pop music and riveting the crowd with dances that went along with the makeup theme. Stylist Tsukumi Matsunaga was in charge of all the costumes, including Miwonderful's. The one night restaurant came to be only with all of these pieces working together.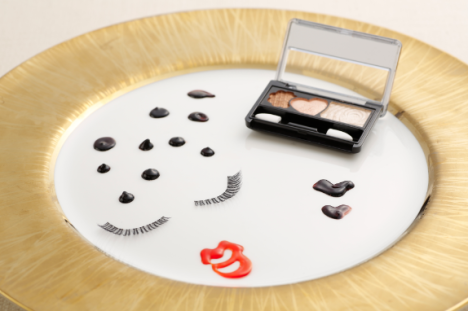 The main dish of the makeup course was eye makeup. False eyelashes adorned the plates, with eyeliners and mascaras in place of forks and spoons. The second half of the event saw chef Miwonderful walking amid the audience, inviting participants to join her on stage. Cute, gorgeous, and elegant, the artist's original makeup performances comprised all of these styles, bringing smiles to her guests' faces.
Excitement among guests climaxed towards the end of the event, when participants were nearly finished with their makeup. A dessert wagon with lip jam by Three Cosmetics was brought out.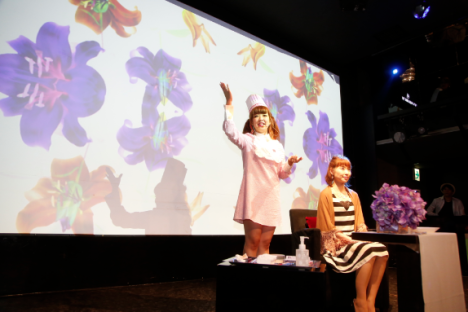 Ten years ago, when Miwonderful had her cosmetics cart on street corners, people expressed their interest in her work; it was "fun!" and "unbelievable!" and "lovely!" to them. Her passion towards her work has not changed in the past 10 years. She has brushed up her skills, and she continues to evolve. She always approaches makeup from her distinct angle, and enchants everyone who sees her work.
Approaching closing time, Miwonderful choked up as she made final remarks for the night. She expressed her thanks to all of her collaborators who helped her realize this makeup restaurant — which brought smiles to so many faces —from conception to creation, through many twists and turns.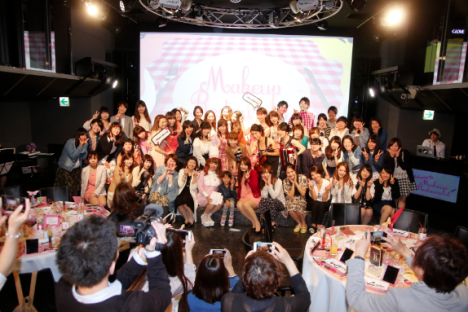 The event ended with a group photo session. This was undoubtedly an unforgettable night for the participants. The theme of the night was "bringing happiness to the world through makeup." On this night, happiness enfolded everyone in the event space.
Miwonderful plans to be based in Tokyo. Following her book, her DVD is also scheduled to come out this fall. How far can makeup develop? She already sees the next step for her work. We can expect more to come from Miwonderful.
ThanksGiving Make Up Vol.10 "Makeup Restaurant"

Date: July 2nd, 2015
Time: 19:00 – 21:00 (18:00 open)

Place: GLOVE WITH AQUA STYLE

Address: EMOTION, South 9 West 4, Chuo-ku, Sapporo

Organized by Miwonderful Makeup Tour
Secretariat: ThanksGiving

Collaboration: Prism, SHIFT, YMS

Admission: Advance 2,500 yen/Door 3,000 yen (1 drink&cosmetics as souvenir)
http://miwonderful.com
Text: Asami Higuchi
Translation: Makiko Arima

[Help wanted]
Inviting volunteer staff / pro bono for contribution and translation. Please
e-mail
to us.