Although "Norberg Festival" started out in 1999, stays fresh and hungry in 2015 whilst receiving more international visitors. This is mostly because of its unique approach to music and also the opportunity that the festival provides to many experimental artists. There is no need to spend budget in big names for the shake of attracting audience but Norberg Festival has become an annual convention for both professional people and musicians related to experiential, DIY and electronic music. The combination of these artists with the type of venue and its surroundings makes the difference. The festival's location is an old mine in the countryside, in the southern part of the Swedish region of Dalarna. Historically, Sweden has always been a top iron ore exporter country and this valley was the main production area for that since the middle of last century. This production moved to the very north of Sweden in the late 80's, closing down the mine's pithead here. Thus, Norberg Festival found in these empty buildings made of concrete the opportunity to launch this annual convention of experimental music. As a matter of fact, these buildings are part of the Swedish industrial heritage.

the defunct mine site Mimerlaven, 2015
The festival's partners include a range of well-known cultural institutions including Goethe Institute, Embassy of Spain, Music Board Berlin, EMS Elektronmusikstudion and Institut Français, among many others. Sound synthesis, spatialisation of sound textures along the concrete and the smell of dew after midnight make Norberg Festival's hallmark. We had time to stroll around the mine to enjoy some of these live performances and speak with some of the artists about their experience at the festival in 2015.

Mats Lindström (EMS/Fylkingen), Norberg Festival, 2015
The program is a combination of local and international artists. The main building, namely Mimer, hosted Mats Lindström's performance. He is the head director of EMS, a Swedish institution dedicated to electroacoustic music, sound research and sound-art, making professional studios available for the production of music whose aim is to research and experiment with sound and composition. It wasn't the first time Mr. Lindström was playing at Norberg Festival – as a composer, he has previously done performances and sound installations for different artistic organisations worldwide: Venice, New York, Moscow, Stockholm, Warsaw and many other places. For this year's edition he had prepared for us his show "One", which pays homage to American experiential music composer David Tudor, Mr. Lindström was so kind to explain to us his experience at the festival a bit after his performance: – "I've done this piece maybe in 20 different countries and tonight it was one of the most touching responses I've ever had, actually. Everybody around was here during my performance, so I really appreciated it. I had to use these long cables because the building is constructed in this way, which made to perform differently. There is always a variation on what I use. I never connect the stuff in the same way or use exactly the same kind of gear, so it sounds different from time to time but somehow it is always a surprise. I construct most of the stuff. Since the building is made of concrete it is a difficult acoustic environment, with a huge reverb; it is like a church. You have to listen and adapt to the building, I've done it in "worst" acoustically places like this, so I'm used to deal with it. I had to adapt my composition and it turned out pretty unique."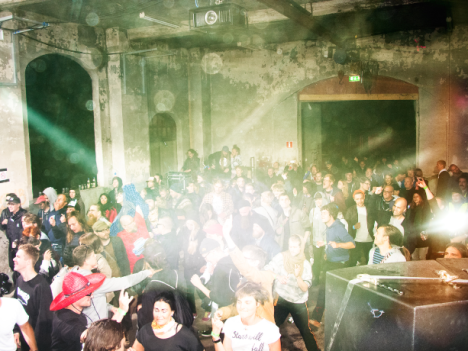 Former power station building, namely Kraftverk room., 2015
The former power station of the mine today is the Kraftverk stage; the shows there happened to be yet atmospheric more raving. People gathered around for some dancing and the acoustics is less reverberating than in the Mimer.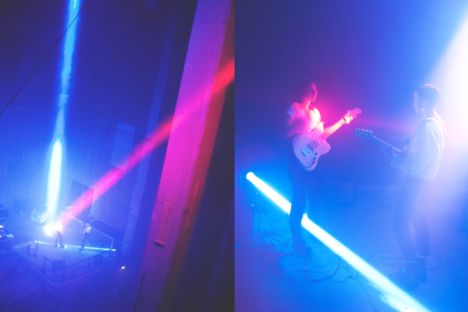 Kali Malone & Caterina Barbieri (EMS/Fylkingen), Norberg Festival, 2015
The guitar-only show at the festival was performed by Kali Malone and Caterina Barberi. They had some time to speak with us after the show – "I'm from the U.S and Caterina is from Italy, we have a duo together and we've been composing in the last couple of weeks at EMS a piece called "Glory" for two guitars and two spectral Electro-Harmonic freeze pedals. The piece focuses on tonality and canons. The length of the piece was planned for live performance on 40 minutes with 3 parts. We complete each other becoming "one-guitar player", we play the same melody but in canon, which means we both play the same melody but we start at different parts so interesting harmonies happen and then we freeze the harmonics, it is a very violent harmonic spectrum. We use repetition and polyrhythmic aspects. We don't add anything else than the 2 guitars and the freeze pedals, no back tracks, all live. At the moment, we work on a studio version for 10 guitars. It is a dialogue and also a monologue since we play the same thing repeating each other. Playing here at Norberg festival is sort of industrial ruin and a almost religious feeling, and the piece is called "Glory", so we found it quite appropriate to play it here. This place is so massive. Here there is a thirteen-second reverb and we played very clean guitar sounds so there was not too much electronic process, just a very loud amplifier and the rest of echo it came out natural. We both are very active musicians; Caterina is doing her own solo show with modular synthesisers. We plan to tour and make a score for this piece, a contemporary guitar piece."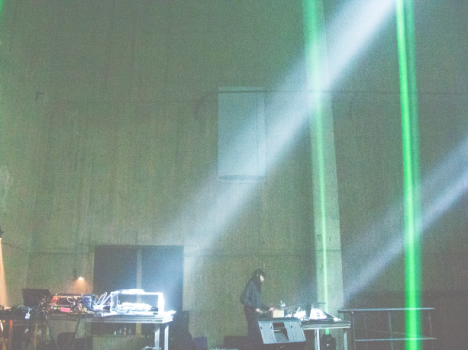 Sophia Loizou (Astro:Dynaics), Norberg Festival, 2015
Sophia Loizou played at the Mimer before dawn using some sort of violin bow. She creates atmospheres and passages with processed acoustic instruments and electronics, which once again became boosted by the acoustics of the preserved-decayed architecture. The performance rather than inviting to chill out, turned into a sweet lullaby with people going with their sleeping bags to the 3rd flight of the building, which it became like when Sigourney Weaver discovered the egg plantation in Aliens 2.
Italian artist Lorenzo Senni played the last day of the festival but we could speak with him before that – "I am really looking forward to play at Norbergsfestival, it looks way too good and I'm looking forward to the reaction of the people. I will play in the Kraftverk building, it is less impressive than the Mimer building but is actually quite better sounding, it is more precise, which is good for the stuff that I play, no need fighting with the reverb. I use a synthesiser from the 90's, the classic one they used to make trance music. I play live and a couple of things are recorded, which I composed lately." Other interesting live performances included psychedelic hip hop act Sun Raw and British techno act Perc. But there were many other good artists who completed the music programme and visual installations.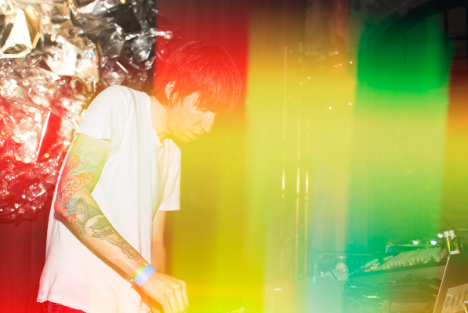 Samuel Kerridge (Contort), Norberg Festival, 2015
All in all, once again Norberg Festival achieved to offer a great opportunity to enjoy experiential music in such a unique combination of industrial facilities surrounded by the beautiful Swedish deep nature. In own words of one of the festival's organization members, Tom Hansen, – "It feels like the decision to further professionalise the structure of the festival is paying off. From my point of view, the whole festival went smoothly and it feels that everybody was happy with this year. It was also fun to see so many new faces at the festival (especially international visitors). And even though it's more professionalised, Norberg Festival still delivered that unique vibe of creativity, DIY and amazing experiences that have become its trademark. The media team (which Tom is a part of) worked very well and we delivered coverage of the festival according to plan. I just wished I had more time to enjoy all the things that was happening but that's always the case when you work with something (laughs). I genuinely feel that Norberg Festival is extremely important for the development of experimental and electronic music in Scandinavia in terms of providing a bigger platform for artists and performers."
Norberg Festival 2015
Date: July 30th – August 1st, 2015
Place: In and around the defunct mine site Mimerlaven
Address: Gamla Banan 6, 738 33, Norberg, Sweden
http://norbergfestival.com
Text: Victor Moreno
Photos: Victor Moreno

[Help wanted]
Inviting volunteer staff / pro bono for contribution and translation. Please
e-mail
to us.