The staffs of "MUSEUM," which is the cultural complex to promote the current creative scene in Hokkaido, pick out and recommend the latest news in monthly selected from "MUSEUM STORE" at 1st floor is a select shop of lifestyle design focused on fashion, "SOUVENIR HOKKAIDO" deals in products can be purchased, for example artworks, CDs and books by Hokkaido artists, and "Clark Gallery + SHIFT" at 2nd floor promotes and manages artists as the only one commercial gallery of contemporary art in Hokkaido. You could get exclusive information like some events at only MUSEUM, don't miss it!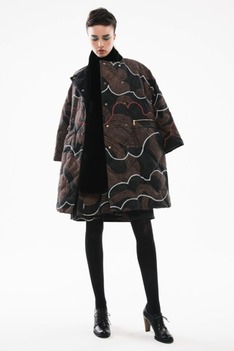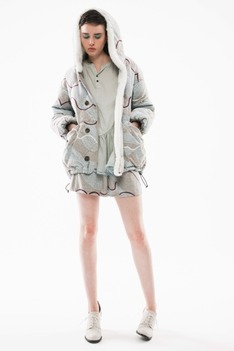 KAMISHIMA CHINAMI/YELLOW "GURU-MOKU WOOL"
It's the Hokkaido brand that makes us fun every season by the creation of its original print developed a fancy story. This season's print "Guru-moku Wool" is her ingenious design that the designer drawn the situation gushing ideas in head, waking or sleeping, spreads like cloud "moku-moku" and like vortex. These down coats, in two different colors of charcoal gray and light gray, are using a material that equal in outdoor wears also in functionality. Also in the Sale that is up to 50% off, please put in by all means get this opportunity because new products are also stock a large number.
YAMAOKA "TIME TO TIME"
To celebrate the release of CD "Time to Time" in Japan that a techno unit 'Yamaoka' has been released it from Databloem already in Dutch in the early 2014, MUSEUM EXCLUSIVE starts to sell. After the contract with the 1996 KKrecords (belgium), Yamaoka has been released more than 30 titles of 12 inches single from the label of domestic and international techno experimental system, and 20 title such as CD, LP, CD-R and Cass, on the other hand he has been to expand the activities in 2012 as independent label "Yamaoka Discs." In 2015, it is scheduled to release one mini-album from Europe, and two sets of full album "Time to Time" shop price: 1,300 yen (excluding tax).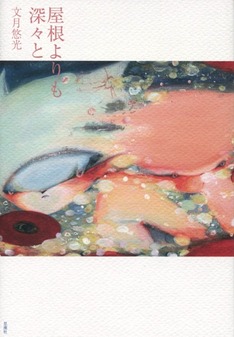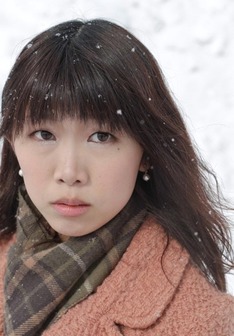 YUMI FUZUKI "DEEPER AND HIGHER THAN THE ROOF"
Poet, Yumi Fuzuki's second poetry "Deeper and higher than the roof" has arrived in Souvenir Hokkaido. She got the 46th Modern Poetry Notebook Award to be the youngest winner in high school, the 15th Nakahara Chuya Award and the 19th Maruyama Yutaka Memorial Modern Poetry Prize in the first collection of poems "Inadequate me in an apt world." It's the long-awaited second collection of poems. As said in afterword "I think poetry is, rather than on the paper, a thing to be sprout in mind in daily and one of the phenomena that lead to witness. And because I love poetry, I want to be without fear to change," the book makes us encounter the word again and leap the poetic body. Price: 2,000 yen (excluding tax), Duodecimo paper Back / 114 pages.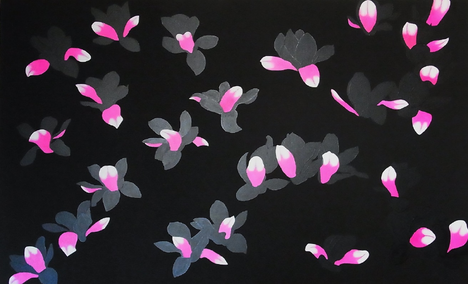 To regain the irreparable -magnolia-, Toshiya Kobayashi, 2014, 130.3×80.3cm, acrylic and oil on canvas.
TOSHIYA KOBAYASHI EXHIBITION "TO REGAIN THE IRRESPARABLE."
The first exhibition "To regain the irreparable." in 2015 at Clark Gallery + SHIFT started with Toshiya Kobayashi. His works were exhibiting at "17th DOMANI: The Art of Tomorrow" exhibition and at Weserburg, 2015. In this solo exhibition, his new works will be appeared, including eighteen unpublished works such as one depicting the magnolia in round canvas diameter 30cm. Date: till March 1st, 2015.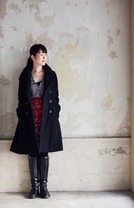 ETOFFE 9II9 "JESSICA"
New line of "etoffe" which started from 2014 as a concept "for brilliant mature women." ETOFFE 9II9 is a expert brand on coat Yumiko Kubo produces, a designer of etoffe. At MUSEUM, we started handling long pea coat "Jessica" that uses wool luxury and its gloss of cashmere produces high-grade sense. Yet pea coat, it's elegant because of the back pleat and long form such as flowing narrowed down in the waist line. It's a light and warm one that reminds us the word, "Handsome Woman." Price: 72,000 yen (excluding tax), Size: 38&40, Color: Black.
Text: Aya Shomura

[Help wanted]
Inviting volunteer staff / pro bono for contribution and translation. Please
e-mail
to us.