Makoto Iga, an artist based in Hokkaido, Japan, who presides an art unit "G.A.A.L; Geometrical Abstract Art Laboratory", holds a solo exhibition "DOT, STRIPE, CROSS" at Cross Hotel Sapporo from September 3rd, 2014.
Those three keywords including dot, stripe, and cross are fundamental aspects for his works. But, actually this is the first time for him to exhibit artworks prefixed with the keywords. Simple, but unique. Stylish, but universal. In spite of the inorganic nature, his geometrical art gives pleasantness to viewers. This solo exhibition is a great opportunity to approach the mystery of his works.
At meet lounge of Cross Hotel Sapporo, the opening reception was held. By support from a contemporary restaurant "agora" on the 3rd floor, special menu inspired by the theme of Iga's works ("dot, stripe, cross" and "white, red, black") was served for guests.
At the glazed entrance on the 1st floor, two of his geographic art works constructed of wooden blocks is swinging. Viewers can enjoy the each beauty of them by looking from various directions.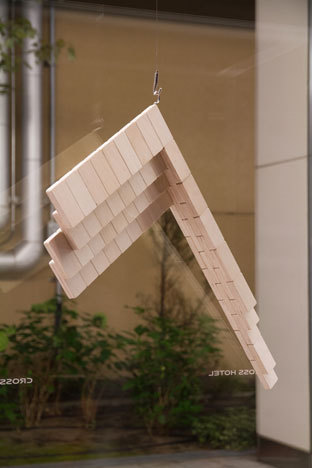 At the lobby and meet lounge on the 2nd floor, about 20 works associated with dot, stripe, and cross are displayed on the wall. Every work is based on a rectangular board, and the highlight is the sophisticated shades of color.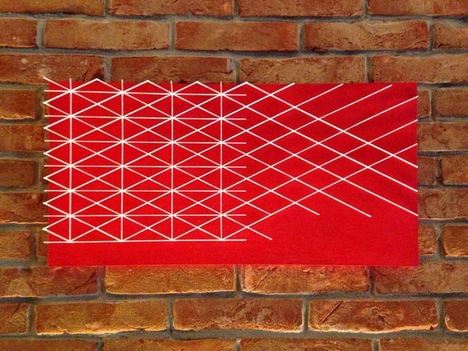 Since its opening in 2007, Cross Hotel Sapporo has produced a series of art exhibition, the "ART X(cross)". From 2011, in collaboration with SHIFT, the ART X has held art exhibitions with Hokkaido-based artists and introduced their works to the world. This exhibition is also the 13th exhibition as "Machi-naka ART-X edition", which is curated by Clark Gallery + SHIFT. "Machi-naka art" is a project spread from Sapporo, which aims to fill the city with art and create friendly environment to familiarize its citizens with the art. Some galleries, artists, and shops well cooperate with this project.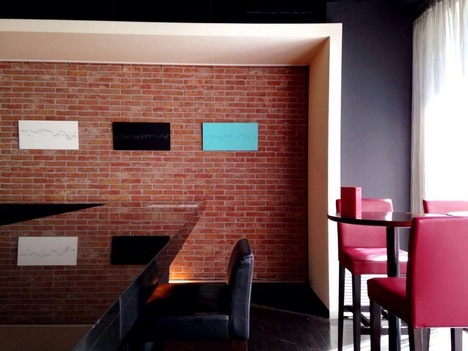 Iga, as an artist, has sought the harmony of art and space for about 30 years, and meanwhile built up his experience as an interior coordinator. So, this hotel-styled exhibition emphasizes the harmony led by his remarkable sense of balance. As he said about his base, Sapporo, "a city where has great harmony of living and nature filled with distinct seasons", the harmony and balance are the important value for him.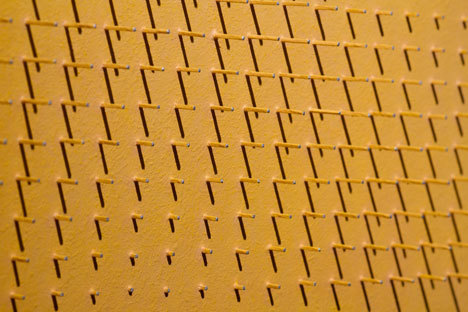 The basics of his style as an artist seem to be in his boyhood when he found beauty in his father's plan for a building. Even though he had an interest in geographic and abstract motif, at first he thought that it was appropriate order to start learning from concrete art to abstract art, so mainly drew realistic portraits.
However, an opportunity arose. One day, a gallery owner he knew advised to him, "you should create the best abstract work you can now." Because of this advice, he realized that he himself limited his potential creativity. After his pent-up feelings were gone, he could focus on "the best abstract art possible for him."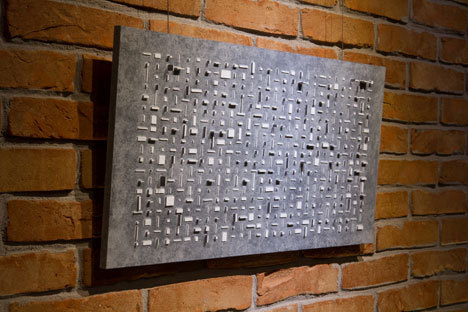 In 2012, Gallery Sou, which selected works of Mokoto Iga, won "Best Wall Award" by popularity vote at art fair "ULTRA 005" in Tokyo.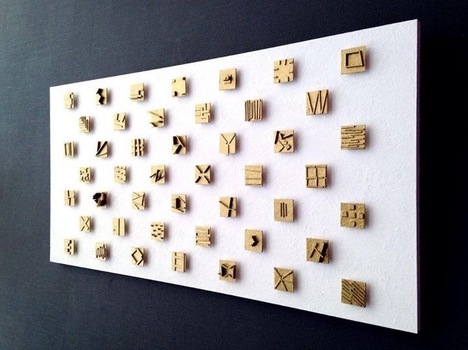 Today, in terms of a viewpoint of self-management, he establishes "G.A.A.L.; Geometrical Abstract Art Laboratory" to show his works toward society because it's difficult to convey his style on personal name. For example, he conducts creative experiments with wooden materials in accordance with "a basic rule", a construction of pattern mainly composed with "right unglued cross", which is one of the most simple and beautiful relations, "object and object".
In recent years, even in only Hokkaido, he has exhibited works in various expressive ways including exhibition at art galleries. He received offers from a creative complex in Sapporo, "MUSEUM" opened this year and a restaurant on the 1st floor of a notable commercial building, "Akarenga Terrace". Also, his hands-on work designed for family at a special exhibition of Sapporo Art Museum and installation of wooden blocks, which fully used both the indoor floor and wall, attracted public attention.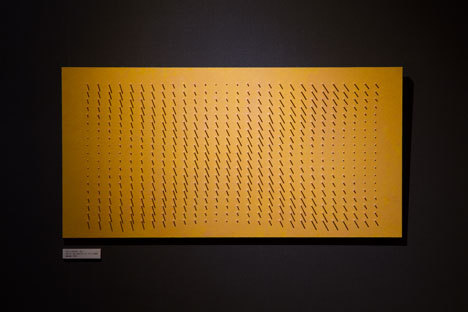 A new work "Dot+Cross No.1" makes viewers feel senses of tension and fulfillment. When you look it straight, silver points seem to be just lining up on a yellow rectangular. On the other hand, from the slanting direction, the difference of length of each pole standing at right angle creates a three-dimensional X-shaped virtual image. Also, the change of lighting direction lengthens shadows of poles, and a flat virtual image appears. The point is to see the beauty of right angle from the slanting direction as Iga said.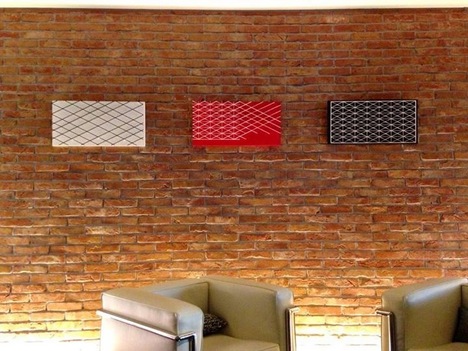 Moreover, viewers can enjoy his free expression, including slanting crossing and freehand geometrical pattern, of new works "Cross No.1~3" from the basis of white, red, and black. Although even his works, which restricts expression, originally have pure energy like a boy who are concentrating on making models, on those new works, released pure energy makes comfortable contrast by matching with the space.
Iga hopes to have an opportunity to show much bigger works. Imagine his works as actual huge buildings, walls and poles, or a diorama looked over a park from above.
In fact, a city we are living is composed of repetitive dot, stripe, and cross when looked down from above. In particular, Sapporo is a geometrical art city whose downtown is divided by the grid. If you appreciate artworks of Iga from such a point of view, the familiar city might turn into a theme park.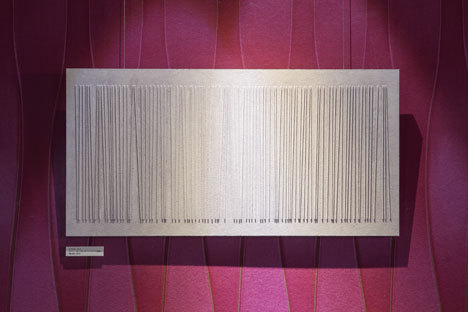 In the natural world, there are also infinite geometrical art from micro such as molecular structure and a snow crystal to macro like a mountain range. Four white works "Stripe No.1~4" at meet lounge make recall a unlimited scene compounded of time and nature because of abstract expression away from concrete expression, including a series of simple lines on a rectangular board, grassland as far as the eye can see, a bamboo grove blocking view, and a cross section of layer which has been accumulated for a long time.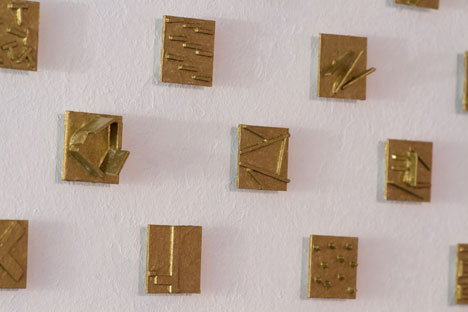 The best praise so far for him is "his works make feel a scene or story." But, toward an interview of The Hokkaido Shimbun Press, he said, "my geometric pattern is not perfect. I want to get closer to the beauty of nature." So, probably his artistic experiment of the pleasant pattern consisted of geometrical expression will be continued.
At last, I asked to him. "What supports your long-term creation?" His answer was "the difficult goal to achieve." I felt similar pleasantness to his artworks in the recesses of his stoic style as an artist.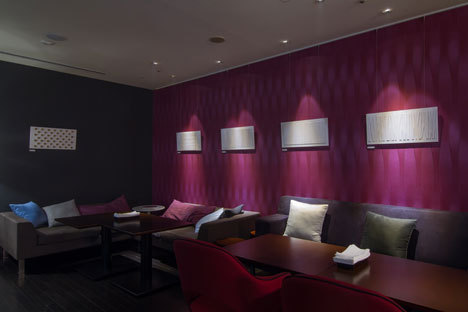 Makoto Iga exhibition held simultaneously at a showroom of Volks Wagen Sapporo Higashi is produced by Cross Hotel Sapporo and curated by Clark Gallery+SHIFT. In cooperation with Hanaagura and Machi-naka Art, It will be continued until the end of October. Please visit there as well.
Makoto Iga Exhibition "DOT, STRIPE, CROSS"
Date: September 3rd – November 28th, 2014
Opening Reception: September 5th, 19:00-21:00
Place: Cross Hotel Sapporo
Address: North 2 West 2, Chuo-ku, Sapporo
Organized by Cross Hotel Sapporo (Planning department +81 11 272 0051)
Curated by Clark Gallery + SHIFT
Collaboration: Machinaka Art
http://crossmet.jp/sapporo
Text: Ayumi Yakura
Translation: Hanae kawai
Photos: Yoshisato Komaki

[Help wanted]
Inviting volunteer staff / pro bono for contribution and translation. Please
e-mail
to us.