Magasin 3 is one of the most interesting art spots in Scandinavia and one of the leading art galleries in Europe. This independent cultural institution fills the shortage of possibilities for certain contemporary artist to exhibit their work in Sweden. Actually, the institution generally encourages the artists to produce new works for their exhibitions. The gallery was founded in 1987; Mr. David Neuman has been the director since then. This year until December 14th, Magasin 3 exhibits works taken from its collection, "I'm Still Here" is the work of twenty Swedish and international artists: paintings, sculpture, photography and installations and film.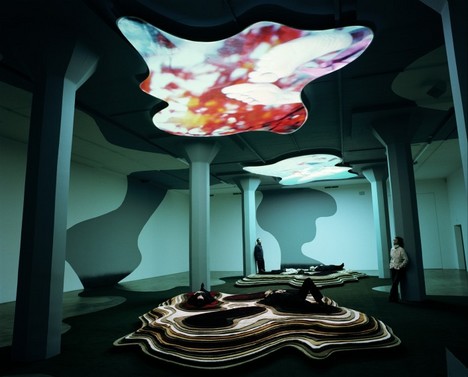 Pipilotti Rist: Gravity, Be My Friend (2007)
This is the spring's major exhibition. According Richard Julin and Tessa Praun, exhibition curators, – "the title of the exhibition is like a poetic depiction of the human state. It marks a pause in the constant search of identity, and acts as reassuming confirmation of one's own existence." The exhibition sees the return of a number of artworks produced specifically for the art gallery including Pipilotti Rist's monumental Tyngdkraft, var min vän (Gravity, Be My Friend) done in 2007. This is an audio video installation that occupies one entire room. 2 projections onto screens mounted on the celling, two wild carpet sculptures from the audience to lie on.

Pipilotti Rist: Gravity, Be My Friend (2007)
This work pleads with the senses, the feeling of diving or caressing the grass on the way, so Pipilotti takes us out of the room and inclusive out of our time. This immersive audio video installation is a utopia with tinted dreams. –With this works I wanted to encompass a flash of consciousness in the mind of the spectators, a kind of mildness to themselves and a relativization of their problems," explains the artist.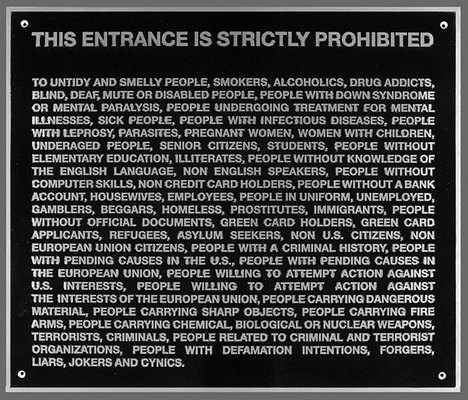 Santiago Sierra: Door Plate (2006)
A few other works and artists that I would like to mention are Spanish artist Santiago Sierra (Madrid, 1966). His piece Door Plate (2006) comes as a criticism of the human nature to exclude or crave for belonging to a specific group.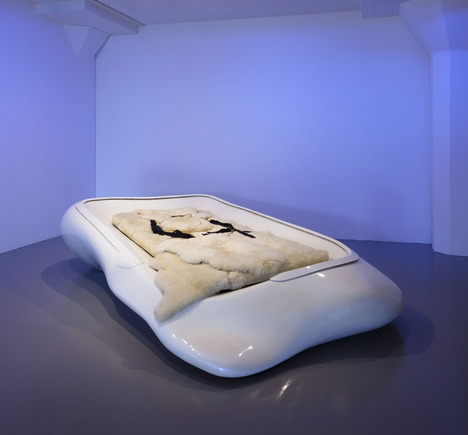 Siobhán Hapaska: Here (1995)
At the time it is possible to see a few works from Irish artist Siobhán Hapaska (Belfast, 1963). Here (1995) is a practically 4×2 meter piece made of fiberglass that looks something between a Jacuzzi and an aerodynamic sport car. This work is an admonition to explore stillness.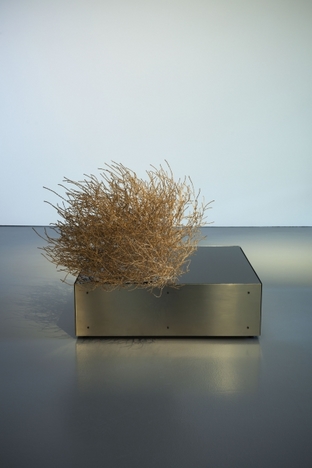 Siobhán Hapaska: Ecstatic (1999)
Ecstatic (1999) is another or her nameworthy piece of work. We see tumbleweed sliding along a neat-mirrored surface. Do you know what tumbleweed is? No? Okay, picture a landscape in the American West-end, that emptiness, then one whorl of branches gets in the scene, that's tumbleweed. The piece created both a contrast between the brambly form moving with magnets on the smooth surface.
Magasin 3 "I'm Still Here"
Date: February 15th – June 8th, 2014
Opening Hours: 11:00-17:00 (Thursday till 19:00)
Closed on Monday to Wednesday
Admission: Adults SEK 40, Seniors and Students SEK 30, the age of 20 and under free
Place: Magasin 3
Address: Frihamnen, 115 56 Stockholm
Tel: +46 (0) 8 545 680 40
http://www.magasin3.com
Text: Victor Moreno

[Help wanted]
Inviting volunteer staff / pro bono for contribution and translation. Please
e-mail
to us.