The latest collection of the Pompidou Centre is full of passion yet delicate.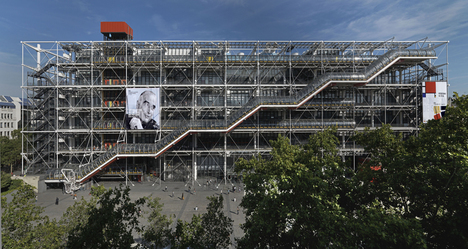 Exterior of the Pompidou Centre © Centre Pompidou / Georges Meguerditchian
The Pompidou Centre is a multicultural complex in France, which houses a museum, a center for music and acoustic research and a library. Paris, the city of art, offers broad and generous support regarding art, as is expected. The Project for Contemporary Art (le Projet pour l'art contemporain /PAC), which was established in 2002, has a unique approach to administration. The curators and collectors together make the direct decisions about whether to purchase a piece of art. Jonas Storsve, who is the curator of the Department of Graphic Art of the National Museum of Modern Art and serves as the supervisor, selected pieces of utmost importance from the decade since the museum's establishment for this exhibition held currently in the Hyogo Prefectural Museum of Art.
The exhibition is comprised of two parts: the introduction and "Fruits de la Passion" (Fruits of Passion). The first part "the introduction" exhibits the masterpieces of modern art. Although modern art seems difficult to comprehend, the passion of artists exists in each touch or each color of paint. You will get a glimpse of the passion of these artists from the subtle variation.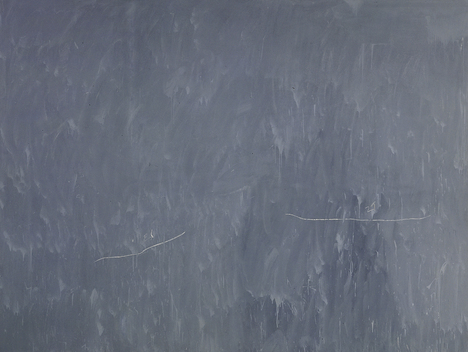 Cy Twombly "Untitled" 1969 © Cy Twombly Foundation
Photo © Centre Pompidou, MNAM-CCI / Philippe Migeat / Dist.RMN-GP
Cy Twombly is an American abstract expressionist artist. You will see some lines like little scratches on the gray surface in the "Untitled". These lines could be ones that a small child scribbled by chance on the wall or handwritings erased halfway and forgotten… Its interpretation can vary, but somehow either sounds bittersweet.
In the second part of the exhibition "Fruits de la Passion", the pieces of art selected from the Pompidou Centre are on display. You will find out the diversity, depth and fun of contemporary art through the pieces displayed that show you various expressions at each step.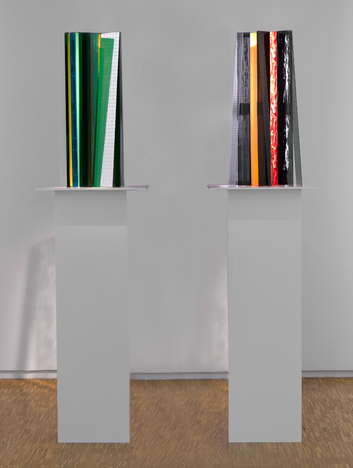 Isa Genzken "Untitled" 2006 © Isa Genzken / Courtesy Galerie Daniel Buchholz, Cologne / Berlin
Photo © Centre Pompidou, MNAM-CCI / Georges Meguerditchian / Dist.RMN-GP
Isa Genzken is a leading artist in Germany who creates sculptures using a variety of materials. Her work can be especially stoic for sculpture. "Untitled" is a sculpture made of the materials in our daily lives, yet it gives you a kind of strict and cold impression. The light from the grass, varying with different angles, generates the beauty which can seem to be one that keeps everything at a distance.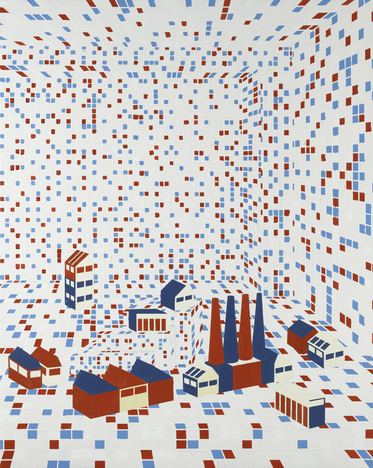 Farah Atassi "Workshop" 2011 © Farah Atassi
Photo © Centre Pompidou, MNAM-CCI / Georges Meguerditchian / Dist.RMN-GP
Farah Atassi is a promising artist born in 1981. Her artwork is a space created exclusively with mosaics, pursuing thoroughly the possibility of them. The buildings in the space are somehow unnatural and they compete with the space made of mosaics. This piece of work seems to be pop at first glance, but it can make you feel even the distortions of modern society.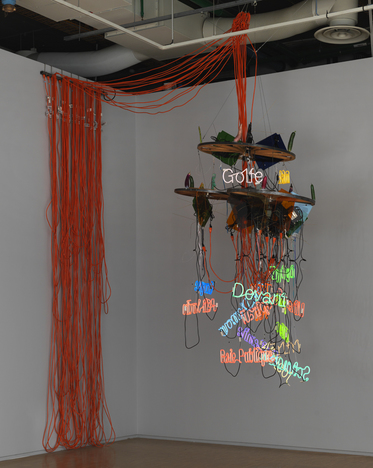 Jason Rhoades "Chatte de Beaubourg" 2004 © The Estate of Jason Rhoades
Photo © Centre Pompidou, MNAM-CCI / Georges Meguerditchian / Dist.RMN-GP
Jason Rhoades is an American artist. His piece "Chatte de Beaubourg" (Female cat of Beaubourg) consists of various neon signs of french words such as "Cité de L'amour" (City of love) or "Moule" (Blue mussel). All 17 French words actually represent the private parts of women. It's also a little sarcastic that Beaubourg is where the Pompidou Centre is located. The red electronic cords tied to the vulgar chandelier are also something astonishing.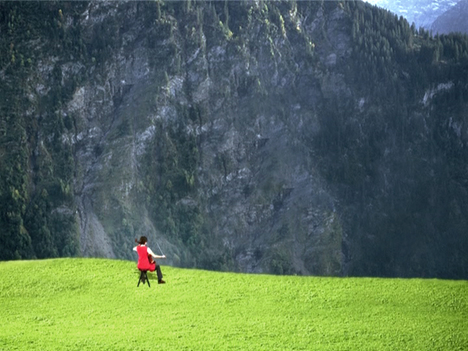 Su-Mei Tse "L'Echo" 2003 © Su-Mei Tse
Su-Mei Tse has an English mother and a Chinese father. Since both of her parents are musicians, music can be a tool through which she expresses herself better than art. In her piece of work "L'Echo" (The Echo), she herself plays the cello and you will feel its melody echoed. You will experience time cut off from the nature and feel the energy of sound that helps you feel at peace even when seeing an artwork. Her exhibition, including this piece, was held in Luxembourg Pavilion at the fiftieth Venice Biennale in 2003, and she received the Golden Lion award.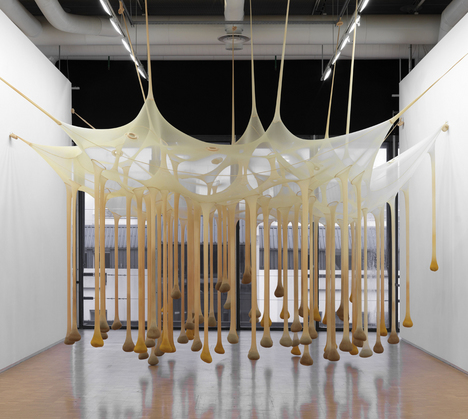 Ernesto Neto "We just stopped here at the time" 2002 © Ernesto Neto
Photo © Centre Pompidou, MNAM-CCI / Georges Meguerditchian / Dist. RMN-GP
A Brazilian artist, Ernesto Neto, is famous for his organic pieces of work that look as if they are going to move. You will appreciate this artwork using not only eyesight but also a sense of smell. You will smell cloves, turmeric and peppers from the objects hung down that look like some kind of fruits. Come and see for yourself, and experience this artwork.
Certain delicacy surely can be found behind the passion. Through this exhibition, you will feel both the passion and sensitivity of the artists. Also, you don't want to miss the permanent exhibition which does an excellent job. The Hyogo Prefectural Museum of Art, which was designed by Tadao Ando, will show its great resonance through this exhibition.
"Fruits de la Passion" La Collection du Centre Pompidou
Date: January 18th – March 23rd, 2014
Opening hours: 10:00 – 18:00 (Friday, Saturday until 20:00, Admission until 30 minutes before closing.)
Closed on Monday
Admission Fee: General – 1300 yen (1100 yen), University students – 900 yen (700 yen), High school students / 65 years and over – 650 yen, Junior high school students and under – free (Admission fee with advance tickets)
Place: Hyogo Prefectural Museum of Art
Address: 1-1-1 Wakinohamakaigandori, Chuo-ku, Kobe-shi, Hyogo
Tel: 078 262 0901
http://www.artm.pref.hyogo.jp
Text: Maaru Hiyama
Translation: Satoko Shimokawabe

[Help wanted]
Inviting volunteer staff / pro bono for contribution and translation. Please
e-mail
to us.