For its 7th edition, Lille's contemporary art fair has traded its name from simple "Lille Art Fair" to "Art Up!", a way for the organizers to clearly signal their wish to bring change and more energy to the event. The directional team remains the same but, this time, it is assisted by an artistic committee, composed of a collector and several art professionals, in order to guarantee a higher level to the selection.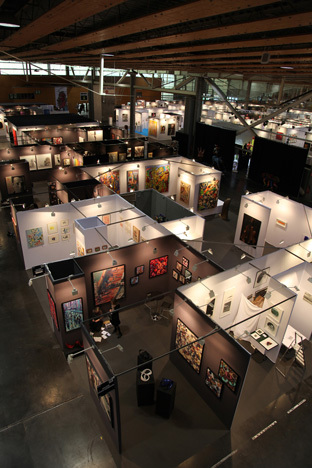 Art Fair View © Maxime Dufour
Nevertheless, in spite of these efforts, the overall impression that comes out from Art Up! is one of unbalance, between purely commercial galleries which sell decorative paintings and sculptures by the kilo, and other more serious galleries who promote talented and creative artists. Among those, most are presenting modern art, not taking too many risks with contemporary art, except for a quite important percentage of street/pop art, colourful and easy to grasp for a large audience, or for some galleries, like Lille's Bacqueville Gallery, which present a large selection both of renowned artists (Araki) and of younger generations (as the surprising cracks and scratches made in the wall of the booth by Aurélien Maillard). Geometrical abstraction seems all the rage again, with a booth dedicated to Northern artist Genevieve Claisse (Wagner Gallery, Le Touquet), or beautiful small pieces by François Morellet, Aurélie Nemours or Vera Molnar (Jean Greset, Besançon). Informal and expressionist masters such as Arnulf Rainer or Hans Hartung (Beukers Modern Art, Rockanje) are also there, real staples of European art fairs.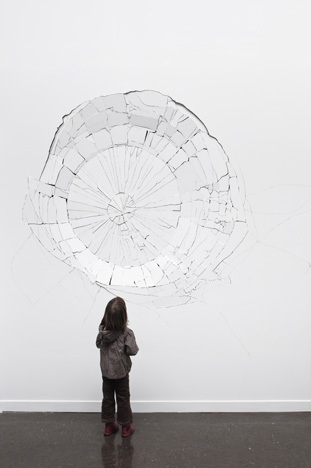 Galerie Bacqueville / Aurélien Maillard
The presence of photography is not as obvious as last year, the last editions having been overloaded with Chinese photography, or with repetitive urban landscapes and pictures of abandoned places. Nevertheless, there are interesting things in that area, most noticeably the works of French photographer Philip Soussan (Convergence Gallery/Intuiti Gallery, Paris), who presents his own researches as well as a collaboration with Arnal, a former member of the Support-Surfaces movement. The artist books and engraving dealers also allow the visitors to make good and affordable discoveries, and one might really regret the quite pitiful booths granted some of them, in a sad and narrow alley.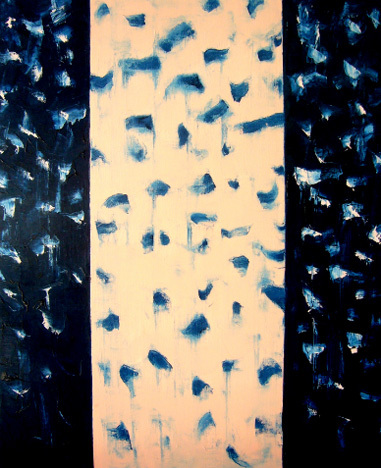 NFFJAPON / Nunokawa
Another regret is that some galleries seem to present the same artists (and same works?) every year, not trying very hard to renew their selection. That gives a taste of déjà vu to the fair, and adds to the disappointment after the anticipation of a 2014 edition that was supposed to bring a new life to this still young art fair. Let's hope that Art Up! will finally find its voice and achieve some maturity by eliminating the too many blatantly commercial works. International galleries seem ready to join, as tend to prove the large number of European galleries present this year, from close-by Belgium, Netherlands and UK, but also from Spain, Italy, Poland, or as also suggests the presence of galleries coming from as far as Japan (NFF, Hyôgo) or the US (Waltman Ortega, Miami). Lille's contemporary art fair is said to have become the leading art fair in France outside Paris; Lille itself is a very animated city, with a large number of important artistic and cultural events held every year, such as the contemporary art exhibitions organised by Lille 3000 in the Tri Postal (this year's edition having been dedicated to the 25th birthday of the Perrotin gallery). The town undeniably deserves a fair of the same level as those events, a fair that would really catch the attention of Northern collectors (who have a strong tendency to buy in Paris and Bruxelles), as well as of foreign collectors.
Art Up!
Date: February 13th-16th, 2014
Place: Lille Grand Palais, 1 bvd des Cités Unies, 59777 Euralille, Lille
http://www.lilleartfair.com
Text: Valerie Douniaux

[Help wanted]
Inviting volunteer staff / pro bono for contribution and translation. Please
e-mail
to us.