Heading northeast, driving on Route 80 for about 4hours when suddenly a small casino city appearsd just in front of us from the sandstorm. This deserted town known as "Black Rock City" is close to a venue for The Burning Man. Numberless participants riding on huge RVs frantically rushed into Walmart for provisions, tons of water and camping supplies to survive in the desert for a week. This makes me feel like it's the day before the extinction of the world.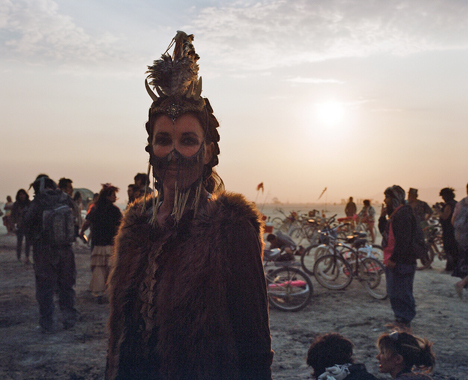 © Isao Nishiyama
From Aug 26 to Sep 2, Burning Man 2013 was held in the Black Rock Desert in Nevada, USA. The tickets have been sold on the official web site from about 6 months ago, and about 68,000 participants from every part of the world assemble to live together, cooperating with each other within the severe weather of the desert. People can be a citizen of The Black Rock City which exists for just one week. In Black Rock City, using any currency is prohibited except for the purchase of ice for keeping food cold or having some coffee at a cafe. So you can be a part of this infinitely liberal and creative community that exists nowhere but in this desert.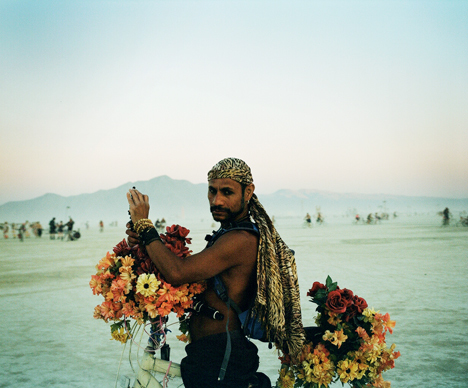 © Isao Nishiyama
The symbol of The Burning Man 2013, which was themed "Cargo Cult," is a tower featuring an enormous man on a wooden pedestal shaped like a UFO. Furthermore, there is the sacred place where people pray, called "The Temple of Whollyness." It comes into sight when you walk north toward The Man. This huge, beautiful architecture is designed by Culver City, LA based artist Gregg Fleishman and is constructed using innovative building techniques. Unbelievably, this amazing trigonal pyramid is crafted completely out of geometric interlocking wood pieces that fit together without the use of nails, glue, or metal fasteners.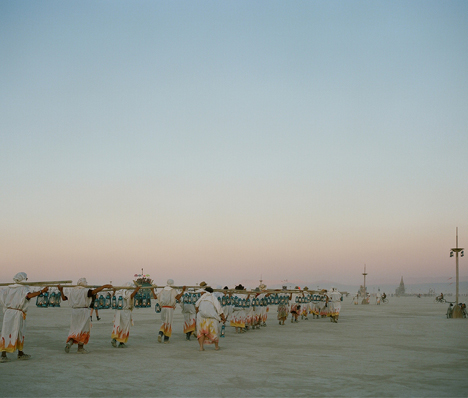 © Isao Nishiyama
Heading to this temple, The Lamplighters go in procession from the center camp, which has been an important part of Burning Man almost as long as Burning Man has been held in the desert. Burning Man's fire activity, the "FIRE CONCLAVE" is a ceremony that intends to encompass the spirit as well as the body and mind. AMBIENT DRUMMERS that roll primitive beats that you've never listened to are just wonderful and spectacular. The vibrations tie all the people to other people in the desert, and purify a corrupt spirit. Finally the incredible climax of The Burning Man is arranged.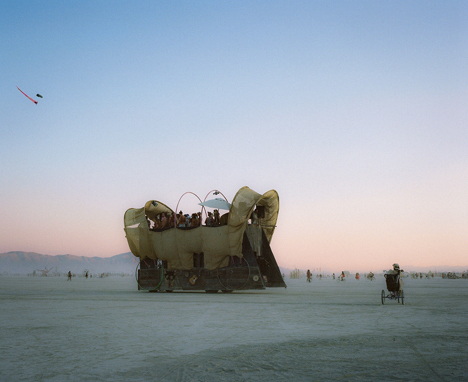 © Isao Nishiyama
A large number of art installations are held in The Burning Man every day and night throughout the week. There are 70 official installations, 24 CORE (Circle of Regional Effigies), which are comprised of wooden sculptures created by Burning Man Regional groups from around the world, while unfunded artists make the vast majority of art installations. Exhibits include the huge installation of typography "BELEAVE," which is essential to see. FairFax, VA based artists Laura Kimpton and Jeff Schomberg have been showcasing their Large Word Series at Burning Man for the past 4 years. Sculptor Bryan Tedrick and Glen Ellen from CA created a huge, beautifully shaped steel sculpture called "COYOTE" which echoes through the desert. Furthermore, looking like a UFO fell into a desert sculpture, "Crash Site ALPHA_13" is made by Aphidoidea from LA. Another sculpture features a 12 foot high pair of wooden hands raising up toward the sky created by Dave Gertler from SF. The French CORE project for 2013 is called "Stairway to Heaven," which is the most beautiful streamlined French castle that I have ever seen. Those creative monuments keep surprising me with their sophisticated design and quality, and I respect them greatly.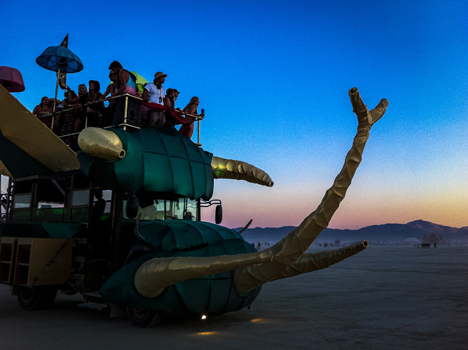 © Isao Nishiyama
My wife and I timidly spent our first night in a delicate camp listening to electro music played loudly from near and far. There was supposed to be the usual star-spangled sky above the Black Rock desert, however, the sky wouldn't go dark until just before dawn because of the laser beams and flame from innumerable theme camps, mutant vehicles and Burners frenzies.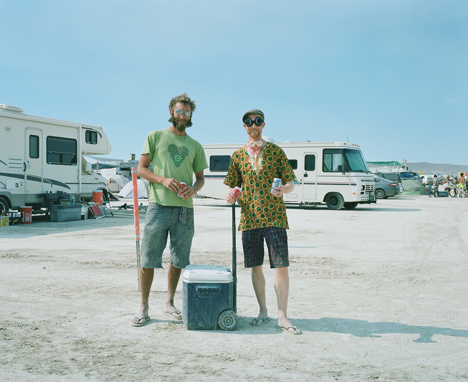 © Isao Nishiyama
Nationality and race don't mean anything, the Burners are just happy to be and seeking pleasure in this desert. What an extraordinary world it is here! You could move from one camp to another, you could dance just in front of the giant sound system until dawn, or you could have a one-night stand.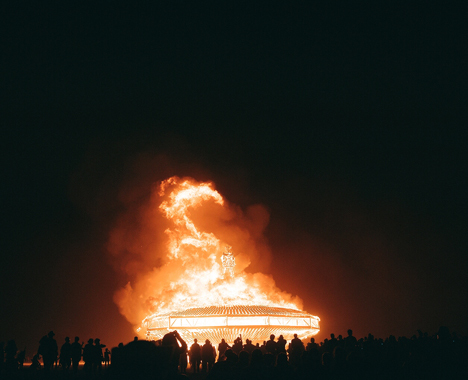 © Isao Nishiyama
There are no rules on how you spend your time in the desert. Just one thing you have to remember is the mantra "Don't be a Spectator".
Burning Man 2013
Date: August 26th – September 2nd, 2013
Place: Black Rock Desert, NV, America
http://www.burningman.com
Text: Isao Nishiyama
Photos: Isao Nishiyama

[Help wanted]
Inviting volunteer staff / pro bono for contribution and translation. Please
e-mail
to us.