ICA (Institute of Contemporary Arts) Gallery has a special exhibition at The Old Selfridge Hotel, London. The exhibition explores the creative scenes of the 1980s that were born and developed in London, from the post-punk and gothic rock era to now. It could be called a "project" rather than an exhibition.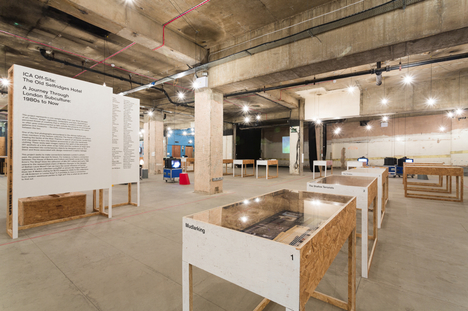 ICA Off-Site: The Old Selfridges Hotel, 2013, Installation Shots, Credit: Mark Blower
In the space surrounded by exposed concrete walls and ceilings, 56 vitrines are set up like a jewelry shop. Works by designers, galleries, artists, and their way of lives, the track of their activities are expressed with each curators. Those lead us to overwhelming worlds of time trip journey.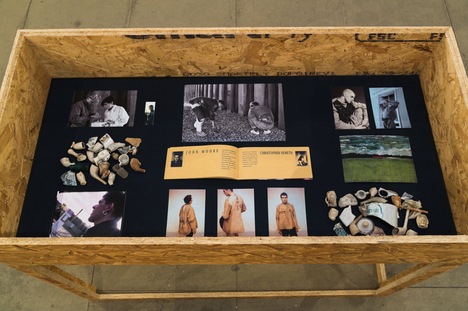 ICA Off-Site: The Old Selfridges Hotel, Mudlarking Vitrine, curated by Nicola Tyson, Credit: Mark Blower
The first vitrine you will look into is "Mudlarking." some photos, old bones, bottle tops, and clay pipes are seen there. One of the photos shows Judy Blame (accessory designer) and John Moore (shoe and graphic designer) who were beachcombing by the River Thames. They are members of the House of Beauty and Culture, which had been attracted as a craft collective since the 1980s, and worked alongside a href="http://www.christophernemeth.co" target="new">Christopher Nemeth. Their clothing design often incorporated salvaged materials such as post office sacks. You may read about post-punk DIY aesthetic from this presentation.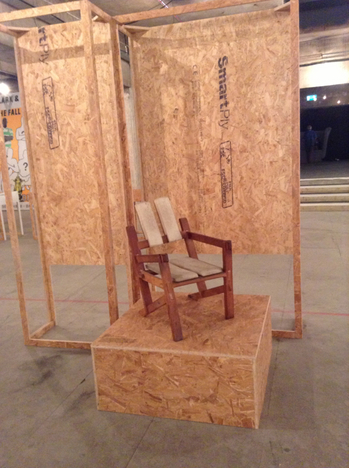 Martino Gamper ICA Off-Site: Old Selfridges Hotel 2013
Poet and painter, David Robilliard's vitrine is decorated with countless colorful-shiny-star shaped beads. Some cards on which you will see his simple but thought provoking poems and sorrowful drawing are stuck on the side, "Life isn't good it's excellent." He had a close friendship with Gilbert & George who had been famous for avant-garde performance and had called themselves "living sculptures". After publishing a poem by Gilbert & George, David was recognized across the world. They described David as " the new master of the modern person". He contributed his poems to many underground publications and magazines of the 1980s. He died of AIDS in 1988, when he was on;y 36 years old. His poem written in this year, "MEMORY OF A FRIEND" (A burst of tears from all your friends the end) makes us imagine his life and his world with studded twinkling star beads.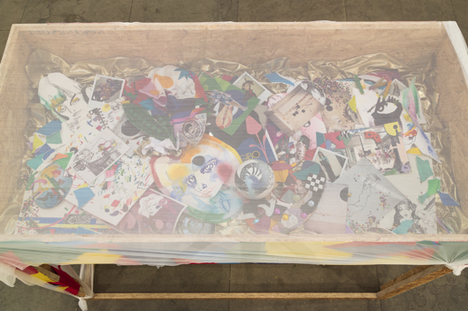 ICA Off-Site: The Old Selfridges Hotel, Julie Verhoeven Vitrine, curated by Julie Verhoeven, Credit: Mark Blower
Artist and designer, Julie Verhoeven, who has been famous for the design of "GIBO," produced her vitrine with many fashion snaps and collage works with pastel color illustration. A photo of herself is also set in the box. However, since this vitrine is covered with a gauze-like fabric, we can't see the whole inside clearly. She has always been addressing issues of pop culture, vanity and gender. You may be able to read her message from this work.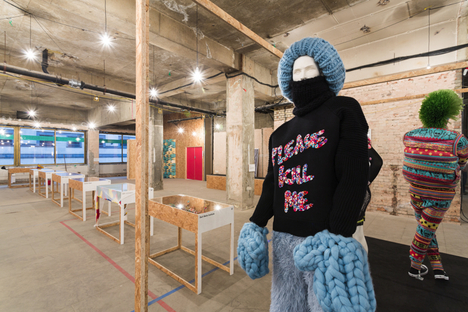 ICA Off-Site: The Old Selfridges Hotel, 2013, Installation Shots, Credit: Mark Blower
There are many more vitrines. For example, contemporary art & culture magazine "friez," the Vogue Fabric Club which created the transvestite fashion world in a night club in London, avant-garde Chisenhale Gallery, Alexander McQueen who had been the top designer in the U.K. from 1996 to 2003, the designer of furniture Tom Dixon who is also active in the field of club DJ and animation, and many more. This diverse art and culture, which had all departed from London, U.K. and attracted the world's attention, is all gathered in this exhibition venue. We will feel the history of those and realize how much they have influenced modern art & culture.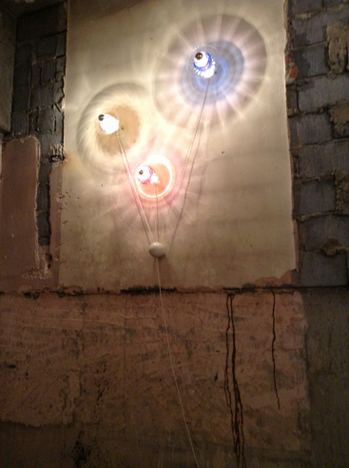 Bethan Laura Wood, ICA Off-Site: Old Selfridges Hotel, 2013
Other than vitrines, you may also find some art objects and installations there. At the entrance of the venue, beautiful pastel colour lightings by designer Bethan Laura are hung on the left side of the wall. A chair by Martino Gamper, who had developed a project of 100 chairs for 100 days, appears sad and heart broken. John Maybury who has been the most influential creator for gay & lesbian culture in U.K., showed some video art. Those images shake our hearts and hearing 80s sounds from his music videos, we will see and think of how 80s creativity has been connected and transferred to the cultures now in London.
In this space, there exists various forms of art work, fashion, graphics, images, craft & design, and so on. Those pieces indicate distinctive eras built with the creators' idea for issues regarding gays and lesbians, AIDS, and commercialism. You will witness the historical documentary of London subculture here.
A Journey Through London Subculture 1980s to Now
Date: September 13th – November 3rd, 2013
Opening hours: 11:00 – 18:00 (Thursday till 21:00)
Entrance fee: Free
Place: ICA Off – Site The Old Selfridges Hotel
Address: 1 Orchard Street London, W1H
http://www.ica.org.uk
Text: Fuyumi Saito

[Help wanted]
Inviting volunteer staff / pro bono for contribution and translation. Please
e-mail
to us.