"STUDIO 55" is an art space, curated by 55DSL-Street wear brand which crossover fashion and urban culture, which continuously introduce creatives and talented artists. The latest exhibition, the studio features yoshi47, an artist with a background as being a bike messenger in San Francisco and Tokyo. The weird but cute monsters he draws metaphors the 'monsters' inside us. During his exhibition " Monsters in your mind", which displays not only his regular flat painting but also his object art pieces. We were able to got in touch and look inside him, about what he was inspired and moved, his back ground influence to the art, and even about the music he often listen.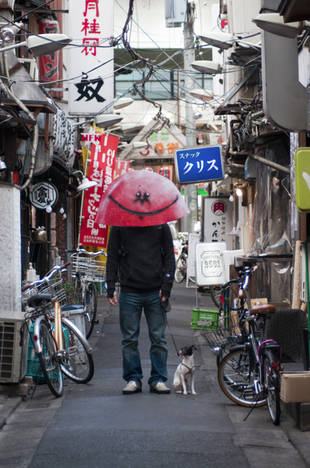 Could you please tell us about your concept of the current exhibition?
As the title shows, "Monsters in your mind"–which I always keep as a concept for my art, stands for "Any person has a monster in themselves".
For example, even a person with a model looking clean, refined posture or aura, walking down the street of Aoyama, or if the person had a sexy scent around him, he must have an unexpected "Monster" living inside him.
If you think everyone is a "Monster", the view of the world becomes pretty interesting. There is highly rational people and there is the total opposite living together, so of course everyone is different in this world.
For example, I believe there is still people with extreme antipathy towards gay or homosexuality in this world. I think anyone with a negative feeling against others are thinking they are monster or something. But if you think yourself is a monster as well as the others, it is just a characteristic of each monsters so nothing is wrong of anyone… that what I think when I draw things or even just at my normal life.
"Graphuturism" is another concept which relates to what I contain in my art recently; technology, social issues, the cosmos, nature, animals and many more. For the detail, I hope you could read the description of the concept by having a look of the exhibition.
Where do you get the ideas for the characters? They are cute, but definitely speaking itself of somewhat message.
These are the list of thing I was inspired as a kid.
"Laughing Sales Man/by Fujiko Fujio-A"
Although being a child, I was gravitated by this spooky main character of this comic, Mokoro Fukuzo, who is devilish but always true to his own justice. Inspired by him, I've been drawing a big-mouthed human faces since I was in elementary school.
The movies, "Never Ending Story." and "labyrinth "
It's the movies I got into it so much as a child. I loved the characters. I almost can say this movie raised me up.
Both of the Monster in this comic or movie share common in the sense of they are always smiling. The inspiration besides these is always humans and animals.
Anyone I met the first time or everyday, people discussing, or people I get in touch with. All the people inspires me.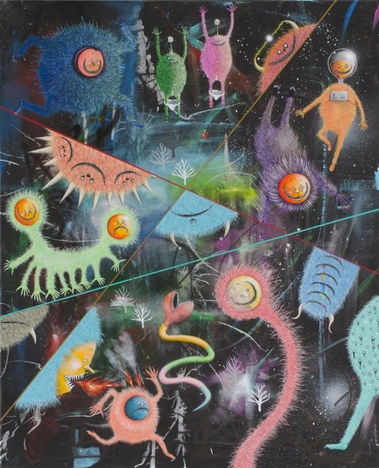 What kind of message do you want people to get from your art work?
I don't contain anything that people have to feel. If people make up their own story and understand it their own way, that's enough.
Of course I hope people would feel something, but nothing specific. I don't want to force any concepts to people.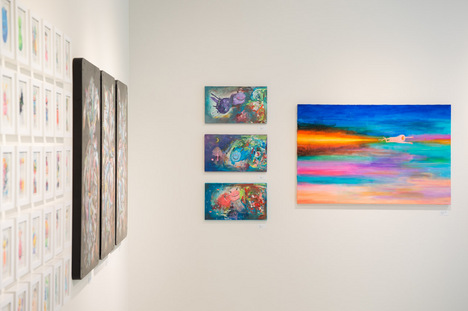 Let us know your encounter with creating art, and your life at the states as an artist.
Simply the encounter is that I liked drawing since I was a kid and now I'm here. Without knowing I was just deeply into art so I never thought of "okay, I'm going to create art". It was all natural.
But there was a point I became serious to be an artist, which was the first time my art sold to a person. It was at a museum in San hose, but this couple who was seriously looking at my art and me asking that they want to buy the piece, I felt a love of human and it really moved me. And we are still in touch.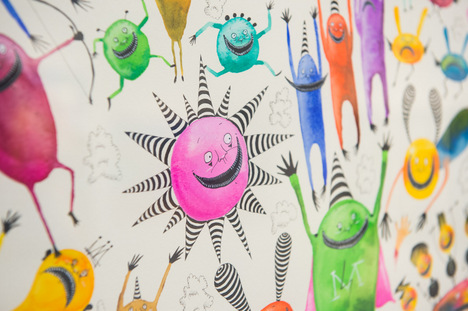 I haven't saw much of hip-hop or graffiti from your art, could you tell us about your back ground being a spray-can graffiti artist, and the transition you made to establish your current style.
I think it depends on people. Maybe some people feel it and other doesn't. For example in Tokyo, Graffiti is somehow "Hard-core", but that is just a Tokyo-thing and it's different from my perspective of graffiti who had been lived and experienced the form in many cities. If look around the world, there is so many types of graffiti, which only the local people knows. However, I don't do graffiti anymore, and also not only inspired by Hip-Hop. In the other way, I was always trying to open up my own space, instead being stuck in a narrow idea. It pretty natural that you don't feel the typical vibes of graffiti from my art.
I never create "art" being a graffiti writer, I was by bombing drawing or tagging, but that was simply part of my admiration to the culture. It was really just "doodling" and definitely not art. Only for my joy. It is not only in art, but longer you work on anything, the more you know about other things you haven't seen. In my case, I hated the feeling when I couldn't finish my drawing in the short time of making graffiti. Adventure, I started to think why am I trying draw something on the wall in a very limited short time, or asking myself what I actually want to draw. After I moved to the States, I start to think it's don't have to be graffiti. However, I loved spray-can drawing so kept going out to draw, even during my work as a bike messenger. Just for my joy to draw anything I like to at that moment. Not be famous or anything… I never chased the trend. The other thing which inspired me was all the great artist all over– San Francisco, San Hose, LA, and NY. Meeting many writers and legends in the field, led me to the idea I don't have to only be a graffiti writer.
Being inspired by law art in one hand, I've met many cool painter, artists, High-up artist. The cross over created my style, I think.
But it is important for me the fact that I've been a graffiti guy at one point. It is definitely crating part of my style, but in the sense what I want to express, graffiti is not prioritized. Also I had been busted in the states by doing that so that made created a gap between me and graffiti. Although I sometimes go outside to draw something, but it's more just not to forget the way to draw in spray-cans. Oh, but I sometimes make monsters and stick it every where in the city!
What inspired for being in the community of bike messenger in the States?
"To live" I think. Most of the messenger was not going to school so some of them couldn't write, or some were illegal worker or alien. People from the army, or homeless… It was ritually "Sex", "Drug", "Violence" and "Poverty".
There were some rich kids in the community, but there was a gap that they could never get over. Nevertheless being poor but living hard and working everyday with pride. I felt a true vibes of humanity and everyday was so fun.
They also care a lot of their community group too. I have never been to a war, but it seemed similar working hard with people whom you can cry together like that.
Besides, such as "Helping your special person" or "Have to fight against violence with stronger power"…I learned human's life force is unbelievable.
Even up to now, comparing to those days I struggled, nothing is hard to do and I don't want to be offensive to anything.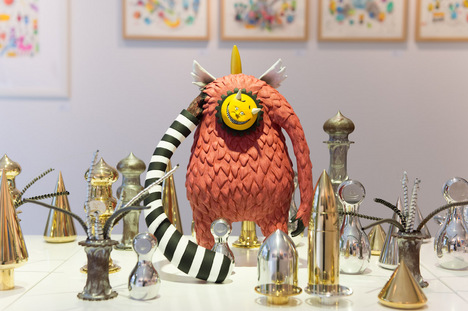 How was the fashion project with designer, Alexander Lee Chang? How is the feeing that your art becomes fashion items.
It was fun. I am not a clothing designer nor the most fashionable person, It was interesting to see a new world working with Lee which is the fashionable ones, let me collaborate. I not really into doing a lot with fashion but the reason I worked with this project was, it was a collaboration between Lee. Nothing to do with that he lived in SF as I, but simply his creation or philosophy is one of the best "Artist" as I think. He is also a interesting person and always finds something new. I was happy for this collaboration. I worked as being a piece of art.
I heard you a kind of nomadic person, who value to see many places and things. Where was your most inspiring place you lived? And where do you want to go next?
The place I remember the most is the China town in SF. One day during my delivery, a Chinese man came out from nowhere with a shot-gun passing by me, and the next second he was shooting the show window… also I had delivered so many stuff to Chinese mafia office… I don't have good memories there. But also SF is the most inspiring city for me. Some people says it's easy to live, or people are nice or the city is beautiful… But I know the real side of it too. Almost being a home-less, Art seen, Crazy world, bad things, rich peoples world… I had experienced all of that.
Right now, I'm really into surfing so I want to go somewhere with great waves, I've already start planning to move to Hawaii. Maybe the South side of the West-coast, States. I want to go to India, Russia, Tibet, Amazon, Egypt or Africa but I still don't hear anything calling me from those places. I want to go to South-east asia too. I was planning to open a restaurant with my wife and my friends who lives there.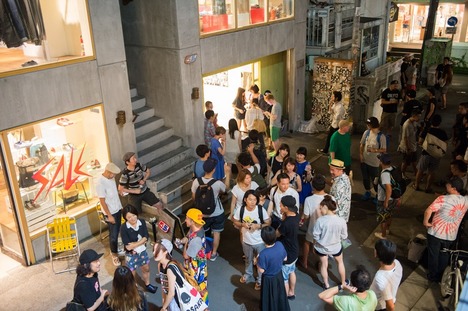 How music surrounds you or your art, and what kind of music?
When I wake up, if it's hot I listen to Hawaiian, or classic reggae, sometimes listen to bossa nova when I having breakfast.
When I'm in studio, I listen to Ambient stuff, such as Steve Roach. I love music that I feel like sympathizing with the cosmos or some thing huge.
When I draw something on the wall, I think Hip-Hop or Soul. At night I listen to Jazz and if it's summer I listen to Japanese dance folk "Bon", and have Sake with it. If I'm driving I listen to classic, but If I'm biking Metal or heavy east-coast hip hop or west-cost stuff.
Being a hobbyist, do you have anything you like to try next?
I want to do more survival games, which I haven't done in a Japan due to the luck of time. Since I watch so many movies, I don't mind being a movie commentator too.
But in the actual point of view, what I'm surely going to do is to brush up my skills or find a new way to express my arts.
Monsters in your mind by yoshi47
Date: July 27th – November 24th, 2013
Opening Hours: 11:00 – 20:00
Place: 55DSL TOKYO
Address: Address: Jingumae S building, Jingumae 4-27-4, Shibuya, Tokyo
Tel: +81 (0)3 5775 9755
http://55dsl.jp
Text: Satsuki Miyanishi
Translation: Andry Adolphe
Photos: Tadamasa Iguchi (INFOCUS)

[Help wanted]
Inviting volunteer staff / pro bono for contribution and translation. Please
e-mail
to us.