DIESEL ART GALLERY , located in the underground floor of DIESEL SHIBUYA on Meiji street in Shibuya, is the first large concept store in the world to invite artists from various genres to hold quarterly art exhibits. Since the gallery is managed by a fashion brand geared toward men and women of all ages, their selection is unique and sensational.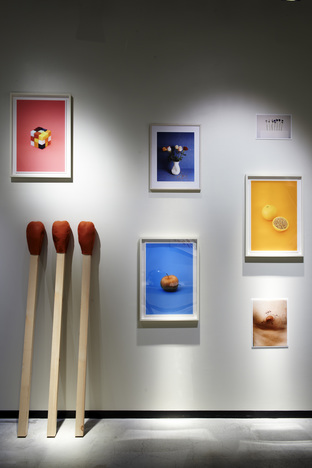 The exhibit being held since May features a visual artist based in Berlin, Sarah Illenberger, and creative director Miho Kinomura, who is based in Los Angeles but active globally. Miho Kinomura's attention was drawn by the anthology, 'Sarah Illenberger' released by Berlin publisher Gestalten in 2011, so she decided to work with Illenberger as curator of her show, and film director of an innovative creation which was finally realized for the first time in Japan. The concept of this exhibit, entitled 'Reality and Fantasy', is to present a wide variety of Illenberger's work, with a sense of fun that will let anyone experience a unique view of the world, and to record new life into familiar, everyday tools and scenery. Starting with the voluntary project called 'Strange Fruit,' unreleased stories were spun using simple and commonplace materials, such as fruit, vegetables, magazine clippings, metal, textiles, paper and wood.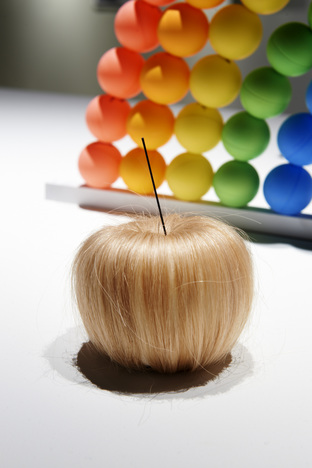 The majority of Sarah Illenberger's pieces at this exhibit were rebuilt with materials which contrast against the natural state of everyday items with which we are familiar. Her work is formed with lush colors and a dense balance, such as an apple covered with hair, a totem pole made from tires, organs made with yarn, a dress assembled with vegetables, a lighter with a hot pepper flame, watermelon seed rain, grenades made of pomegranate, and headphones made with cupcake liners. When our expectations for these items are lifted away, their original meanings fluctuate and unique perspectives appear.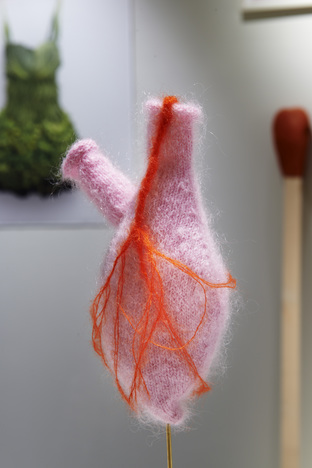 Illenberger is inspired by the things she finds around her, and whether they are new or old, her view is wide open, from antique items at flea markets to images on the web. She reproduces artificial items from natural things and vice versa, and there, her eyes enjoy the nexus of civilization and nature. Emphasizing her desire to attract the viewer's attention, she completes impressive scenes by choosing contrasting background colors to favor the simplicity of the object. This idea comes from her five-plus years of experience working for a publisher. Also, the humorous wordplay studded throughout the titles of her work are another attraction. She aims to provide a quality and fresh representation while she experiences various cultures and trends by traveling around the world.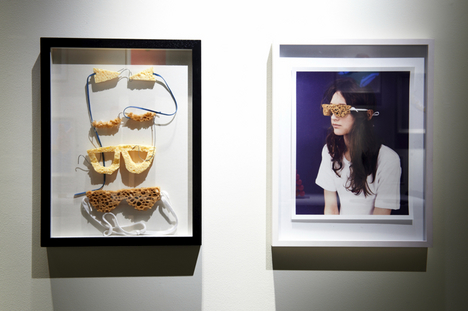 This exhibit is a unique opportunity to see Sarah's experimental work made with photos taken on her iPhone, along with unusual materials that she obtained while visiting Japan. A collaborative video shot by Miho Kinomura at Illenberger's studio in Berlin can also be seen. These should help guide the viewer's eye to cut the poetic aspect of everything that was hiding from them in their daily lives. Her works' charm falls between art and graphics and is very bold, but at the same time extremely detailed and not bound by existing expectations. This softens the viewers' relation toward their surroundings. The bright feeling of serenity coming from such art suggests the endless possibilities of positively.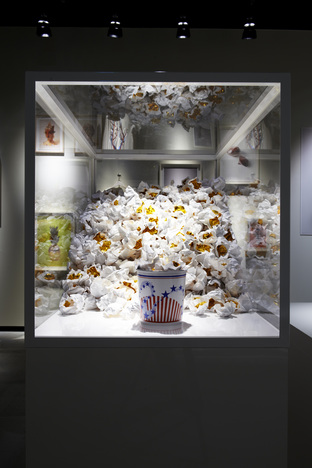 Miho Kinomura, who handles a number of in-style advertisements in the fashion world, proposes that strange pastel colors will be exciting, especially with girls, in Tokyo in 2013.
Sarah Illenberger × Miho Kinomura "Reality & Fantasy"
Date: May 17th – August 16th, 2013
Opening Hours: 11:30 – 21:00 (non-regular holiday)
Place: DIESEL ART GALLERY (DIESEL SHIBUYA)
Address: cocoti B1F, 1-23-16, Shibuya, Shibuya-ku, Tokyo
Tel: 03-6427-5955
Curator: Miho Kinomura / STUDIO.D.O.G.INC
Supported by: SunM Color Co.,Ltd. / Gestalten Japan
http://www.diesel.co.jp/art/
Text: Ayami Ueda
Translation: Yumiko Miyagawa
Photos: Kenichi Mui

[Help wanted]
Inviting volunteer staff / pro bono for contribution and translation. Please
e-mail
to us.