A new space scale created by LINES; outlines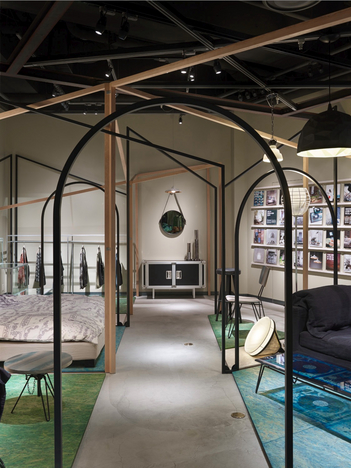 Photo: Toshiyuki Yano
What is the most important consideration in selecting furniture for you? Design, price, or size, are important elements. However, the major premise for all is that it fits into your house or a specific room. Before selecting, the size of the space is already fixed, so people tend to consider the size of the furniture when deciding. The installation called "LINES" is on exhibit in the Home Collection at the basement floor of DIESEL SHIBUYA. It shows a unique idea based on that reversed sequence of thinking when choosing furniture.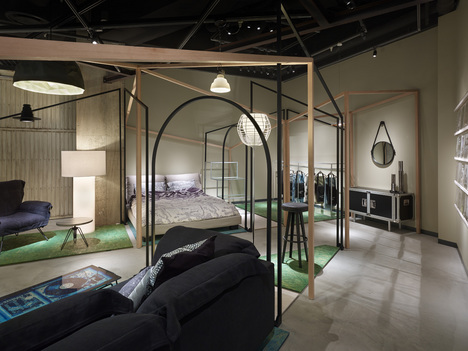 Photo: Toshiyuki Yano
Chikara Ohno, who is in charge of this installation, works as an architect specializing in the design of private houses and commercial spaces in Japan and abroad. (He founded the architecture office "Sinato".) Mr. Ohno had once exhibited an installation at DIESEL DENIM GALLERY in 2010, titled "ROLLS." Now he exhibits the opposite with "LINES" for the title of this exhibition.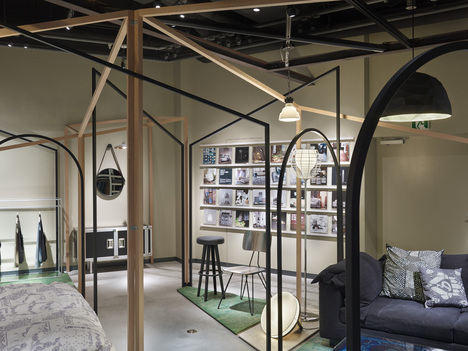 Photo: Toshiyuki Yano
Ohno says, "I think that scale of space can be expressed with one line without walls."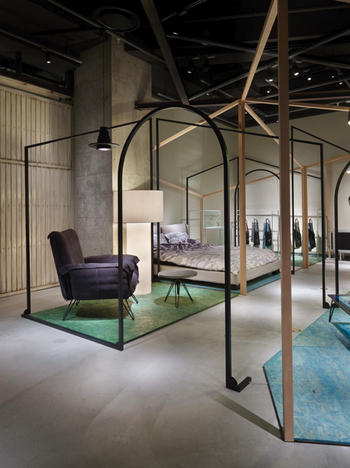 Photo: Toshiyuki Yano
Usually separating spaces needs walls as a"facet", but this time, Mr. Ohno tried to punctuate by using "lines." In the hall, there is a collection of furniture and lighting called "Successful Living for DIESEL" in the Home Collection at DIESEL. Then black steel bars and wooden frames run past the collections. In front of the hall, you can see an arch like a door, and that welcomes the guest inside the space made with black lines. Each line sometimes meet at a point, suggesting different rooms like a bedroom, sitting room, hallway, or corridor to us.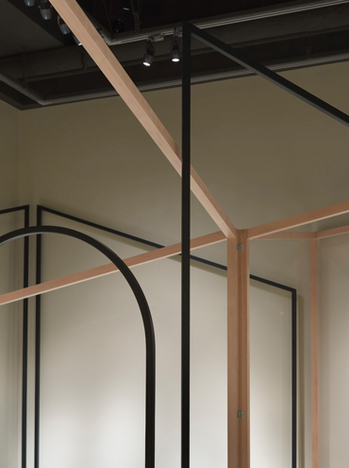 Photo: Toshiyuki Yano
Incidentally, the black steel lines draw one line without interruption, and the wooden lines represent a tower, a stable structure with pillars and a beam. Mr. Ohno says "Outline" is the farthest line from substance. I thought that an outline could also have the meaning of "stuff without substance." As he says, you will be surprised that an additional line drawn in space makes up a more detailed place.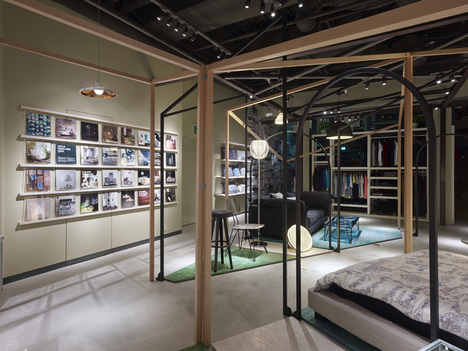 Photo: Toshiyuki Yano
Each room created by lines is quite small, around 1.6m2. Mr. Ohno says "I feel this scale is closer to our life because it is like an extension of the furniture". Setting a slightly larger space after installing the furniture produces this unique scale of space. His idea such as separating transparent space by lines helps to avoid a feeling of pressure, yet keeps the scale or whole of the room apparent. Why on the earth did he concentrate on a smaller space?
He explains, "I wanted to try to make the smallest scale with furniture and actions around the furniture. For instance, a bedroom, which is 9.5㎡, is too large for only sleeping. It would work enough for that if there is just the right space to put a bed. Then the remaining space could make another room wider and available for another use. However, it depends on the life style of each resident, I have been interested in circumstances which consist of each minimum scale of space. Have you ever imagined how would a 2LDK(2 rooms with a sitting room, one dining space and a kitchen) change to 10K (10 rooms with one kitchen) in the same scale?".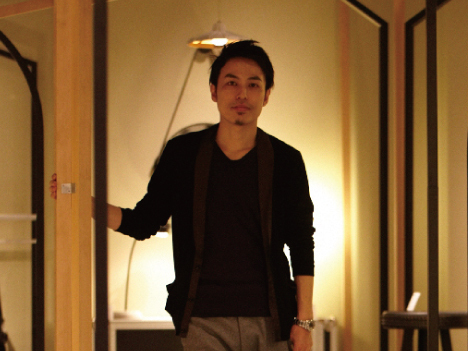 © Kenji Takahashi
This installation will be updated while open until the middle of February 2014. Why not visit this exhibition that will make you think how housing can be, by showing the scale of space for life and considering the relation of furniture and oneself?
Chikara Ohno "LINES"
Date: February 22nd, 2013 – February 16th, 2014
Opening hours: 11:30 – 21:00 (Non-regular holiday)
Place: DIESEL SHIBUYA
Address: cocoti DIESEL SHIBUYA B1F, 1-23-16 Shibuya, Shibuya-ku, Tokyo
Tel: 03-6427-5955
Supported by: SunM Color Co.,Ltd.
http://www.diesel.co.jp/art/
Text: Miki Matsumoto
Translation: Eiko Kondo

[Help wanted]
Inviting volunteer staff / pro bono for contribution and translation. Please
e-mail
to us.