Tiger Translate, sponsored by Singapore-based Tiger Beer, and launched in 2005, is a big competition of street music and art. Held in different places all over the world, the winner of each competition gets a chance to compete in the finals. In 2012, regional competitions were held in Mongolia, Cambodia, Singapore, Bangkok in Thailand, and Singapore. The final competition was held on 17 November 2012 in Auckland in New Zealand, with the winner going to the final global competition in Dubai. This is a report on the Tiger Translate competition that took place in Auckland.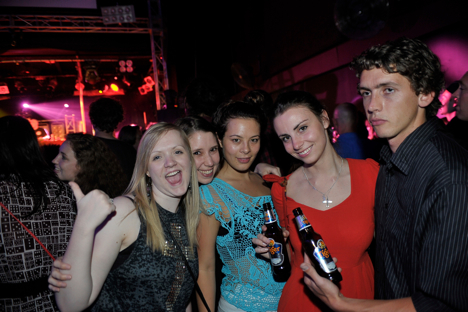 Overview, Photo: Tiger Translate
Tiger Translate was held in Auckland at The Studio Venue, located on K Road — K being the first letter of Karangahape Road. Just like a small world, K Road is full of people from various backgrounds coming and going: indigenous people; people who have just arrived in New Zealand; those whose grandparents immigrated generations ago; and people of every kind of faith. This place, where so many completely different kinds of people find themselves sharing common ground, is a fitting setting for Tiger Translate, where new things are created out of the many types of culture in new contexts. "This area is filled with creative content: theatres and clubs, strip clubs, secondhand shops…" said Janice, a member of the Translate Tiger management team who was onsite. Also Reece Jensen, the promoter of Tiger Translation in Auckland, says, "K Road always has a dangerous, strange crazy energy."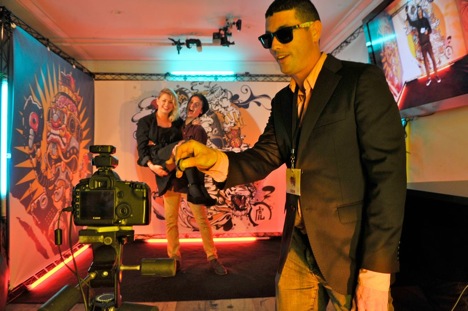 near the entrance, Photo: Tiger Translate
As you enter Tiger Translate, leaping from a corner was a huge graphic art depiction of a Tiger welcoming the crowd. The artist was inspired by music, and people gathered there to take photographs in front of the tiger and upload on Facebook. Also in the main hall where the music stage is located, there were lots of art works by other artists, including Shanghai-based artist Nini Sum, and local artists from Auckland such as Kit Laurence and Alisha Brunton. The Tiger Beer New Zealand website introduces the artists and what inspires them. Whether Tiger Translate places an emphasis on art or on music depends on its location. In Auckland, music was in the spotlight, but personally I think it would have been even more interesting to see a little more graphic art.

"Tiger Translate Auckland 2012"
Tiger Translate started at 9 pm. On the main stage were New Zealand musicians such as Home Brew Crew, Weird Together, Dudley Benson, Doc Westies Bogan Circus, Chaos in the CBD, The Ark and a guest appearance by Yoshi Horikawa from Japan.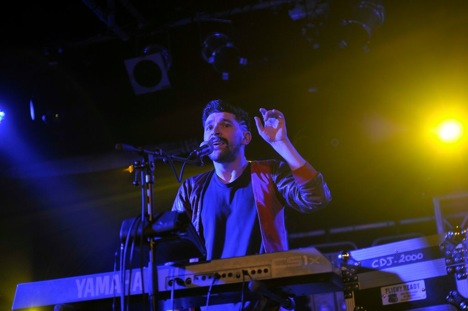 Dudley Benson, Photo: Tiger Translate
Dudley Benson opened Tiger Translate. The audience was crazy about his voice and performance. "This was my first festival so it was hard to guess what the audience would think," said Dudley. I always tour alone. Organizing everything by myself is tiring but it's the best way for me. I could give positive energy to the crowd by playing at Tiger Translate." Dudley's songs use the Maori Language, the language of the native people of New Zealand. In his own arrangement of "Kiwi," a song written by Hirini Melbourne, he expresses the "loss" of the Maori people. When his sad voice sings of the Kiwi, a bird that cannot fly, he means the Maori people, who have lost their language, identity and self-determination. Dudley is popular outside New Zealand, as well. In 2012, his album was released in Japan and he mentioned his upcoming Japan tour and artist residency: "I'm interested in traditional Japanese instruments, like the koto, samisen, and drum, and looking forward to meeting musicians and playing with them and learning from them."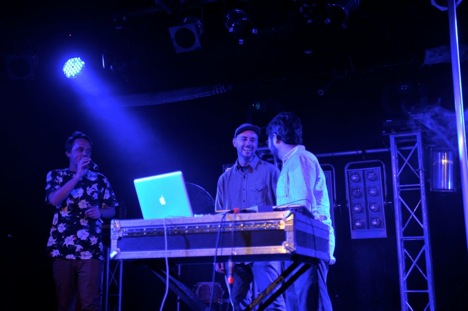 Weird Together members, Nick D, an artist Tom Gould and a sound designer Yoshi Horikawa from left, Photo: Tiger Translate
The audience seemed a little bewildered by Yoshi Horikawa's music. This is probably because it was not typical "music". This Japanese sound designer, who creates music from recording sounds around us, was invited to New Zealand as an artist from Asia. In just six days (actually, even less) in New Zealand, he created a special mix of sounds.
Yoshi's performance was in collaboration with screen images made by Tom Gould, a New Zealand artist and visual director. In the natural surroundings of Auckland, Yoshi made sound recordings together with Tom as cameraman and Nick D and Tiger Translate staff. The creative process involved Yoshi making music and then Tom created film images. After that, they had discussions and put the two art forms together. Tom said, "Collaborating with Yoshi was very exciting. His music is created from the noise of daily life. I thought it was a very interesting experience." Yoshi played his works "Bubbles" and "Skipping", as well as introducing "Aotearoa," which was newly made during his stay. Aortearoa is another name for New Zealand; in the Maori language, it means "The land of white clouds." While doing her "work", press staff member Prema staff enjoyed moving to the rhythms of the music. The incredibly mellow film Tom created did not have the feeling of life in contemporary times, but instead expressed the flow of time of Auckland's nature and the trees, water, wind and sentient beings existing within it.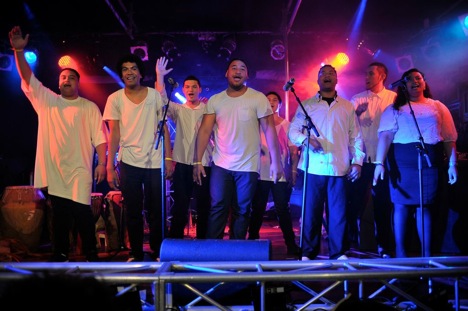 Weird Together, Photo: Tiger Translate
Weird Together is a new studio and live project headed by Nick D and Dick Johnson. The members include Caribbean steel drum orchestras, Burundi drum ensembles, a vocalist from Sudan, a Ghanaian percussionist, a Pacific chorus, and French Mexican accordion player, all from the Red Bull Studio, and other musicians from Red Bull Music Academy, in a special annual program supported by Red Bull, that takes place in different cities all over the globe. The selected musicians collaborate with local musician and create music during their stay— led by Nick's love for exotic and crazy music, Dick gathered everything into a danceable groove. The performance warmed up the crowed and the party was in full swing, but the performers looked even happier. Nick's love of music is genuine. Besides being a DJ, he has his own radio show every morning, and also appears on television to talk about performances and circulate information about music. Despite of his busy schedule, he also took part in Yoshi's field recording trip to shoot a documentary. In fact, it was Nick who invited Yoshi to New Zealand. He scouted Yoshi while at the Red Bull Music Academy. A year later the project in Auckland came true. "I'm someone who keeps his promises," Nick says.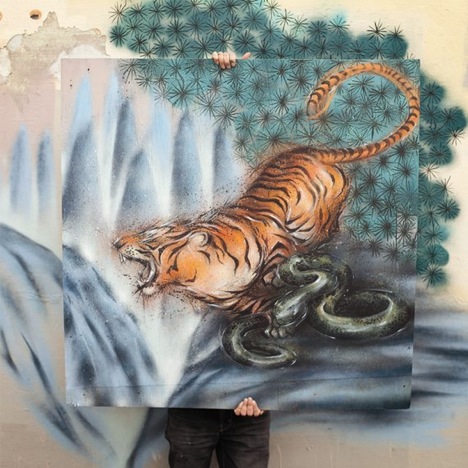 The work by Gary Yong, Photo: Tiger Translate
The later it got, the more people came and Tiger Translate in Auckland ended as a great success. The winners of the competition, who will be going to Tiger Translate Dubai, were musician Tim Tapsell who created "Gritty City," which he calls "a mash up of a few random Aucklanders speaking some words of emotion in the city streets," and artist Gary Yong, who took inspiration from music to create "The Roar," a graphic work of a tiger and snake in a "faraway landscape," in a style drawn from old eastern Asian paintings.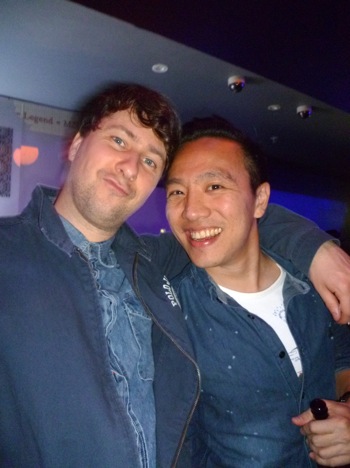 An artist Kit Lawrence, Kenny Tang from Tiger beer, from the left, Photo: Hiromi Nomoto
Kenny Tang, visiting from Tiger Beer Singapore said, "The mix is what is so interesting: the fusion of east and west, music and art!" When I asked him why he is so enthusiastic about this event, he answered, "Because no one else supports musician and artists. We also support sports." He also asked me which part I found interesting.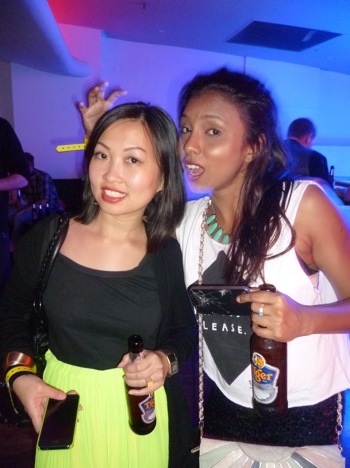 Peishan Chen, Prema from the left, Photo: Hiromi Nomoto
Tiger Translate was a special event not only for the musicians and artists, but for the crowd and staff, and I personally enjoyed reporting on this Auckland competition. For example, Yoshi, Tom, and other staff used BIZ DOJO on K-Road as a studio; there was an event space, studio, shop, cafe, and art gallery there, and different kinds of people gathered there, such as musicians, artists and designers. Nick Shewring from BIZ DOJO sang some of his original songs and everybody was able to interact with each other. I felt a new kind of joy by experiencing the fusion of arts and it was sensational.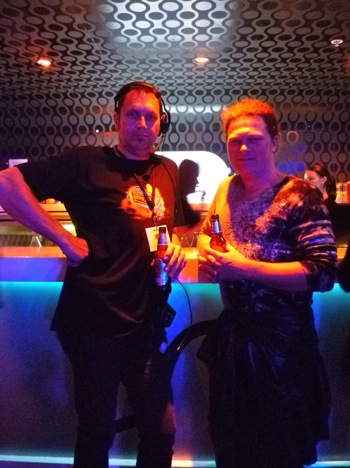 Reece Jensen, Chris, from the left, Photo: Hiromi Nomoto
Tiger Beer supports music, art, design and sports. These activities are not just done just to serve as advertisements or for commercial purposes. Tiger Translate is created by individuals: enthusiastic promoters and their dedicated staff. With the growth of this kind of enterprise comes chances for lots of artists and musicians. In the society in which I live, where economic development is the top priority, people trying to create culture all struggle with a lack of support. It is lucky to have Tiger Translate creating an environment where the emphasis is on cultural production, giving more opportunities to musicians and artists. Such support becomes the biggest hope for culture.
My thanks to Peishan Chen for hints to the development of this article
Tiger Translate Auckland 2012
Date: November 17th, 2012
Place: THE STUDIO VENUE
Address: 340 Karagahape Road, Auckland
http://www.tigertranslate.com
Tiger Translate Dubai was held in January 2013.
Text: Hiromi Nomoto
Translation: Andry Adolphe
Photos: Tiger Translate, Hiromi Nomoto
Text: Hiromi Nomoto
Translation: Andry Adolphe
Photos: Tiger Translate, Hiromi Nomoto

[Help wanted]
Inviting volunteer staff / pro bono for contribution and translation. Please
e-mail
to us.