The Stockholm Fashion Week Autumn Winter 2013 did one more round – little changes regarding prior editions. With the same formula, same venues, and basically same designers. One of the most attractive new designers at this edition of the Fashion Week was the Finnish brand Marimekko. This time we also wanted to highlight for you the new collections from Swedish designer Carin Wetser and Swedish denim brand Cheap Monday.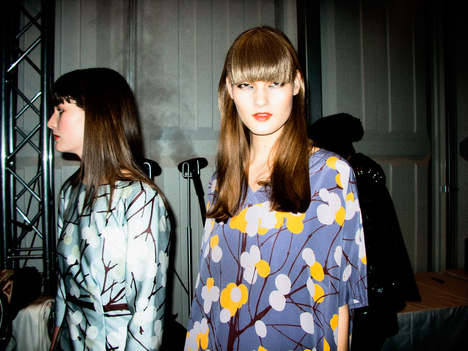 Marimekko. It is one of the most important brands in Finland, together with Nokia (IT) and Artek (Alvar Aalto's Furniture Design). The Marimekko autumn/winter 2013 collection "Art of Print Making –Color for a season," reflects seasonal changes of the surrounding world. Autumnal weather patterns reveal aspects of intriguing beauty: highlights of color against a grey background. The design team was inspired by the clean geometry of the 1920s and 1930s art and its similarity with primitive folk art, and exuberant autumnal gardens. The designs, combining calm tones and vibrant accent colors, reflect a contemporary interpretation of Marimekko's core.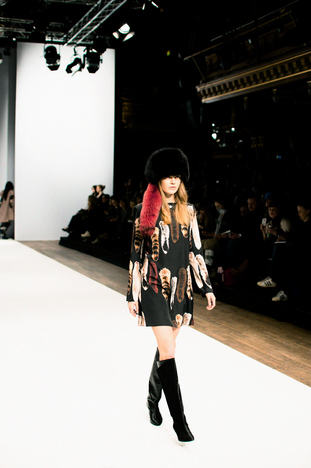 Carin Wetser did her show at Berns Saloon (where she showed previous collections). For the Autumn/winter 2013 collection she looks again to the strong female with masculine attributes and a heavy focus on sharp shoulders. The silhouette is based on an oversized and layered color play with bounded Melton wool coats. Pleated flannel skirts, wide flannel shorts, and sharp pencil skirts are setting the tone for the "under knee" profile for this season. Modest pleats are to be found in blue hued prints, skirts, trousers and dresses and are vital base to this years layered winter.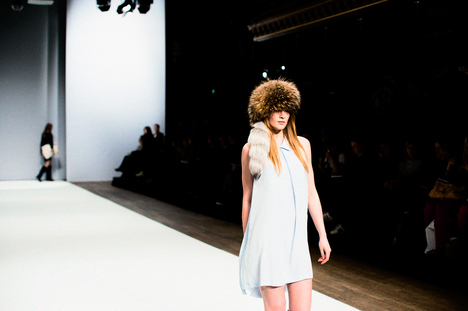 A great play with diverse materials are settled when angora knitted wool sweaters are placed in contrast to glossy satin finished dresses, and opaque suede trousers are mixed with glossy furs. The v-shaped and squared opened back, embellished with delicate gold details, invites a more playful female, giving the yet so strong but humble soldier a rest.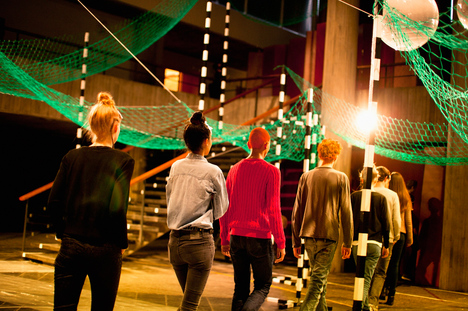 Cheap Monday's theme for the fall 2013 collection is the Artificial Grunge. The show was set in an abandon high school in central Stockholm. It was like we all went back to the nineties and Meet Puppets were playing at 120 minutes. But this is about their collective memory — and the commercial memory – of grunge more than the actual grunge lifestyle, thus they call it artificial. An idea based on grunge because it's the last real youth movement. "It was truly rebellious and grass root. The prints have strong references to the grunge era with a hand- written, worn out look, playing around with iconic quotes. Clashing the classic with top of mind-images from the grunge era creates something new for AW13.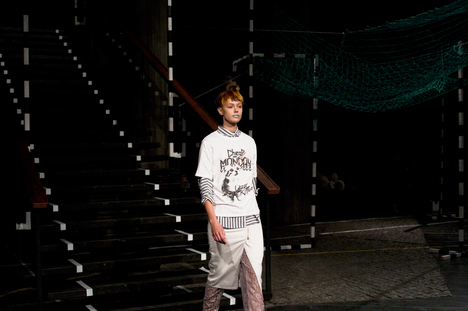 Today, it's hard to find real youth movements since they are picked up commercially almost before they even appear. The lines between what is "real" and "artificial" are blurring — and what is really "real" anyway? Was grunge itself ever real?," they ask themselves. Chaotic styling and layering in a seemingly random manner is core in the collection. Lace, football stripes, military details, second hand- like cardigans and 60's style tops, dresses and shoes are all mixed up. But since the design is reconstructed, it's in fact very controlled and not haphazard at all — it's artificial.
Colours range from bright and dusty whites to washed and solid blacks, with earthy greens and dark plums — a palette significant for the era as we remember it.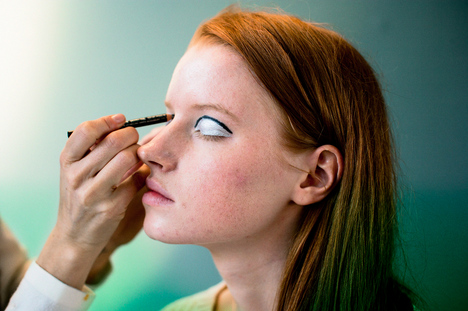 To clash with this we have used a bright lime and a washed down black tinted red, remake red. Important components are the flannel checks in shirts and dresses, worn over or under t-shirts. See-through dresses are combined with a more crispy silver and twilight blue lurex, silver mirror skirts and bandeaus. Ice blue hairy mohair knits and controlled thread bares create a modified worn and trashed look. Cut up black and white stripes and an artificial pixelated camouflage pattern signal control and structure.
Mercedes Stockholm Fashion Week AW13
Date: 28th – 30th January 2013
Place: Berns Salonger, Kungsträdgården etc, Stockholm
http://www.mercedesbenzfashionweek.se
Text: Victor Moreno
Photos: Victor Moreno

[Help wanted]
Inviting volunteer staff / pro bono for contribution and translation. Please
e-mail
to us.