Since the beginning of October 2012, Lille and its area are in a state of great cultural and artistic effervescence, with a new edition of Lille 3000.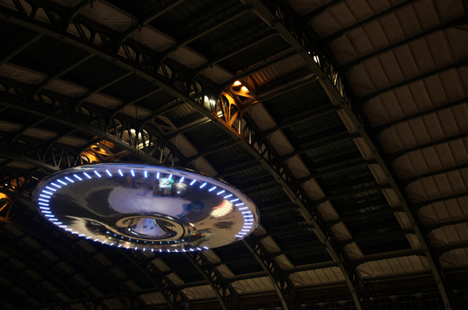 Ross Lovegrove. Photo: Lille3000
While the city was mostly famous abroad for its braderie (the world's largest flea market), Lille has been elected 2004 European Capital of Culture. Disused industrial sites (such as factories or breweries), military forts or religious and medical places (like the Hospice d'Havré in Tourcoing) have been rehabilitated into cultural centres, offering a rich program of concerts and various events, exhibitions, workshops… all still going on after 2004.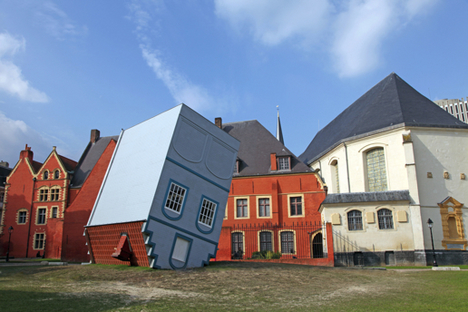 maison Jean-François Fourtou. Photo: Lille3000
Lille 3000 was born in the wake of Lille 2004, in order to maintain this dynamic impulse and to confirm the predominant cultural role of the city in Europe. Described as a gate towards the future, Lille 3000 aims to explore the richness and complexity of tomorrow's world. Not being a biennale, neither a festival, Lille 3000 is an invitation to discover different cultures through contemporary art from all over the world, in events shared by the whole population right in the heart of the city.
Lille 3000 therefore focuses on offering an artistic and cultural calendar of great variety and quality, while remaining at the same time a popular manifestation. Its first edition, in the autumn of 2006, brought India's sun and energy in Lille, under the title of Bombaysers. In 2008, East European countries were the guests of honour. Between these two multidisciplinary events, Lille 3000 hosted a number of spectacular exhibitions, particularly those of two of the most important European art collections (François Pinault's and Charles Saatchi's).
From October 2012 to January 2013, Lille 3000 is back with a new program under the general title of Fantastic, a theme that draws a very large audience, from children to adults, as the increasing number of visitors seems to prove. Fantastic confronts us with the supernatural, revealing mysterious worlds, unknown dimensions. The street leading to the oldest of the two train stations is lighted every evening with a marvellous vault of luminous lace. While the visitors arriving from the new station are welcomed by Nick Cave's Surrational giant, the mascot of the opening parade that brought together thousands of participants and viewers. Right outside the station, one gets lost in a sea of mist, from the Japanese artist Fujiko Nakaya, before emerging in a city invaded by strange creatures, giant octopuses (Hospice Comtesse), upturned houses (Hospice Comtesse) and UFO's (Lille Flandres train station).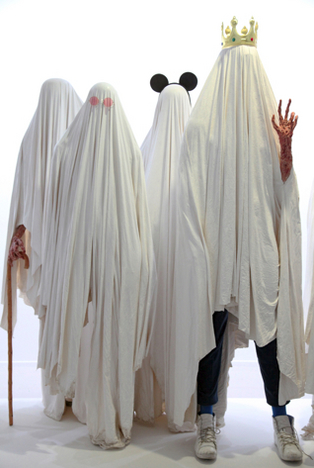 Théo Mercier,. Photo: Lille3000
As usual, the Tri Postal (a gigantic former postal sorting office, just besides Lille Flandres train station) is in a way the center of Lille 3000, with Phantasia, a spectacular exhibition presenting the works of international artist like Folkert De Jong, Leandro Erlich, Anton Ginzburg, Ryôta Kuwakubo, Théo Mercier, Marnie Weber or Apichatpong Weerasethakul. After a rather disturbing entrance into the world of Théo Mercier, haunted by spectacled ghosts, smoking skeletons and skinned horses, the visitor meets Nick Cave's strange army of Soundsuits, sculptural costumes made of a delicate knit of recycled fabrics and accessories. Videos allow us to discover these incredible pieces in action, looking like some strange animals in some sort of a trance, singing and dancing. Many visitors do not take the time to have a proper look at the other videos presented in the exhibition, on the upper floor of the Tri Postal. That is a shame, as these projects deserve all our attention. But the most moving work of the exhibition is probably also the simplest one, reminding us that poetry can appear in the smallest of things. Ryôta Kuwakubo's miniature train shuffles between common objects of everyday life, such as paper baskets, rulers, boxes … in the darkness of the room, the train's light draws the shadows of these objects on the walls, like some magic lantern. Baskets become towers or mountains, boxes create a modern city…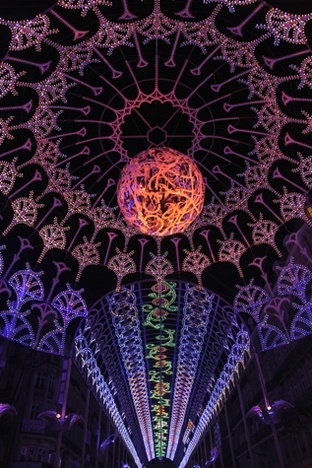 rue Faidherbe. Photo: Lille3000
Lille's Palais des Beaux-Arts (Fine Art Museum) also takes part in the event, with an exhibition dedicated to the representation of Babel in contemporary art and a more classic quite interesting exhibition of Flemish landscape fables. The former freight station of Saint-Sauveur, now a popular artistic and cultural center, hosts playful events, designed for the family, with a ghost train and many other surprises.
The title of this new edition of Lille 3000 allows every fantasy and offers the artists and visitors a unique opportunity to free their imagination in a festive atmosphere. A marvellous way to add more magic to Christmas time and to spice a little the traditional holiday celebrations!
Lille 3000
Date: October 6th, 2012 – January 13th, 2013
Place: Tripostal, Hospice Comtesse Museum, Gare Saint Sauveur, CETI, and other venues in Lille
Tel: +33 (0)3 28 52 3000
http://www.fantastic2012.com
http://www.lille3000.eu
Text: Valérie Douniaux
Photos: Lille3000

[Help wanted]
Inviting volunteer staff / pro bono for contribution and translation. Please
e-mail
to us.