Yayoi Kusama Exhibition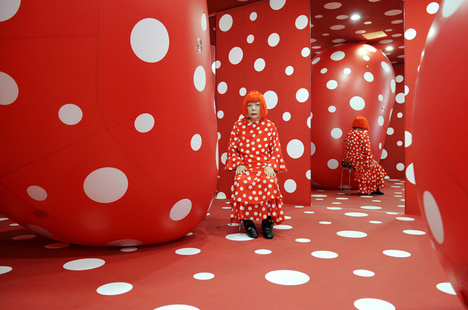 Kusama in Dots Obsession, Watari Museum of Contemporary Art, Tokyo, 2011. Collection Yayoi Kusama. Image courtesy Yayoi Kusma Studio Inc.; Ota Fine Arts, Tokyo; Victoria Miro Gallery, London; and Gagosian Gallery New York
Obsessive. Hallucinogenic. Affirming. Obliterating. All of these have been used to describe Yayoi Kusama's artwork and approach to art-making. The Whitney Museum is the second institution (after the Tate Modern in London) to host a traveling retrospective of six decades of the artist's life and work. Walking up to the drab, imposing museum on Madison Avenue you see massive cheery red balloons with polka-dots hanging in the windows of the lobby.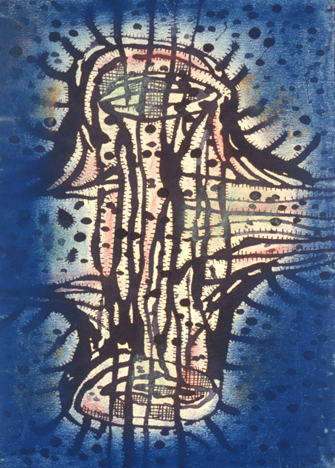 Yayoi Kusama, The Germ, 1952. Ink and pastel on paper, 247 × 180 mm. Collection of the artist. © Yayoi Kusama. Image courtesy Yayoi Kusama Studio Inc.; Ota Fine Arts, Tokyo; Victoria Miro Gallery, London
As in a typical retrospective, the show is arranged in chronological order. Early works on paper in watercolor, ink, and pastels fill the first room. The imagery is reminiscent of microbes, plants, and seeds. Some of her gestures reminded me of Joan Miró, though less child-like, almost ferocious.
We see a photo of Kusama, age ten, holding enormous dalias in full bloom. The exhibition features many documents related to the artist: photographs, letters home, journal entries, sketchbook pages. These help to give a richer portrait of Kusama's life, the complex inner world from which her work inspired. The many photographs and artifacts also reflect her own obsessive self-documentation. To this day she has herself photographed in front of her artworks, dressed to blend in (to be "obliterated," in her words).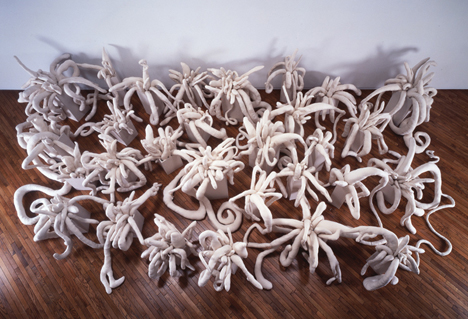 Yayoi Kusama, Heaven and Earth, 1991. 40 wooden boxes covered with muslin and 285 stuffed muslin forms, 406 × 305 × 305 mm. Private collection, courtesy Robert Miller Gallery, New York. © Yayoi Kusama. Image courtesy Yayoi Kusama Studio Inc.; Ota Fine Arts, Tokyo; Victoria Miro Gallery, London
The repetition that dominates her works on paper and canvas also feature in her sculptures and performances: clumps of soft tentacles protruding from boxes, chairs, sofas, shoes; macaroni shapes glued and painted to suitcases, mannequins, coats; dots painted on nude models during late-1960s happenings in New York. The latter are among her most well-known works, causing a scandal in their time.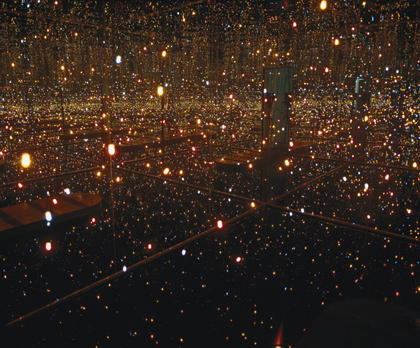 Yayoi Kusama, Fireflies on the Water, 2002. Mirror, plexiglass, 150 lights and water, 2819 × 3670 × 3670mm overall. The Whitney Museum of American Art, New York; purchase, with funds from the Postwar Committee and the Contemporary Painting and Sculpture Committee and partial gift of Betsy Wittenborn Miller 2003. © Yayoi Kusama. Photograph courtesy Robert Miller Gallery
Probably the most stunning aspect of the exhibition is the ground-floor installation, Fireflies on the Water. It's beautiful but also a little unsettling, as if you're not in a mirrored room but inside Kusama's head, unable to escape the tiny lights that repeat into infinity.
There is more Kusama to see (and wear) beyond the museum: polka-dot sculptures on Hudson River Park's Pier 45, a building wrap in the Meatpacking District, window installations at the Louis Vuitton flagship store in midtown Manhattan, a pop-up shop in SoHo, even an iPhone app.
Yayoi Kusama Exhibition
Date: July 12th - September 30th, 2012
Place: The Whitney Museum of American Art
Address: 945 Madison Avenue at 75th Street, New York, NY
http://whitney.org/Exhibitions/YayoiKusama/

Text: Aya Karpinska from technekai