THE SUPERB MEANINGLESS INVENTION EXHIBITION
What is your most trivial concern in your daily life? If you devote yourself to it completely, how would you make the changes happen? Would you invent something new?
The Superb Meaningless Invention Exhibition is held twice this year in Hong Kong, from 14th to 25th July, and from 28th July to 7th Aug 2012. Showcasing 20 pieces of inventions for cheeky daily life, and to deliberate superb creativity and craftsmanship of a group of young artists, the exhibition has aroused terrific popularity and awareness among the youth in Hong Kong.
The art group "Superb Meaningless Invention Group" is made up of artists from different creative backgrounds, including visual artists, designers, writers, film directors and musicians. Inspired by their detailed observation and deep attachment to daily life, their inventions address the most trifling concerns of our everyday life through the application of contemporary artistic concepts and techniques, as the group sets out to facilitate artistic communication and development. In other words, though the inventions are useless and silly, they are excellent in terms of innovation, and somehow they are inspiring and valuable.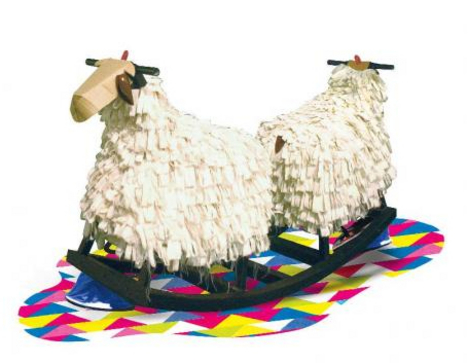 Counting Sheep, Wide Awake by Margaret Chu
Is counting sheep in bed not helpful for your insomnia? Get up and use this invention. This creature is basically a teeterboard with two sheep for you riding. As the sheep is relatively heavy, this invention spends your body energy as to move the teeterboard. Counting numbers on these sheep can make you exhausted and so does an easier deep sleep, useful for every non-sleeper.
Another design is basically an indoor slipper with a shoe-looking shell. It is for office workers who pursue a pair of more breathable shoes. It concerns people who are also uncomfortable in wearing long-hours of shoes, especially in hot and humid summer. Using a zip to link the slippers and men's shoes, it is hard to discover the slipper appearance by looking outside. It is a design which injects more comfort and convenience into our daily life.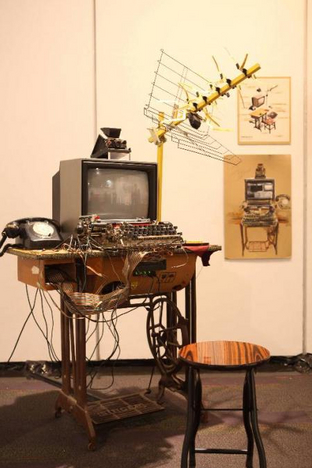 Com£puter by Pierre Pang
Com£puter assembled from various old kit and pieces of tools. With an old Polaroid camera used as a web camera; an old rotary phone working for microphone, speaker and number entry; an old typewriter as a keyboard, it can keep a hard copy on paper directly without a printer; an altered mouse trap as a computer mouse; an old TV as a monitor and a pedal sewing machine as a CPU which provides electricity by human stepping. It is hoped that users can have a novel, sweet memories hidden in antique instruments.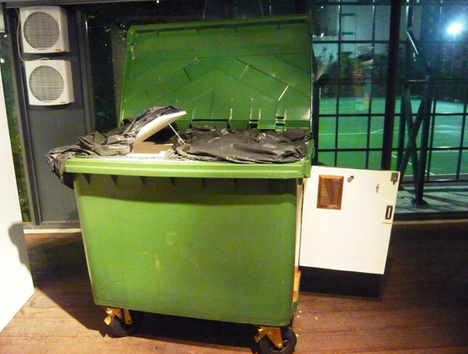 A Proposal for Food and Environment Hygiene Department- Mobile Street Sleepers' Home by Ng Ka-chun
All the creatures lead the audience back to simpler times when people manufactured handcrafted items. The process of thinking, designing and handcrafting is a kind of enjoyment and satisfaction. Each work is enriched with the daily concerns of people from different backgrounds to convey lifestyle and personalities. The inventions in the exhibition take inspiration from people's natural desire in our daily life that they react and make our live interesting. The term "meaningless" does not possess a meaning that the inventions are stupid or useless. In fact, they are rather innovative and superb. Generally, the imperfectness and impracticality of these inventions create a purer relationship between art, artists and audience. As the exhibition curator, Mr. Kelvin Ng said, 'the more meaningless it is, the more it communicates with the public, in a clearly and simple way.'
I am expecting more meaningless inventions would be coming up in the future.
The Superb Meaningless Invention Exhibition
Date: (Exhibition Gallery) 14th – 25th July, (L1 Gallery) 28th July – 7th August, 2012
Address: Exhibition Gallery, 4/F Administration Building, Hong Kong Culture Centre, 10 Salisbury Road, Tsim Sha Tsui, Kowloon, Hong Kong
Address: L1 Gallery, JCCAC, 30 Pak Tin Street, Shek Kip Mei, Kowloon, Hong Kong
Free Admission
Tel: +852 3101 2712
http://www.facebook.com/ain.apo.hk
Text: Yumei Lee

[Help wanted]
Inviting volunteer staff / pro bono for contribution and translation. Please
e-mail
to us.