If you take a walk around Berlin, you'll see small delis called Inbis all over town, and smell the delicious aroma of the Turkish doner kebab, "the most popular exotic meal in Germany." Turkey has had a big influence on not only food in Berlin, but also in the art scene. A great example of this is the contemporary Turkish art space Tanas.
The name Tanas is an anagram of 'sanat', the Turkish word for 'art'. The art studio is located near the central station in Berlin, just behind the Hamburger Bahnhof Contemporary Museum, an area full of different kinds of art galleries. Tanas is in a renovated old factory; the curator of the art space is René Block, a gallery owner/director since the 60s who has played a crucial role in the German art scene.
To understand the background of Tanas, it is necessary to know a little about René Block. He opened his first gallery in 1964, showing work by Gerhard Richter, then still an unknown young artist, and exhibitions on dadaism and capitalism-realism, which included work by Sigmar Polke, Richter, and others. Block also opened a gallery in New York in the 1970s and introduced Joseph Beuys to America. A performance with Beuys and an actual coyote (they live and fight together) called I like America and America likes me is considered one of the legendary art happenings back of that time.
After he closed all his galleries in 1979, Block was in charge of various art museums and curated a number of art shows and biennale across the world. In 2008 he opened Tanas, contributing his decades of experience to the Berlin art scene.

Photo: Kitty Kleist-Heinrich
René Block looks back on the 60s and talks about the times, when pop art was taking over the world. There were young and talented German artists without the support of anyone. Block was legendary for finding new movements, and discovering unknown talents, and now he sees the same talent in Turkish talents that he noticed in German artists back in the day. Tanas not only singles out individual artists, tells the story of the contemporary Turkish art scene.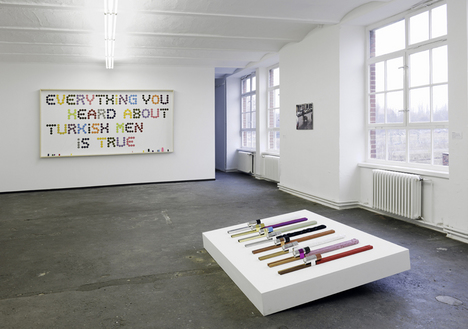 Nicht einfach, die Welt in 90 Tagen zu retten, TANAS Berlin, Installation view, Photo: Uwe Walter
Tanas holds about four exhibitions a year; most of them are projects of the curator. For example, the 2009 exhibition Red Thread was a project created as a prologue to the 11th anniversary of the biennale in Istanbul. It was curated by "WHW/ How & for whom," the leader of the Istanbul Biennale. To connect an event so far away from Berlin ensured people of the strong connection between the gallery and the Turkish art scene.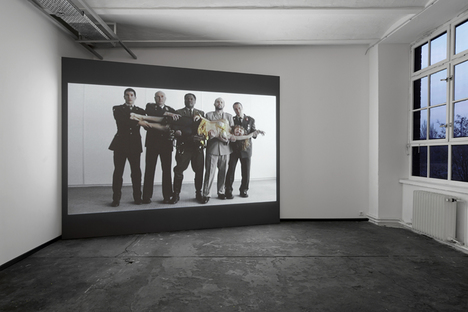 Nicht einfach, die Welt in 90 Tagen zu retten, TANAS Berlin, Installation view, Photo: Uwe Walter
Another exhibition, Nicht einfach die welt in 90 Tagen retten, was a work of Block, which showed not only the quality of Turkish art but also made reference to various issues related to the country. For example, an art film by Elkan Ozgen shows the kids playing in the park wearing outfits like terrorists, such as face masks. Ozgen lives in a southeastern city in Turkey, which is home to many Kurdish, a minority ethnic group in Turkey, and has been the site of continuous fighting among minority ethnic groups.
Another art firm by Selber Konzit shows men in uniform standing in a row and holding a lying woman in their arms. The kids shake the woman and play music by making noise with her accessories. This woman being played with by men is a metaphor which clearly shows the state of women's rights in the country.

Nicht einfach, die Welt in 90 Tagen zu retten, TANAS Berlin, Installation view, Photo: Uwe Walter
A sensational political films was created by Senar and Elkan Ozgen. Their film Road to Tate Modern is the story of two men walking through the desert trying to reach the Tate Modern. This story is just like the art scene in Turkey: there isn't any Tate Modern, but there is truly special art. These beautiful art works speak of the quality of work at Tanas.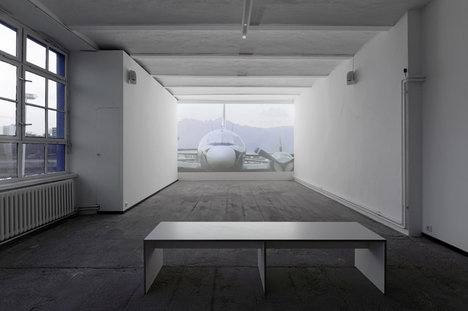 Nicht einfach, die Welt in 90 Tagen zu retten, TANAS Berlin, Installation view, Photo: Uwe Walter
The Turks have played an important role in Germany, now and in the past, when they came to Germany as guest workers during the economic buzz. Now they live in Germany with their sons and grandsons, comprising the largest foreign ethnic group in the city. However there is always an issue with the government or more specifically, religious differences with the Christian. This is a fundamental part of human beliefs, and to this subject, there still is no solution.
Not even reminding them of their past scandals keeps Germans from sometimes showing their downside in their attitude towards minorities.
Now it seems this situation might change, as Turkey has applied for confirmation of its membership in the EU. New problems might be caused by this inter-culture, but Europe can become something completely different from what it has been. In this transition, people in Europe have to have more understanding of others. For more knowledge of Turkish culture, Tanas can give you many answers. The reality you see at Tanas is not only of Turkey, but also it is a reflection of the future of Europe. For sure, these works are eye-openers for anyone searching for what Europe will mean in the future.
Tanas
Address: Heidestraße 50, 10557 Berlin
Opening Hours: 11:00-18:00 (Closed Sunday and Monday)
Tel: +49 30 8956 4610
http://www.tanasberlin.de
Text: Kiyohide Hayashi
Translation: Andry Adolphe

[Help wanted]
Inviting volunteer staff / pro bono for contribution and translation. Please
e-mail
to us.