Tate Modern celebrates the art of Damien Hirst.
Since the late 1980s one man has had a huge impact, not only on British art, but on the international stage. Born in 1965 Damien Hirst studied Fine Art at Goldsmiths University, London, and contributed to his first exhibition in 1988. In the 1990s he went from strength to strength having his first international exhibition in Venice in 1993 and winning the prestigious Turner Prize in 1995 and releasing his autobiography in 1997. Damien Hirst has continued to provoke and to astound with regular exhibitions and new pieces of artwork. Now the Tate Modern has brought together his key artworks from the last 20 years for the first major survey to be organised in London.
The Tate Modern is one of the more unusual sights along the Thames River, originally it was a power station built between 1947 and 1963, made of brick with a single tall chimney, and as such it dominates the area it is located in. Between 1996 and 2000 it was converted into an art gallery and it opened in May 2000 since when it has welcomed over 40 million visitors and has become one of the top places to visit in London. Admission is free, but for special exhibitions there is a fee for entry. This particular exhibition is spread out over 14 rooms as well as a shop.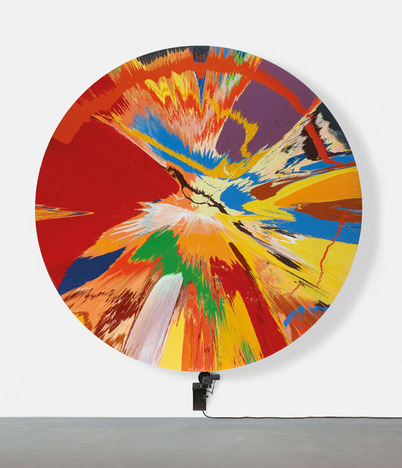 Damien Hirst "Beautiful, childish, expressive, tasteless, not art, over simplistic, throw away, kid's stuff, lacking integrity, rotating, nothing but visual candy, celebrating, sensational, inarguably beautiful painting (for over the sofa)", 1996. Household gloss on canvas and electric motor. © Damien Hirst and Science Ltd. All rights reserved. DACS 2012. Photographed by Prudence Cuming Associates
In the first three rooms we can see Hirst's series of Spot Paintings; each spot is of equal size and laid out in a grid structure. It can be rather dazzling to look at due to the sheer number of different coloured spots which is chaotic view but in contrast it is laid out in a systematic, controlled, method. Additionally, it is possible to see his picture 'With Dead Head' (1991) which shows him posing with a real head of a deceased person and Boxes which was first exhibited in 1988. 'The Medicine Cabinets' (1992) consist of actual medicines arranged according to different ailments and different parts of the body. It is impressive to see how many kinds of medicines have been created over the years while Hirst himself has said that he was inspired by his mother's absolute faith in medicine but scepticism in the benefits of art.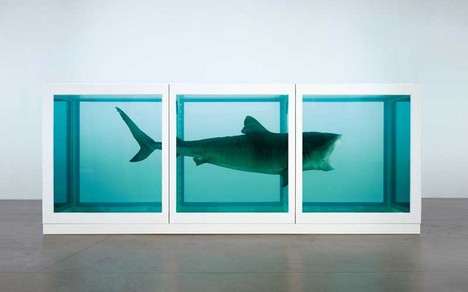 Damien Hirst  "The Physical Impossibility of Death in the Mind of Someone Living", 1991. Glass, painted steel, silicone, monofilament, shark and formaldehyde solution. © Damien Hirst and Science Ltd. All rights reserved. DACS 2012. Photographed by Prudence Cuming Associates
The next work of art is perhaps one of the more controversial ever to have been put on show, entitled 'A Thousand Years' (1990) it is a glass cage inside of which maggots feed on a dead cow's head, turn into flies and then either die. It represents the lifecycle of birth and death and clearly for many it is difficult to look at, as well as being a little smelly. One visitor was heard to state 'that is just ignorance,' before storming off into the next room. However, like it or not it is real life and forces people to think, which is really what art is all about. Another artwork worth mentioning, and is possibly one of the most iconic of Hirst's art, is the piece known as 'The Physical Impossibility of Death in the Mind of Someone Living' (1991), a great white shark preserved with its mouth wide open as if about to eat. Its purpose is to provoke a fear of death in the observer, and it certainly succeeds in this respect.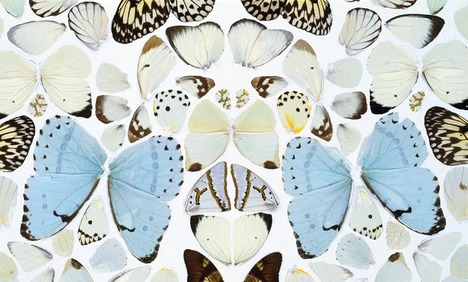 Damien Hirst "Sympathy in White Major – Absolution II",  2006 (Detail). Butterflies and household gloss on canvas. © Damien Hirst and Science Ltd. All rights reserved. DACS 2012. Photographed by Prudence Cuming Associates
In room four 'The Acquired Ability to Escape' (1991) and 'Dead Ends Died Out' (1993) can be seen, the first consists of a desk, ashtray and cigarettes within a vitrine evoking a sense of distance, yet containment, and for myself also a sense of loneliness and frustration. The second work is made of a number of shelves with cigarette butts which are suggestive of extinction. Rooms five and six contain one of the more touching exhibits 'In and Out of Love' (1991), a room where real life becomes art as beautiful butterflies fly around the room, feed on flowers and sugar water and mate. The room next door consists of coloured canvases embedded with dead butterflies and tables with ashtrays full of cigarette butts which remind us of life and beauty, as well as the ugly nature of death.
Room seven is a continuation of the 'Medicine Cabinets' which aims to bring a pharmacy into the confines of a gallery while room eight holds the Spin Paintings; canvases that were put onto a turntable and had different coloured paints poured on to them. The resulting paintings express a freedom and joy in colour, colour that isn't limited to certain shapes but allowed to just be free colour. In room eight the sculpture 'Loving in a World of Desire' (1996) can also be seen, a giant beach ball hovering above a large coloured box.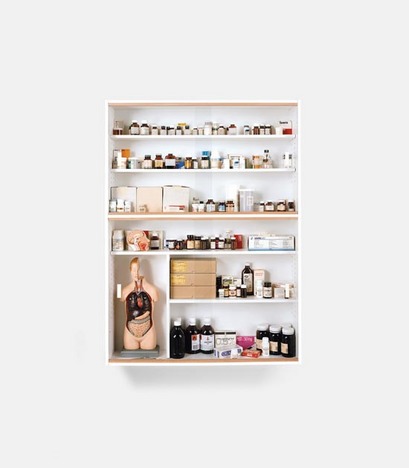 Damien Hirst  "Sinner", 1988. Glass, faced particleboard, ramin, plastic, aluminium, anatomical model, scalpels and pharmaceutical packaging. © Damien Hirst and Science Ltd. All rights reserved. DACS 2012. Photographed by Prudence Cuming Associates
The following room has more quite controversial art in the form of 'Mother and Child Divided' (1993) where a cow and a calf have been cut in half with each half in a separate tank. Many people walk between the separate halves and look in fascination at the organs and flesh which are shown. However, for some, including myself, it is a bit too much. 'Crematorium' (1996) can also be seen; a very large ashtray full of cigarette butts and ash which is another reminder of death. In room ten Hirst continues the theme of medicine and pharmacy with surgical instruments and teaching aids while room eleven returns to his use of butterflies. Religion is combined with beauty as dead butterflies have been arranged into beautiful complex patterns similar to church windows while in the centre of the room a sculpture of white marble appears to be a perfect angel from one angle, but internal organs can be seen from a different angle.
In the final rooms the 'Black Sun' (2004) has a striking presence but on closer inspection it is clear that the artist has used dead flies to cover the surface providing a pointed contrast between the life that the sun brings and death. Other exhibits include 'Black Sheep' (2007) and 'Beautiful Inside My Head Forever' (2008) as well as 'The Incomplete Truth' (2006) ; a dove suspended in mid-flight which reminds us of many ideas such as peace, the Christian Holy Spirit and as a messenger of hope, yet the dove is dead and will never fly again.
Damien Hirst exhibition
Date: 4th April – 9th September, 2012
Address: Tate Modern, Bankside, London SE1 9TG
Open: 10:00 – 18:00 (Friday and Saturday till 22:00)
Admission: £14, concessions available
Tel: +44 (0)20 7887 8888
http://www.tate.org.uk/whats-on/tate-modern/exhibition/damien-hirst
Text: Mike Sullivan

[Help wanted]
Inviting volunteer staff / pro bono for contribution and translation. Please
e-mail
to us.