I first meet Kathy when she was working at Deitch Projects Gallery a few years ago… it was briefly cause they were organizing the Amazing Art Parade project and also a big exhibition called "Mail Order Monsters"… I was overwhelmed by this all this Gallery activity and energy… there was so much stuff going on, through the years (as I was invited twice to this Art Parade event) I got some of the Gallery publications and there was always the name of Kathy.., so I just discovered that the mind behind this gallery was not only Deitch but his incredible Art Director Kathy Grayson.
Nowadays without Deitch Projects in New York, Kathy is building a strong art community and she just recently (June) opened her own Gallery The Hole at The Bowery Area. Kathy is a curator (Director of Deitch Projects for 8 years), writer, art adviser and recently she contributes to i-D Magazine as Art Editor.
To meet Kathy is fantastic, she's kind and a really art savvy, she's just staring with the gallery a few months ago, but you can feel that something is boiling in this space… also, its really interesting to hear Kathy talking about art, New York, Deitch Projects, friends like Dash Snow, upcoming exhibitions at her Gallery… she have a deep knowledge about the local art scene and you can notice that she loves and enjoy her job. Kathy is really young and fresh, and this is represented in her Gallery, so you can truly expect some outrageous exhibitions, risky projects, visual extravaganza and more concept than commercial.
Kathy makes the New York art scene and also her daily life accessible to everyone by following her blog Art From Behind, I can tell you that this is better than spend the whole Thursday afternoon walking around galleries in Chelsea. This blog is not only about art but a lifestyle… Kathy take a lot of pictures about food… party, exhibition opening and is a incessant resource to discover new artist and exciting places…For me it was particular interesting all the post she did when looking for her Gallery space…
I really liked that a simple question became in a Universe when you are talking with Kathy, so many references, so many history… Like her mentor (Jeffrey Deitch) She seems to have inherited something fundamental a sharp eye for new artist, new proposals and as you can see on her blog she is also a tireless researcher.
So here is excerpt from our conversation at The Hole.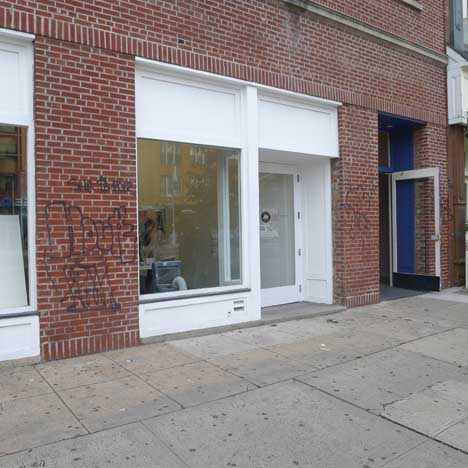 Kathy why did you choose the Bowery for your Gallery instead of Chelsea?
Well, actually the Bowery is an up and coming gallery neighborhood since the New Museum opens on the next block there being five or ten new galleries in the area. There´s a few galleries down 1st street and then… I´ve always like The Bowery, you know Deitch was near here in SoHo.
You know Jeffrey was a pioneer of the SoHo neighborhood and lots of gallery went there, and then everybody moved to Chelsea in the late 90´s but Jeffrey stayed in SoHo… and besides the fact that he did shows differently he was also know for being different because it was the only Gallery in Soho…
You know he gave you the illusion that you were doing something different and apart from everybody else, and of course Jeffery couldn´t have done much better business if he was on Chelsea but he didn´t care so much about business it was more like doing the kind of shows for the community and the downtown culture to support the scene.
So I decided to move to The Bowery because I´ve always lived in this area, my friend Dash Snow who died had his studio were he lived many years on Broome and Bowery I spent a lot of time there and lots of time in Chinatown… and thats kind of where I personally identify, like the stuffs on the streets and artist who live there… Terence (Koh) have his gallery and space near by …and so, this is were my friends live, this is were I hang out.
We found this space and is like the best Gallery on the Bowery because it happens to be two spaces together (we open in June) so, most of the galleries around are 20 feets wide and this one is 40 fetes wide, so this was the prefect space for us. When we founded we visualize this was going to be a good Gallery.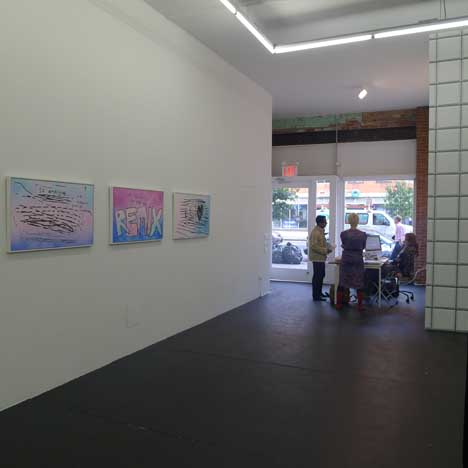 I remember when I went to Deitch and there was like the regular Art Gallery on Grand Street and then this other one right next street that was more like a Project Room where you can built anything, like this exhibition NEST (Dash Snow/Dan Colen)… are you going to have this type of exhibitions here?
Yes, we are going to have all kind of shows, but this particular show Nest, it was possible because Jeffrey have big market deals in the past with Picasso´s and Warhols and that stuff… cause the Nest show cost about 30.000 Dollars and there was nothing for sale… literally! It was just because he wanted to support radical underground performance art and he really liked Dash… and I´ve always wanted to do a Dash show so we developed this project together.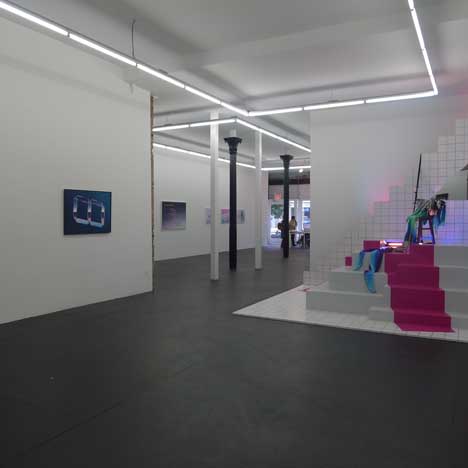 You think the Gallery (The Hole) can fill the gap that perhaps Deitch Projects left in town? Why its called THE HOLE?
I´ve called the Gallery The Hole because there was a Club I really liked, were all different types of artist hang out (lesbians, graffitti artist, club kids) so I liked the idea that the Gallery will be like a Community Center were lots of different types of people will come together… also the fact that people is talking about The Hole that Deitch was leaving and there is this huge hole were Deitch used to be… and I thought it was kind of funny to embrace that …
But I also see galleries like holes in the buildings and uhmm, in feminist theory they always tell you that if you are a woman you must Own The Hole… and so I own The Hole!!! embracing the void!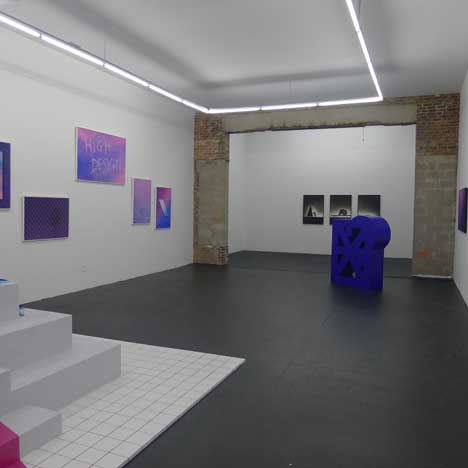 Can we do a little background?
Yeah! I grow up in Maryland and studied in DC… then I went to school in New Hampshire and I started an art gallery there because there wasn't any… so I raised some money and I open this art gallery called Area cause it wasn't even a whole room… the school administration just gave me like a wall and some other building… I was like 19 years old and I organized this art shows and nobody came hahaa… and, then I interned at the Whitney when I was in Junior in College… there is where I saw Chris Johanson, he participated at the 2002 Whitney Biennal. After that I wanted to meet him and it happened that he shows at Deitch Project, so the first show I worked on was Chris Johanson show 2002 fall… so I got to meet him, and through him I meet everyone, the young artist and so many interesting people from everywhere.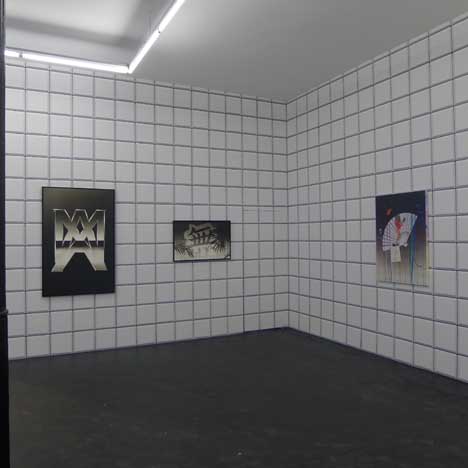 Is Chris Johanson from New York?
No, no he is from San Francisco… well, he lives in Portland now… but he is a San Francisco artist, I mean he grow up like in the streets of Mission District, he was friend with Margaret Kilgallen who is like the best artist in SF and friends with Barry McGee who is the best Graffiti dude from SF… so you know they are from West Coast… that´s why they are so… chill!
So that´s how I started and how I meet all the people!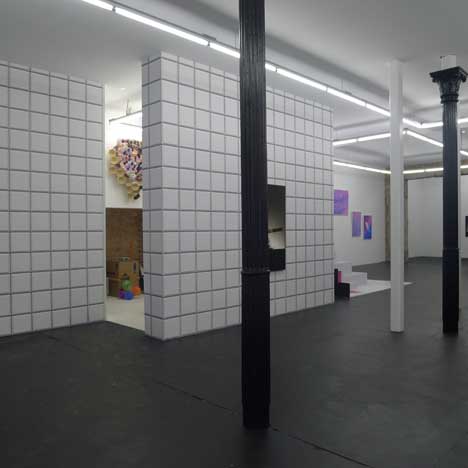 Anything you would like to add to this interview about you and The Hole?
Well, what I would like to do here is what I did at Deitch that was discovering new talents like in did before with Tara Auerbach, Terence, Dash, Cory Arcangel, Dan Colen, and it was not like curator just like art connections that I made so I try to do this here… continue discovering best emergent artist and work with them and I like to help them with their first show!
Like our next show it would be by two artist called Mathew Stone, one from the UK and one for the US and they will be have their first solo exhibition in New York… they don´t even know each other.
GREAT!
So the conversation continued for a while, talking about food… cause I told he that Art From Behind blog is showing sooo much food, and then we talked about money… she show me a picture of a guy hugging a weird monkey in a bar and talking to this pet monkey the whole time… we talked about Rafa Nadal cause she went to the US Open Final and also she told about the concept for the next exhibition at The Hole…
Catch up with Kathy in her New York Gallery The Hole, reading her amazing blog or reading her articles on i-D magazine.
The Hole
Address: 312 Bowery, New York, NY 10012
Opening Hours: Tuesday – Saturday, 12:00 – 19:00
Tel: 212 466 1100
http://theholenyc.com
Text: Julio Cesar Palacio from Panopttic

[Help wanted]
Inviting volunteer staff / pro bono for contribution and translation. Please
e-mail
to us.