Shohei Takasaki is an artist living and working in Tokyo. His paintings are characterized by vivid and jumping colors, lines and surfaces. The portraits appearing on the canvas are interpreted as the artist himself and the overwhelming energy attracts people. While making his usual works and also providing them to musicians and fashion brands, he launched this April the art book "YELLO" whose concept is "media by artists that stay out of the inner circle". We can never take our eyes off of his activities that are expressed on canvas or other ideas of his and the moment that is now or never.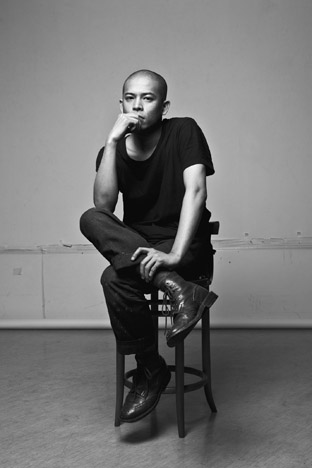 Please introduce yourself.
I'm Shohei Takasaki, an artist and a painter.
Please tell us about your recent works.
I'm freshening up my brain to prepare for my solo exhibition for the end of this year into next year. I also produce the art book "YELLO", work for my clients and do commission works.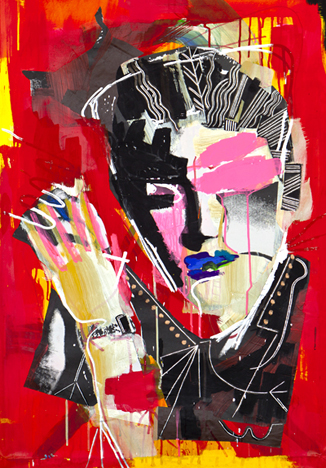 1956 © Shohei Takasaki
Is the portrait appearing in your works of you or someone else, or neither?
I believe it is me. It is my self-portrait. I often paint referring to my memory stock instead of some models. Even if I choose someone else as a model, my sense of emotion takes over as a filter. Every time. If I create something today and a year after with the same motif, it may not turn out to be identical. This is a big theme for me and helps me observe my condition at the moment.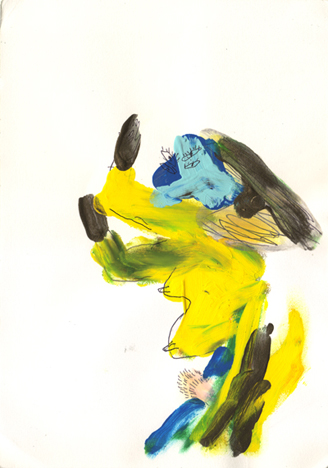 untitled © Shohei Takasaki
What do women mean to you that often appear in your works?
Woman is the biggest and hugest motif for me lately. Women for me are indispensable. I could not live without someone. I think it is a really natural thing to create works on women. It's not a rule but I also like it when women naturally appear in my work.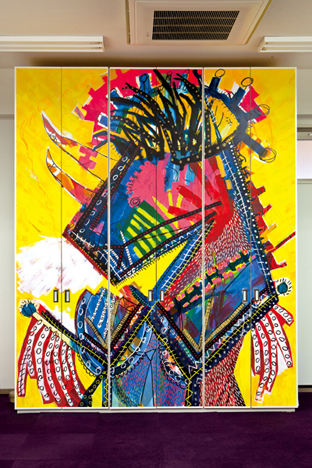 wake up © Shohei Takasaki
Does music influence your work?
I think it does. I love music very much. I listen to any kind. For example, if I listen to funk music and dance to it while working, the work may get dynamic with sexier lines. But frankly I'm not aware whether music influences my works. Whatever it may be, things have influence on them.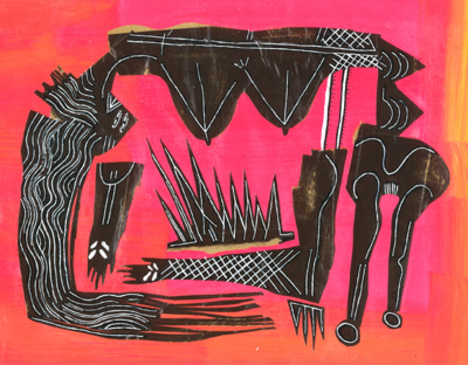 beautiful process 1 © Shohei Takasaki
What is the process when you provide musicians with your works?
There is a big difference between client works and my own works. For the former there is no use for a selfish work, and then I ask opinions of clients, managers and people who take part in the project. It depends on the types of works. Music is invisible and I always wish to provide visual images with some sort of magic that empower the musical content.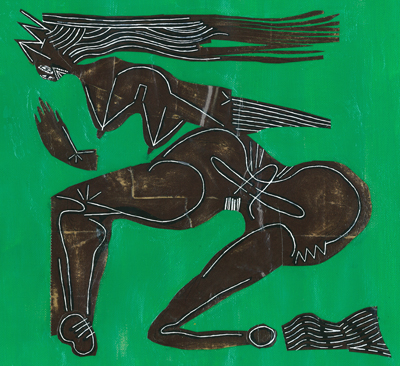 beautiful process 2 © Shohei Takasaki
Last year, you established the handmade ZINE "This is the message, now". This April you launched the art book "YELLO" curated by artists. What is your view for "book" or other paper-based media?
I don't have much of an opinion about paper. What's important instead is the concept and to actualize it. "Curated by artists" sounds really interesting unless it stays in an inner circle. This is still a small project, but I would like to keep it running. The issue 2 will be released on July 31st. The curator of this issue is the POPYOIL, artist from Fukuoka. The way he shows crossovers is impressive. The liner notes are written by Akio Iida from Widen and Kennedy. The next issue will be curated by Washio Tomoyuki from Nagoya.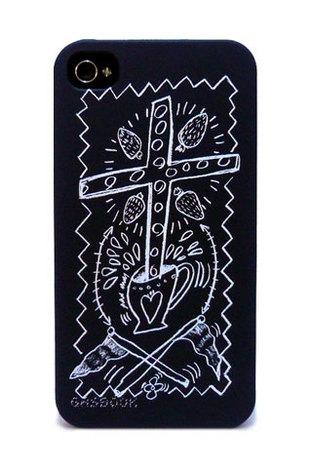 GASBOOK for iPhone 4 / Shohei Takasaki
What were you intoxicated with when you were a teen-ager?
Painting, making things, playing basketball, playing "Where's Wally?" in town, playing chicken, traveling, and so on. I remember being bullied at junior high school for half a year.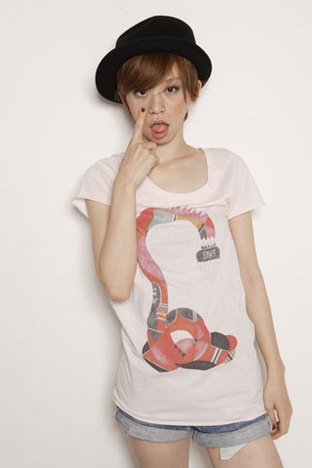 GASBOOK tee / Shohei Takasaki Photo: Yosuke Torii Model: Yuri Yoshida
When was the first time that you were fascinated with art?
I think it was Gustav Klimt…perhaps, I'm not sure. Or artwork by PIL. One of these.
What is your future plan?
I would like to make my works stand on their own feet in the main stream.
Who is your recent favorite musicians or bands?
Arakajime Kimerareta Koibitotachi E, Wash?, Elton John, Prince, Nukey Pikes, Kanto Music, Clark, Fugazi, Kimonos, L7. "Tensuiren" is an Awa-Odori performing team of Koenji, and their performance was incredibly powerful, which made me cry.
Please give the readers a message.
I think what we do right now as Japanese after this horrible incident will be long told in the history. No matter who you are. I am going to consider what I can do as an artist from now on, and I invite you to do the same. We are survivors. It isn't overstated.
Text: Noriyuki Abe
Translation: Memi Mizukami

[Help wanted]
Inviting volunteer staff / pro bono for contribution and translation. Please
e-mail
to us.