Revolutionist of the contemporary art?
Chim↑Pom was formed in 2005 with 6 artists. Since the start, they created works involving social issues such as "Thank You Celeb Project I'm BOKAN" that exploded luxury designers' brand bags and plaster figure busts in Cambodia, and "Making the sky of Hiroshima 'PIKA!'" which they drew a word "PIKA" by airplane in Hiroshima. The works have gained a high reputation and they have been invited to both national and international exhibitions, such as 29th Sao Paulo Art Biannial, also Asian Art Award in 2010 as Japanese representative.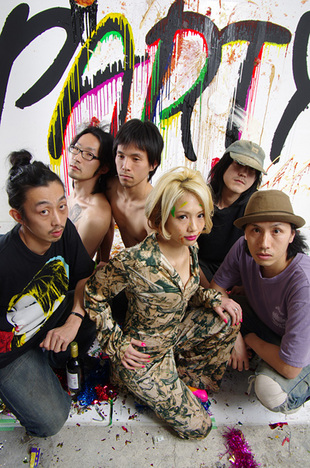 Chim↑Pom member Photo: Hiroyuki Matsukage
Ryuta Ushiro, Ellie, Yasutaka Hayashi, Toshinori Mizuno, Motomu Inaoka and Masataka Okada (Clockwise from the right bottom)
Their solo exhibition "REAL TIMES" includes their performance at Shibuya Station featuring Taro Okamoto's "Myth of Tomorrow", that reminds of Fukushima 1 Nuclear Power Plant. SHIFT interviewed Ryuta Ushiro and Masataka Okada.
Please introduce the exhibited works.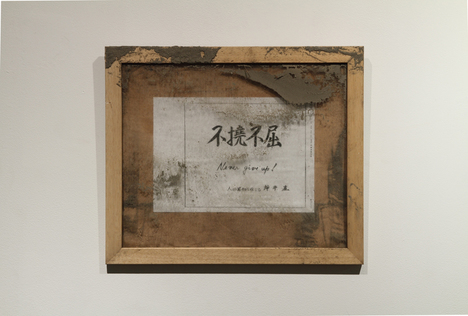 'Never give up!' (2011) © Chim↑Pom
Photo: Kei Miyajima Courtesy of Mujin-to Production, Tokyo
Ushiro: Since our artworks created in Hiroshima, we've been associated with Sunao Tsuboi, representative member of the Japan Confederation of A-and H-Bomb Sufferers Organization. We realized the importance of looking back at Hiroshima now after the East Japan Earthquake on 3.11 and the accident of nuclear power plant followed. "Never Give Up" is Tsuboi's motto he keeps saying over the past 50 years on his book or at talk-shows as well. It's a message for himself who survived critical conditions 3 times, a message aiming to abolish the nuclear weapons, and a strong wish for Hiroshima's recovery, which we thought could apply to today's situation. We asked Tsuboi to write it down and send by facsimile and placed it in a frame found abandoned in Soma City, Fukushima.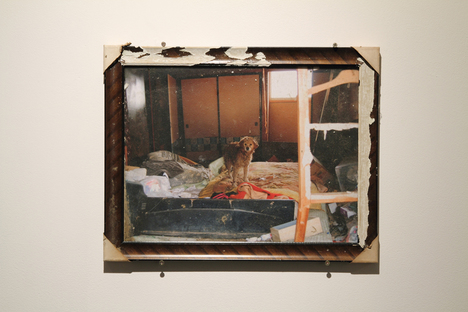 'Japanese Dog' (2011) © Chim↑Pom
Photo: Kei Miyajima Courtesy of Mujin-to Production, Tokyo
Ushiro: "Japanese Dog" is a photographic work by Mizuno and Inaoka, taken in Soma City right after the quake. They reached the affected area through volunteer and other activities on their way. In front of a demolished house, they found an abandoned dog, that apparently used to be domestic. The dog stared at them for attention and started walking away inside the house. When they followed, they found a companion dog, blessed, laying on a mattress. The photo captured them.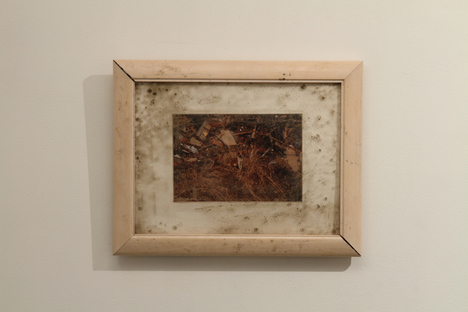 'Japanese Dog' (2011) © Chim↑Pom
Photo: Kei Miyajima Courtesy of Mujin-to Production, Tokyo
Ushiro: We placed the photo in a frame collected in Natori City, Miyagi. We also created one with a drowned cow body, another with a cat standing still, to make all 3 into a series of work.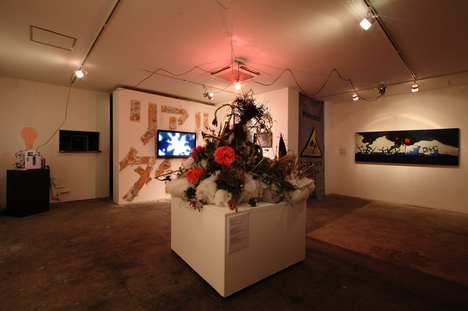 'Radiated Flowers -Harmony-' (2011) © Chim↑Pom
Photo: Kei Miyajima Courtesy of Mujin-to Production, Tokyo
Ushiro: "Radiated Flowers -Harmony-" is a collaborative work with Junichi Kakizaki, flower artist. We collected flowers and plants in 30 km radius from the power plant, using the geiger counter to make sure they were clean. Then Kakizaki transformed them into Ikebana. The situation is crucial but this is the time when people need the beauty. We chose flowers as a symbol of the beauty of life. Plants cannot run away from the disaster. They stay there and follow their fate. The work is to show the contrast between flowers' remaining beauty and the human beings, who are troubled with the problems they caused on their own.
Ushiro: "100 KIAI" is a video work filming the youngsters we got to know in Soma City, Fukushima. Located closed to the power plant, Soma had less volunteer rescuers compared to other affected areas. Soma citizens are self-rescuing victims. They have feelings of both sadness and cheerfulness. We filmed whatever their message was, from "Let's survive" to "I want a girlfriend", which was done in a completely improvisational way.
Read more ...
[Help wanted]
Inviting volunteer staff / pro bono for contribution and translation. Please
e-mail
to us.