An exhibit was held capturing 'The Creation of Art in Tokyo' from different perspectives. Artists from a total of 8 countries, including Cambodia, Switzerland, Thailand, Taiwan, China, Germany, Japan and Vietnam participated in the event 'Tokyo Story 2011' hosted by the Tokyo Metropolitan Foundation for History and Culture Tokyo Wonder Site. Most of the artists stayed at the Creator Inn Residence in Aoyama, Tokyo and worked on their art. The Creator Inn Residence is a place where foreign creators who are sent by a resident organization can stay. This time, art was shown in three different locations, Hongou, Shibuya and Aoyama, featuring artwork portraying the new appearance of Tokyo as seen by the artists.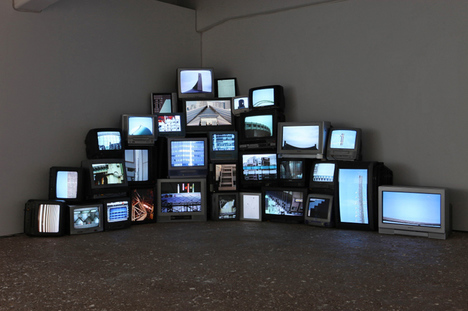 Matthias Wermke & Mischa Leinkauf "Drifter" 2012 © Tokyo Wonder Site
The German duo, Matthias Wermke and Mischa Leinkauf, whose exhibition 'Berlin in Zero Period' was held at Tokyo Contemporary Museum in 2011, participated in Tokyo Story 2011. They created a visual art piece, 'Drifter', which shows them appearing at places that people usually can't access (such as a ladder at high altitude and on rooftops), walking, climbing then disappearing to somewhere else. To satisfy the audience's curiosity about how they can make cities look more exciting, like in a movie, we conducted an interview with Mr. Wermke. "Our basic stance is to extend the idea of where we used to play when we were kids to where we can play in public. Then, we get to think of how we can approach the buildings there, which is our basic concept. When walking in high spots, we can find 'beauty' when you move past the worries and fright about 'we shouldn't be doing this.' This new piece is a result of us seeking the beauty."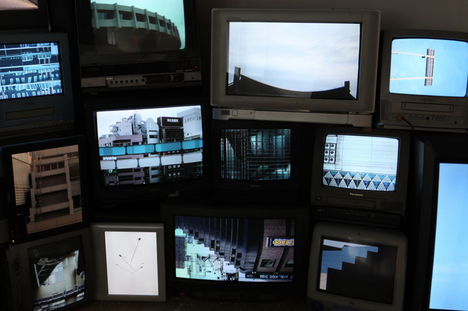 Matthias Wermke & Mischa Leinkauf "Drifter" 2012 © Tokyo Wonder Site
We further asked him about his thoughts on 'Tokyo'. "I was very surprised that the town consisted of various layers and was made to be like multiple structure. I feel like I was invited into the tiny spaces between buildings while I was biking around Tokyo, as if I was on my big journey. Japan is very strict about rules, but on the other hand, there are many spaces and grey zones that people can venture into. Especially in Japan, even if we were to get caught by security guards, they would just ask us politely what we were doing there, or kindly direct us to the place where we could obtain a permit. In Germany, we would get scolded. They would never understand that it is not our desire to do something dangerous. When we were teenagers, we did graffiti and painted on other people's space as if it were ours. However, the thing we are working on as our current project is to show the joy of communication that happens at each time and place, not to show us keeping public spaces to ourselves. So we discovered something very positive when Japanese listen to and understand us."
After hearing their story, people can understand that they aren't trying to go against others, nor to report social messages. They positively create art works. They also left us with the impression that they had lots of fun in Japan. While they were drifting, they were looking upon Tokyo innocently as if they were children.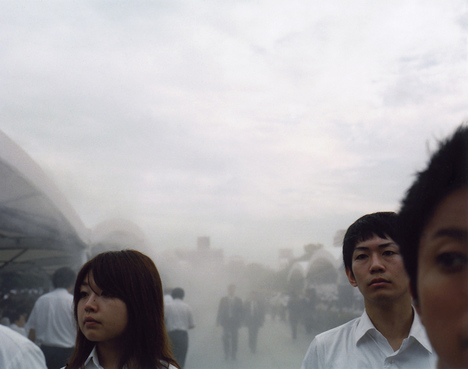 Tomoko Yoneda "The Hiroshima Peace Memorial" 2011
A picture that captures 'the country of Japan' might be a good way to refer to this photo. Photos taken by Tomoko Yoneda, who has been working in England for a long time, show a difference in color compared to her previous work. Although people say that works will vary depending on the scene, the subjects of her photos, including Hiroshima, Yasukuni Shrine, the Chrysanthemum, Iitatemura in Fukushima, and Harbin in China, where Hirofumi Ito was assassinated, portray a particularly oppressive view of Japanese culture. In a brochure accompanying the exhibit, Yoneda wrote about her feelings since the time of the Fukushima Daiichi Nuclear Power Plant accident. "When I witnessed the people being suppressed and controlled, forced to submit to society and the nation, I started to wonder about how we might have been humbly serving an 'invisible authority', and I started challenging myself." In the next paragraph, she outlines why she focuses on Japanese motifs. "After the Meiji Restoration, Japan democratized and modernized to compete with other world powers. Japan also participated in many wars all over the world. While in Tokyo, I have been thinking about what these things meant to Japan. As the first victims of an atomic bomb, why does Japan need to create nuclear power plants on its land and bring new fear to our people. In the end, I was left to consider the question, 'what is the meaning of our existence?'. I would like to find out the answer."
Through the accident at the nuclear power plant last year, we came to understand the fear of 'invisible authority' that Yoneda mentioned. Yoneda's photos intentionally draw out the beauty in a subject, so when we are attracted to them we realize that it is a beauty that we tend to miss. Yoneda concludes her story as follows and asks us if we can believe in the things in life that we are told are true. "We never know what is good, bad, normal or abnormal since everything is invisible."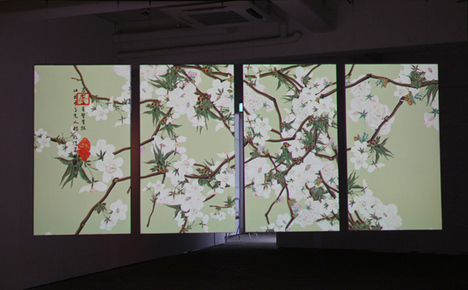 8gg "Part of Article about Tokyo" 2012 © Tokyo Wonder Site
Chinese media artist, 8gg, surprisingly paired up with his wife and they are creating art. Upon entering the exhibit hall for 'Part of Article about Tokyo,' visitors see a video of sand gathering together or spreading out along with the sound of an explosion. On the other side of the panel, a video is projected showing colorful cherry blossom branches growing, expanding buds and blooming flowers. By seeing the contrast between the attention-grabbing violence of one side, and the beauty of the cherry blossom on the other side, the audience is easily able to recognize the artistry in the piece.
Fu Yu, the male half of 8gg, created 'Standing Alone at Shinobazu Pond', portraying 'an abstract pastoral song' as his impression of Tokyo. Jia Hai Qing, the female half of 8gg, created a piece focusing on the cherry blossom entitled, 'A painting by Buncho Tani and Castiglione.' About the pieces, 8gg says "these pieces show exactly how we feel about Tokyo. Opposite will always exist and they will always perfectly balance each other." As the word 'opposite' indicates, the piece show the perfect balance between the opposite sex.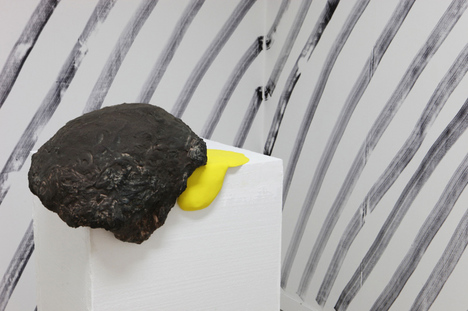 Nadja Solari "should wake up and bloody well look sharp" 2012 © Tokyo Wonder Site
Nadja Solari from Switzerland completed her installation using everyday objects. Her creations could appear commonplace, but wouldn't ever actually appear in everyday life. Her pieces are three dimensional combinations of two dimensional pieces in pop colors. Among them are a piece which features forks stabbing into many slices of bread, and another creation resembling a yummy egg yolk. Her pieces are definitely mysterious and alluring, unique traits in contemporary art. We conducted an interview with Solari about what is in her head when she creates art.
"In these pieces, I focused on 'consumption' which is the act of selling and buying. Since I arrived in Japan, I have been feeling like I've been forced to spend money. The perfect marketing of items such as beautiful windows displays, snack advertisement, food samples, shiny illumination and such, also looks very fragile, at least that's how I felt. They looked to me as if they were ice cream and would all melt away eventually. In these pieces, I wanted to show the how fleeting and unbalanced they are." We also asked Solari if she actually went shopping. She answered with a humorous touch and said, "Of course, I did!" Solari thinks that the overwhelming Japanese shopping culture is not only a negative thing but also a very neutral thing that has both negative and positive sides. Solari absorbed the current image of 'Tokyo' and made it slightly cheeky but charming.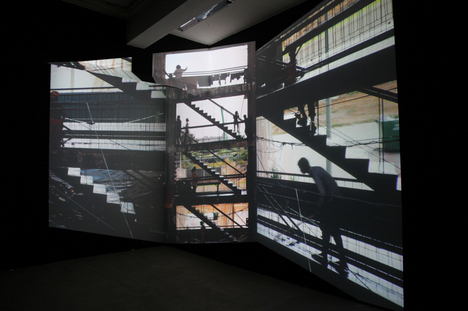 Masaru Iwai "White Building Washin" 2012 © Tokyo Wonder Site
Masaru Iwai, who has been sent to Cambodia from Japan, created a video piece 'White Building Washing' which was filled with the power of life. The apartment building in the video was built in the 1960's, and its residents were forced out during the Cambodian Civil War of the 1970's. After the war, the residents returned, but, since rents were so cheap, the place became a slum. During the daytime, you might have heard children playing around, and seen people hanging out at a nearby cafe. At night, however, drug dealers and prostitutes would appear. Iwai has lived and worked as an artist in this place where light and shadow contrast greatly. After making friends with the locals, he started teaching them with gestures certain sanitary habits and filmed the situation. Audiences can feel the uniquely human experience from the vivid light, shadow and water flow in the footage, and it is also a refreshing feeling as garbage is washed out in the second half of the video. The residents actively participate in the cleaning. Iwai said "I believe that they were happy about their town getting cleaner." The video was projected in a pitch dark room upon the corner and and a beam. This added power to the video since the video was shown as if it was actually happening in the exhibit room. We told Iwai that "Asians also have a power that cannot be beaten" and he said "I've never felt like I would lose" with a nice laugh.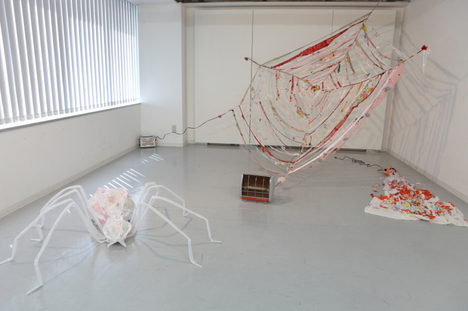 Lu Chih-Yun "Where Is The Better Place To Live?" 2012 © Tokyo Wonder Site
From the perspective of a girl, Taiwanese artist Lu Chih-Yun considers things such as where people should live and the things for which people expect to live their lives. She introduced an installation of a snail walking with a big house on its back in 2008. She creates art in Tokyo that shows what it is to live life seeking better things. In the corners of the exhibit room, she put spider webs and acrylic painting of spiders. The audience might wonder why she chose spiders as her motif, as spiders create an impermanent home that could be blown away by a storm and then move on to find somewhere new. "These days, old and new things are all mixed up. Everyone hearkens back to a beautiful, bygone golden era, or envisions a utopian future with the image and hope for 'a better era'. Spiders represent those who would throw away their comfortable modern life for a beautiful, illusory, non-existent world." We asked Chih-Yun about her impression of Tokyo. She said, "When I came here the first time, I could tell that people work too hard for money, but I wasn't ever sure if people were actually having fun or suffering just to make money for shopping." Chih-Yun's work is wonderfully interesting, showing some inspiration from the young generation, without getting swept away by trends.
When the crowds in Tokyo annoy me, I sometimes think that it would be refreshing to walk around Tokyo as a tourist. 'Tokyo Story 2011' brought that very same idea to life. At the International Advisor Talk that happened in February, guest speaker Ong Keng Sen, who is involved in the performing arts, gave a speech about 'thinking globally, acting locally,' as originally proposed by cultural studies researcher Paul Gilroy. Keng Sen supported the idea that there is a risk of globalization homogenizing the world. On the other hand, Keng Sen also discussed how people are all interconnected no matter where they are if they think of the Earth as a planet. Since this lecture, the thought is constantly in my mind as to how we can make local and global perspectives coexists in the Tokyo community. Tokyo Wonder Site organizes events in which artists can exchange ideas between them throughout the year. They are also looking for artists who want to participate in their Creator Inn Residence Program, so if you think you might be one, please check their official website.
TWS Creator in Residence Open Studio Tokyo Story 2011
Date:March 10th – April 28th, 2012
Closed on Sundays and Mondays
Place: TWS Hongo, TWS Shibuya, TWS Aoyama
http://www.tokyo-ws.org/english/
Text: Yu Miyakoshi
Translation: Yumico MIyagawa

[Help wanted]
Inviting volunteer staff / pro bono for contribution and translation. Please
e-mail
to us.